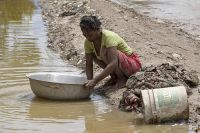 Cholera is spread through the ingestion of contaminated water.
Ansel Herz has filed three stories so far for Inter Press Service on the cholera epidemic in Haiti.
His reporting has given voice to the perspectives of some of the estimated 1.3 million internally displaced people stuck in over 1,350 tent camps, who are now threatened by the disease. He has visited hospitals that are treating cholera patients, and draws on several frontline medical-care providers as sources.
These stories look through the eyes of people confronting a horrifying yet preventable public-health breakdown. They also put the epidemic in the wide-angle context of underlying systemic crises dating back long before the January 12 earthquake.
For example, Herz reports that the percentage of Haitians without access to safe drinking water actually increased 7 percent from 1990 to 2005, according to Partners in Health. This international medical organization, which has a long history in Haiti, observed in a 2008 report: "Combined with unsanitary conditions, the lack of water is a major factor in exacerbating Haiti's health crises."
As PiH Chief Medical Officer Joia Mukherjee put it, cholera is "a disease of poverty" . During the previous government of Jean-Bertrand Aristide, she pointed out, Inter-American Development Bank loans for a public water supply in the Artibonite Valley, where the cholera originated, were blocked by international donors on political grounds.
The dearth of potable water and sanitation facilities not only in the camps, but also in many permanent communities, are now major factors contributing to the spread of the deadly disease.
HAITI: Cholera Outbreak Highlights Clean Water Crisis
PORT-AU-PRINCE, Oct 28, 2010 (IPS) - The man arrived from Arcahaie, near St. Marc in central Haiti where a cholera outbreak exploded last week, initially overwhelming the local medical grid. It was an hour's journey to a hospital in Lafiteau, near the capital, where he died on Sunday.
"We tried to give him some liquids but it was too late," Dr. Pierre Duval told IPS. He said it was the second cholera death in three days. Five other patients who arrived from the epidemic zone showed the same symptoms: profuse liquid diarrhea and vomiting.
They looked gaunt and sickly on beds inside the tiny hospital's dimly lit patient ward, taking up one of its three rooms. Family members said they had bathed and eaten, then fallen gravely ill.
The two patients who died in Lafiteau are not counted among the 303 officially-recognised cholera deaths in Haiti. A United Nations spokesperson said they were not "confirmed" cases of cholera because they occurred outside the epidemic zone and lab tests had not confirmed the presence of cholera bacteria.
Dr. Duval said no officials or medical teams had visited his hospital since the outbreak began.
Cholera Cases Emerge in Haiti's Capital
PORT-AU-PRINCE, Oct 24, 2010 (IPS) - Days after an outbreak of cholera began in Haiti's rural Artibonite region, killing at least 200 people, there are now five confirmed cases of cholera in the busy capital city.
The cases "do not represent spread of the epidemic" because they were infected in central Haiti, according to a bulletin circulated by Haiti's U.N. peacekeeping mission with the heading "Key Messaging", obtained by IPS.
"The fact that these cases were picked up and responded to so fast demonstrates that the reporting systems for epidemic management we have put in place are functioning," it concludes. Residents of the capital city are not so confident.
"It's killing people - of course, I'm scared. We're in the mouth of death," 25-year-old Boudou Lunis, one of 1.3 million people made homeless by the January earthquake and still living in temporary settlements, told the Miami Herald.
HAITI: Health Workers Scramble to Keep Cholera out of Crowded Camps
PORT-AU-PRINCE, Oct 22, 2010 (IPS) - Some 1.3 million people have lived in makeshift camps throughout Port-au-Prince since the January earthquake devastated the city. Living conditions are "appalling", according a recent report by Refugees International.
But one bright spot of the multi-billion-dollar relief effort, touted by the United Nations and Haitian President Rene Preval, has been the prevention of the spread of a highly infectious, catastrophic disease.
At least 160 people have died this week from an outbreak of cholera in the central Artibonite region, according to Zanmi Lasante, the Haitian arm of renowned health organisation Partners in Health. The fear now is that the disease will reach Port-au-Prince and wreak havoc in the crowded camps by contaminating the water.
There are already six suspected cases of the illness in the capital city, Monica Ferreira, a Portuguese medic, told IPS on Friday. Her team has operated a health clinic for quake victims since January.
"All defensive countermeasures should immediately focus on Cite Soleil and Lafiteau if they want to save Port-au- Prince," said Dr. James Wilson of the Haiti Epidemic Advisory System (HEAS).
Popular in the Community