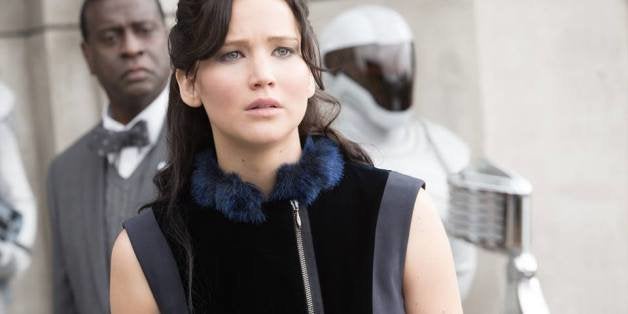 NPR's Linda Holmes wrote a great article about the gender dynamics in The Hunger Games: Catching Fire and concluded, "…you could argue that Katniss' conflict between Peeta and Gale is effectively a choice between a traditional Movie Girlfriend and a traditional Movie Boyfriend." I do love the way Holmes puts this. Gender, it seems, is not what one is, but what one does. Different characteristics we associate with masculinity and femininity are available to everyone, and when Peeta embodies some characteristics we usually see only in women's roles, Peeta becomes the Movie Girlfriend despite being a boy.
Though I find this compelling, I want to take a moment to focus on the other part of this sentence… the part when Holmes frames Katniss' relationship to Peeta and Gale as a "conflict between" and a "choice." I think that, in some ways, the requirement to choose one or the other forces Katniss' to, not only "choose" a boyfriend, but also to choose gender—for herself.

REAL LIFE. REAL NEWS. REAL VOICES.
Help us tell more of the stories that matter from voices that too often remain unheard.