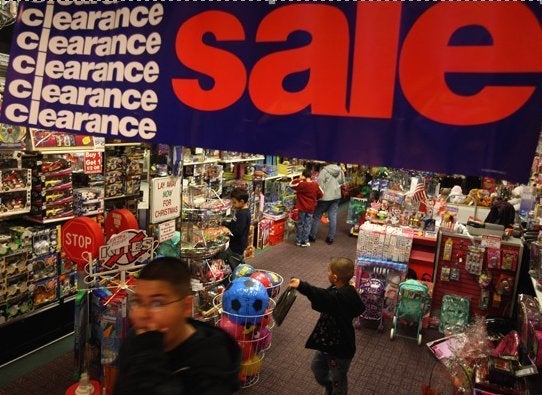 When I turned on my computer today, I had seven emails from vendors announcing special low prices -- Black Friday deals -- available all week. The biggest discounts advertised were on electronics, which wasn't a surprise since November is considered "electronics-buying month" within the retail industry. I waded through the Black Friday junk mail, tapping away at my delete button, to find the one email I sought: the message from my neighbor with the menu, schedule and guest list for Thursday's Thanksgiving gathering.
Now, revisionist history aside, Thanksgiving is a great holiday. It is two full days during which most people in the U.S. are liberated from work and school. It comes at a time when the days are getting shorter, trees have lost their leaves, and we're pulling the sweaters out from the back of our overstuffed closets. It's the perfect time to cozy up and nest with friends and family. In the midst of our hectic year-end bustle, we get to spend two days pausing, recharging, looking into the faces of loved ones rather than into our computer screens. And, of course, remembering those who can't be with us.
There's one mother I especially think of on Black Friday: Marie Tellismond. Two years ago on Black Friday, Marie lost her 34-year-old son, Jdimytai Damour.
Jdimytai -- known as Jimmy to his friends -- had taken temporary job at a Walmart store in New York State, near his home. When the store opened at 5:00 in the morning, the crowds of shoppers -- many of whom had been waiting in the cold for hours to score good deals -- stormed the doors and trampled Jdimytai as he struggled to protect a pregnant woman from the stampede.
Jdimytai was a college student, and his mother said he hoped to be a teacher one day. He liked watching football and eating his mother's cooking. In an interview after the tragedy, she dabbed her eyes and said: "I don't have anybody else."
Now, I've never met Marie Tellismond, but as a fellow mother, I am pretty sure she would give anything to have a day with her son again. Losing, or even coming close to losing someone we love, makes us get our priorities straight really, really fast.
Most of us have a choice this Friday that Marie Tellismond no longer has. We have a choice to stay put with loved ones, to play board games and eat leftovers and maybe even watch a football game together. Or we can chose to leave the warmth of our beds before dawn, to sit in our cars in a parking lot at some mall and to spend the day searching for low prices on products which we don't really need and often don't even want, but getting them is all part of the Black Friday Frenzy.
Let's opt out of the frenzy this year.
Our out-of-control consumption has taken a toll on the planet, on our family budgets, and on workers from FoxConn in China to Walmart in New York. And it has taken a toll on the quality of our lives at home.
We have more and cooler stuff than our parents and grandparents could have ever imagined, but we pay dearly. We spend more time working and shopping than they did and we spend much less time in leisure, on vacation and with friends. What is the use of a brand new Pottery Barn table if we don't have a gang of friends and neighbors to gather around it?
If we're going to figure out how to build an economy and society that is healthy for people and the planet, this Friday is a good place to start.
Let's opt out of Black Friday. Choose family over frenzy.

Related
Popular in the Community