The people we admire influence our choices in ways that may surprise us. When I first discussed how art might support the text for my upcoming book, Leaving Shore: Making the Choice to Live in Discovery, I mentioned to my collaborators that I would like to look at the art of Sister Corita Kent.

Living in discovery means making a commitment to choose our words carefully and to reframe the outdated stories and beliefs that direct our lives. It means allowing creativity and compassion for ourselves and others to guide and inspire us. Because Sister Corita's art exemplifies all of these concepts beautifully, it made sense that her approach could be a model for the book project.

Sister Corita (1918-1986) was an artist I discovered several decades ago in my teenage years. A Catholic nun who became renowned for her serigraph prints, Corita Kent was a woman who presented a new perspective on words and ideas for a generation in turmoil in the late 1960s and early '70s. Her innovative take on language and her graphic, bold style of art spoke to me as a young girl. It reflected her deep commitment to social justice, her own spirituality, her belief in the human race, and her hope for peace. She may be best known for creating the LOVE stamp.
Not long ago, I had the privilege of visiting Immaculate Heart High School in Los Angeles, the site of the college where Sister Corita once taught. As I spoke to students there, I heard myself say that I'm just beginning to recognize how powerful an inspiration Sister Corita's art and ideas have been to me. If you had asked a couple of years ago who my sheroes and heroes were, I doubt I would have mentioned Sister Corita, and yet, when it came time to make decisions about my current work, I found myself immediately referencing her.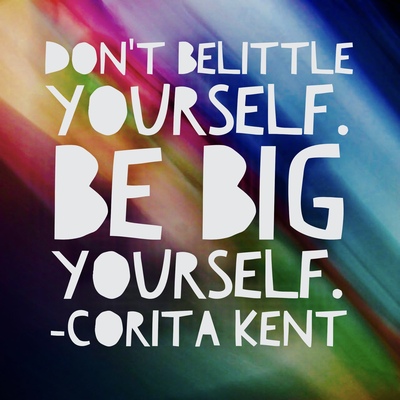 This experience taught me that Sister Corita's influence has been running like a background program in my brain all along. What I now understand is that we need to choose our heroes and sheroes very care-FULL-ly. The people we admire can have an ongoing and often unrecognized impact on our thinking, our decisions, and the way we live our lives.
REAL LIFE. REAL NEWS. REAL VOICES.
Help us tell more of the stories that matter from voices that too often remain unheard.