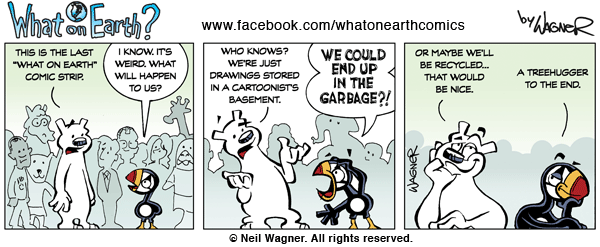 Today's post marks What on Earth's final appearance. The experience over these past few years of producing over 200 comic strips (and blogs) has been a fulfilling one. Part of that fulfillment comes from knowing I found a way to use my lifelong love of cartooning to help the fight against climate change. At least a little bit.
We've all heard that if you find a job you love you'll never work a day in your life. The same can be said of environmental activism -- if you find the role that's right for you, you may find yourself experiencing things and learning more than you'd ever imagined. And it won't be a chore -- it will be something you find fascinating.
If you're looking to contribute to society's battle with global warming, playing to your strengths makes good sense. We're not all Bill McKibben or Al Gore, capable of rallying large numbers of activists around the globe. And we can't all be Michael Mann or James Hansen -- gifted climate scientists with the toughness and versatility to act as prominent voices for this critical cause.
When I first hatched the concept of a comic strip focusing entirely on climate change, I knew it was unusual. Quirky. Unique. OK, yes, it was weird. Still, I hoped its formula of simple, concise humor based on credible information from proven sources would make the topic of climate change accessible, and entice a wider range of people to take a greater interest in the issue. I mean, c'mon... if information is delivered by funny talking animals, how objectionable can that information be?
But I think What on Earth (WOE) has maximized its audience. And since there is so much work to do, I know the time is right to look for another course of action.
As it turns out, I was right to not assume WOE would achieve the mass market appeal of Peanuts or Calvin and Hobbes (although it never hurts to hope). At the same time, my hopes that WOE would receive credibility for its scientific content and humor turned out to have merit. Top climate scientists (Michael Mann!), leading environmentalists, (Bill McKibben!) and many environmental journalists have been extremely encouraging. Newspaper syndicate editors (historically the arbiters of comic strip distinction) have been kind as well.
I thank those people, as well as Ira Flatow's Science Friday and The Huffington Post for providing the platforms from which Bebbo (the climate-concerned polar bear) and Kito (the climate-skeptic puffin) could strive to entertain and inform. I also want to thank my daughter, Reena, for coming up with Bebbo and Kito's names and for contributing background artwork in today's comic strip.
And of course I'd like to thank you for reading. I urge you to assess your own unique talents and apply them in some way to help keep our world liveable for generations to come.
Calling all HuffPost superfans!
Sign up for membership to become a founding member and help shape HuffPost's next chapter