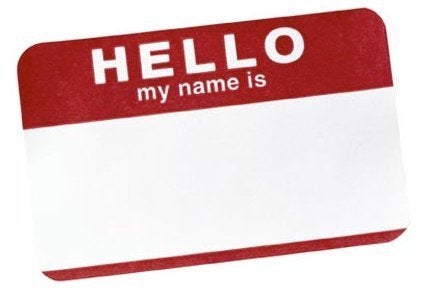 Choosing a solid, compelling name for your company is one of the first -- and probably one of the most challenging -- tasks you'll face as an entrepreneur. After all, a great deal of a company's success can ride on its name. An imaginative name that speaks volumes about the value of your products and services can stick in the mind of everyone who hears it. On the other hand, an ill-chosen name can push your business into obscurity and cost time and money to rebrand down the road.
Looking for a head-turning company name that resonates with customers? Here are five things you need to know.
1. Identify what makes your company unique. Small-business owners need to pay attention to what other people in their industry are doing and find ways to differentiate themselves -- and that starts with their company name. The most successful companies are able to highlight their uniqueness and solidly go in their own direction. When naming a company, you also need to have a clear mission statement. For example, when Google founders Larry Page and Sergey Brin began, they wanted to name their search engine "Googol" in reference to the vast amount of information it could search, since a "googol" is the number 1 followed by 100 zeros. They felt it perfectly reflected their mission to organize the infinite amount of information that could be found on the Internet. However, an investor misspelled the name "Google" on their first check, leading them to change their name, which of course now has become not only an iconic business name, but also a verb used to describe the process of finding anything on the Web.
2. Embrace creativity. Using imagery that creates a poignant mental picture is key to developing a great company name, according to Alexandra Watkins of Eat My Words, a San Francisco-based business-naming firm. Watkins says Eat My Words has a "Scratch and Smile" test to gauge a name's greatness. "A name should make you smile instead of scratch your head," she says. Watkins emphasizes that company names are better when they aren't overly business-oriented, and that stepping outside stuffy conference rooms is the only way to create names that will strike an emotional chord and make real connections with customers. "Take Verizon or Accenture," Watkins says. "It's hard to be fun with that. We're so bombarded with words, advertising and TV that names really need to stand out by making emotional connections. People should smile or think to themselves, 'That's clever.' The name and the brand should empower them."
Creative misspellings aren't always effective and can be confusing to potential customers and even bungle Internet search results. For example, the vitamin company "Alterna Vites" always gets its name changed to "alternatives" in a Google search. But according to Watkins, there are some exceptions. "Spanx is really fun and playful," she says. "I love that name. It works."
3. Do your homework. This means making sure a company name is legally available and doesn't translate awkwardly into other languages or is in any way offensive. Check to see that no competitors have names that are too similar. In addition, research domain names to see whether the company name is available. A company will have far more success with marketing if all pieces match. In other words, ideally, the company name should match the domain name and e-mail address, so customers can easily find the company both online and offline. "You can check with your state online and see if your name is available," suggests David Cingari, chef and owner of David's Soundview Catering in Stamford, Conn. Since Cingari's business is based in Connecticut, he went straight to the Connecticut Secretary of State website and was able to search for name availability. Other states offer similar resources with links to forms that also allow you to officially register your business.
4. Your name must work online, too. According to the Small Business Administration, entrepreneurs are best served by making their domain names as close as possible to their trade names. Companies like Amazon.com and Monster.com have found success through Internet branding and marketing. Domain names aren't registered through state or local government and are available through online services like GoDaddy.com that offer name searches to ensure your ideal company name is available and affordable. A company name that translates well into a domain name will have certain characteristics: short, memorable, not easily confused with others, nearly impossible to misspell, related to the business name and mission statement and resonate with the target audience. "If you want to name your business something, and the domain name isn't available, it doesn't have to be the exact name," Watkins says. "For example, a pool company called Watermark could be watermarkpools.com or diveintowatermark.com. The idea that you can't have a name if you can't have the domain is the number-one misconception. We really could be eatmywordsnaming.com. So much of bad naming is driven by domain names, but that shouldn't be a huge concern. It should be more about branding."
5. Consider legal requirements. The SBA also advises entrepreneurs to be careful about the legal requirements of their particular type of business before naming it. Choosing a business name goes beyond being creative and knowing your customers. You need to determine which type of business structure you'll use -- sole proprietorship, limited liability company (LLC), general partnership, C corporation or sub chapter S corporation -- and figure out your limitations for naming. For example, in some states, unless filing another name as a trade name or pseudonym, a sole proprietor has to use his or her own name as the business name. You'll also need to decide whether you'll use the full name you choose for your business as the official trade name, or shorten it. If you want to go nationally or internationally with your company one day, you also need to research beyond your immediate area for other companies that might have the same or similar names, as some businesses only file their names locally.
The original version of this article appeared on AOL Small Business on 3/6/11.
Popular in the Community