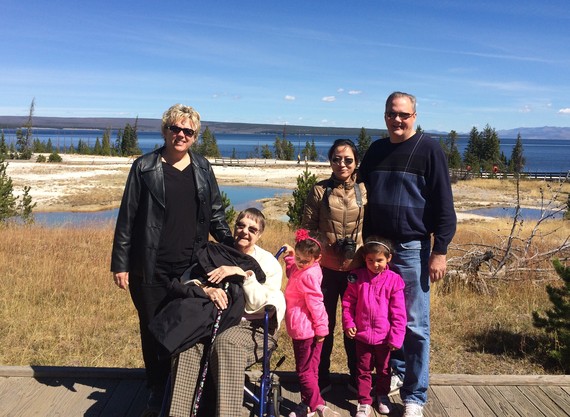 If you'd like to spend the holidays with your extended family but want to vary the usual routine of having everyone gather at your house or your parents' house, why not mix it up and head elsewhere together?
It's not as unusual as you might think: according to survey data gathered by Preferred Hotel Group, increasing numbers of people are now taking at least one trip a year that includes three or more generations of their family (over 20.8 million individuals in the USA). Most such trips are planned around holidays and major life events such as anniversaries, birthdays, and weddings, and many of these travelers value multigenerational travel as a way to connect with other family members (especially when they live far from each other).
If the thought of going away for the holidays with Mom, Dad, and the kids sounds daunting, relax: a multigenerational trip is actually easier than you think. And if you start planning now, you still have enough time to book a trip for the Thanksgiving holiday!

I've done plenty of traveling with my mom and her grandchildren at the same time. They're 82 years apart in age, and although they have some widely divergent interests (Mom's not so much into Sesame Street anymore . . .), they also have a lot in common (such as a need for afternoon naps and an interest in exploring the world around them). Mostly, they're just glad to be spending time together, which is the ultimate goal of multigenerational travel. If you keep that goal in mind for your own vacation, you'll set yourself up for a successful trip!
Before you even start to think about possible destinations, ask everyone who's going on this trip what he or she wants to do during this vacation--and don't accept "I don't care" as an answer. (Believe me, everyone cares!) Be sure to check in with every person in your group, including both the very youngest (kids have opinions, too!) and the most senior.
Once you have some idea of what everyone wants to do while on vacation, look for places with several different options for both activities (at varying levels of physical demand) and relaxation. When you go to a destination with a lot of options, the more active members of your group can run as hard as they want while those who want (or need) a more relaxing vacation can enjoy themselves too. That way you can all be together most of the time, but if the kids wants to go bungee jumping while the grandparents go see a local theater company's matinee of Hamlet (or vice versa--hey, never underestimate Grandma!), no one has to be dragged along on an outing that doesn't interest him or her.
To help you get started, here are just a few of the destination features Mom and I look for when we travel with my brother and his family:
Places throughout the hotel that are good for relaxing and chilling out (e.g., beach, pool, casual seating areas or a balcony with a view)
Physical activities that suit a wide-range of abilities (for example, walking paths rather than hardcore hiking trails)
Restaurant options and activities that the whole family can enjoy together (from age 3 ½ to 85)
Art galleries, museums, and other wheelchair-accessible sites
Kid-friendly activities or areas in the hotel (in case the girls' need to burn off energy)
A spa and gym in the hotel (for me to burn off some energy of my own!)
It may take some research (thank goodness for the Internet!), but eventually you'll find a location that meets the needs and interests of your group. Whether you opt to travel to the city or to the country--or someplace in between--though, make sure that your lodgings aren't far from the local sites that your group will be visiting. On any trip, it's important to plan time for rest periods--and that's especially critical when traveling with young children and older adults. Having easy access to your accommodations makes it easier for members of your group to take breaks (both planned and unexpected) whenever they need some downtime.
If you're feeling overwhelmed by the prospect of finding a destination that will make everyone happy, consider looking into cruise ships and all-inclusive resorts. Because they both feature lots of things to do in one place, they're likely to work for groups of mixed activity levels. As you read through the descriptions for those options, focus on those advertised as "family friendly," so you know they have plenty of things for the kids to do. (If you come across any interesting-looking cruises or resorts that cater only to adults, file that information away for some time when the kids stay home and you're traveling only with your parents.)
As long as you get everyone's input, do your research, and choose a location carefully, you should be able to make everyone happy, regardless of age! Happy trails!
Popular in the Community