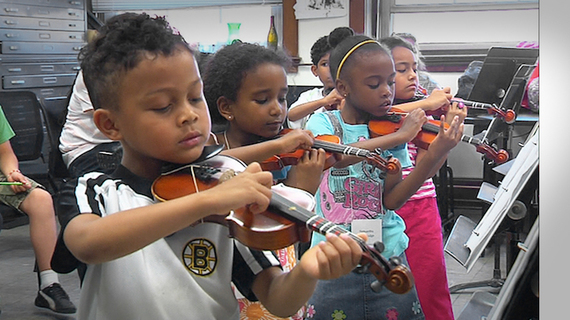 As a Black father who has a Ph.D. in urban education, my educational level makes me part of a unique group. However, as an educator parent, whenever I visit a school for personal reasons; I always introduce myself, as "Stuart." What I do for a living should not be important in how administrators and teachers present their school to parents.
The irony of this entire process of finding a Kindergarten for our son is that even though I am completely in favor of school choice, I didn't know how hard school choice was.
When we moved to Phoenix three years ago, we decided to live in an area that advertises some of the "best schools in the state." We thought that being in the catchment area for an "A" school would mean that we didn't have to go through the process of school choice, that our choice was already made and paid for through our property taxes.
No matter what position one takes, concerning school choice, it is important to appreciate that every school is a "selective enrollment" school. Meaning, if you have the means to live in an area with high property taxes and good schools, you have made a selective, conscious choice. If you live in an area that is more economically challenged, your selective choice concerning public schools has been made for you. Acknowledging this unfortunate conclusion as an educator is problematic. Coming to this conclusion as a parent is tremendously stressful.
After doing an extensive online search of schools, we "narrowed" our choices down to seven schools; two public, three charter, which included two campuses of one particular charter, and one Independent/Private school. One of the most important criteria was diversity. However, whenever I inquired about "diversity" in any of the Open Houses or interviews, the school officials instantaneously assumed I meant race. Race matters, but when I say diversity, I mean diversity which includes not just race, but ideas/thought, ability levels, socio-economic status, experiences, etc. In one funny incident when I asked if their Kindergarten classrooms were "mixed," the assistant principal nearly had a heart attack. What I was meant was if the classroom was mixed age/grade, like the other public school down the street. I think my laughter revived him, but I'm sure he may have needed CPR when he got back to his office.
Once we made our list, we tried to obtain more data about each school besides test scores. What was extremely problematic, is that it took all of our research abilities combined to find the racial make-up, gender breakdown, student-teacher ratios, and Title I information (how many students receive free or reduced lunch) for each school. All of this information should be on the District website for each public school, and on every website for any other type of school. It is disappointing that parents are making choices based on a host of criteria that may or may not indicate what should be viewed as a "good" school. What parents need to be aware of is that it seems that schools are trying to hide important demographic information from their "audience."
Which brings me to another point. For those who lament the notion that schools are a "business," I'm sorry they are. Even if we did nothing but chose our neighborhood grade school, they are in the "business" of attracting us to their "product" and to highlight that their product is the best in the entire market. Longing for the days when we packed up and walked to school five miles each way up hill is a distant memory - and for many of us a false memory. Schooling has changed and we, as parents must quickly adapt, be equipped with important data, and use due diligence.
Here are five things that signify school culture that I recommend that parents should look for in a "good" school (there are many more, but these stood out in my search).
1) How are you greeted at the main office? Is it with indifference or excitement? When you identify yourself as a parent, are they eager to show you around the school, and to meet with an administrator or someone else who could show you around, or do they make you schedule an appointment for another time, or worse go online to do so even when you are standing in their office? How do they value you and communicate that? It is likely that the respect and value you see in that office will translate into their value of your child.
2) When you do go on a tour, are there places they are not eager to show you? Make sure you see the library, cafeteria, gymnasium, playground or other common areas that they do not highlight. Look for the blind spots.
3) What is the connection between the parent association, other parents, and the school? In one instance, the parent association (at a public school) had tremendous influence. They were the moneymaker and strongest influence in the school. However, upon visiting their monthly parent meeting, besides the time being an impediment for many parents (8:45am on a weekday), it felt extremely unwelcoming for newcomers. Only one parent spoke to me, and no one asked me (other than the security guard who demanded that I sign in immediately) why I was there or what my purpose was. In comparison, at the selective enrollment public school parent meeting, the very diverse group of parents went around the room, informing me of their name, how many children they had in what grade, and were extremely open and welcoming. In addition, there did not appear to be conflict or division within the group, and the school administration showed true appreciation for their time and commitment to the school.
4) After your initial visit, how does the school follow up? Are they eager to answer your questions? Are they interested in your family becoming a part of their community? What events does the school have that promote more than just academics? Are there fun events for the entire family as well as bonding events just for the parents? How the school builds community with all of its stakeholders, both within the school community and the community at large is important.
5) What does your gut tell you? Just like many who have moved often can walk into a house or apartment and see yourself living there immediately, so too can you innately tell whether or not your child "belongs" in a particular school. This matters. Perhaps more so than any of the quantitative statistics. Pay attention to your own emotional radar. We all know what feels good, even if the numbers or other indicators tell us otherwise.
Popular in the Community