It is very important for homeowners to choose the correct flooring for not only the design, style and color, but the right material for its durability and ease of maintenance. The process with the homeowner is to determine how they are going to use the space. Then decide whether we are going to use the existing floor and refinish, do new wood all together or possibly select porcelain tile that looks like wood.
Here are four flooring choices that show the complete range of options when selecting your wood floor.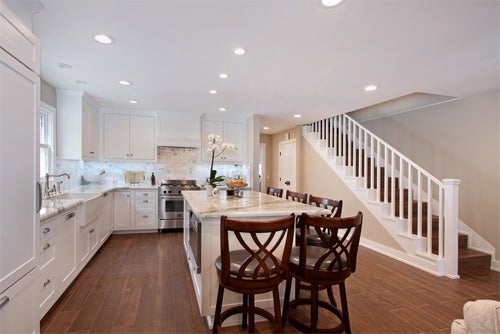 This is a beach house with limited lighting. But there are 12 ft. all glass patio doors at the end of this room facing south, which gives it an enormous amount of light. The floor is a porcelain tile made to resemble hand-scrapped walnut wood. The advantage of porcelain tile is that it looks like the real walnut wood flooring, but since its porcelain its durability makes it bulletproof for this beach home.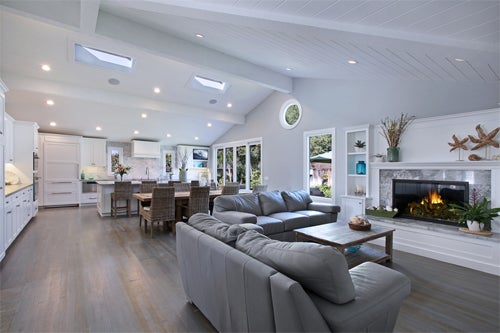 This is the vintage white oak flooring restored and re-colored with a grey theme to match the marble countertops. We kept the old flooring because it had never been refinished. Even after moving walls, the client liked it so much that we decided to keep it instead of doing new flooring in a similar color.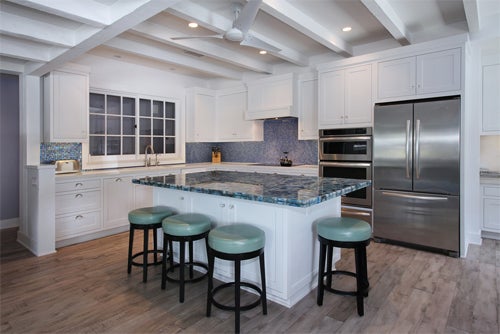 This is brand new flooring. Since the client was into a tropical Hawaiian theme, we decided to do a mango wood on the floor. Mango wood has lots of variations and textures, similar to coconut flooring. The use of this product gave a warm, casual feel to the residence. It compliments the very exotic blue gemstone counters and the multi-colored iridescent backsplash, which makes one feel like they are underwater in the Caribbean.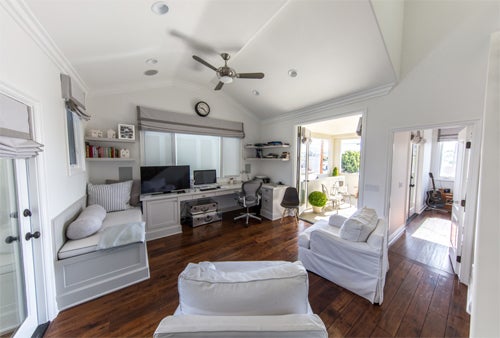 This is a second story lounge off the guest bedroom. It just so happened to have two patios off the room, a smaller one on the left and larger one on the right. This allowed the room to be flooded with light. The flooring is an antique hand-scrapped walnut. This was chosen because of the rich vintage quality and look for this very traditional English-style cottage. It worked very well in there because it grounded the space, which was mostly warm grey's and whites. It also had the durability to walk on and use carefree.
Popular in the Community