Choose the choice that offers the most choices.

Taken directly from my speech to Turner Community Youth Development Initiative projects (presented by the Turner Foundation) who had gathered at Honey Lake Plantation for a Youth Summit near Tallahassee, Florida, these aforementioned words ignited three students in particular. These three students - Daryl, Hannah, and Tierra - from Alamo Navajo Reservation near Magdalena, New Mexico were inspired to create a student club called C. H. O. I. C. E. Club (or Community Helping Others Inspire Change Everywhere).
When I present to students about finding their voice and unleashing their passion, I am often asked, "What keeps you going?" With youth like these from Alamo Navajo Reservation as an example, the answer is clear: the impact of working with young people is meaningful and direct. Knowing that my message created palpable impact energizes me; it feeds me. So, when I heard that the students had actually accepted my challenge to choose to be a leader, to choose to be a person of a character, and to choose to be a changemaker, I knew I had to visit them in New Mexico just to follow-up on their efforts.
The nearest international airport to Alamo Navajo Reservation stands in Albuquerque, where direct flights anywhere are still difficult to find. With creosote, salt bush, and plenty of cattle to our sides, a 75 speed limit guides us southward on I-25 and westward on a New Mexican highway towards the nearest incorporated town outside of Alamo Navajo Reservation, Magdalena. Here, the gas station's shelves are empty, and even the pumps yellow plastic bags cover the pumps. The gas menu still boasts $1.99 gas, which could have been months ago that gas was actually that low.
Making a sharp turn, we continued 20 miles towards Alamo Navajo Reservation on a road that would have been unpaved in 1986, and 9 miles farther into a community that did not receive cell phone service until 2012, and electricity until 1987. Along the route, mountains paint the sky with celestial beauty, clouds hung over the desert like snails, and cool breezes tugged at our shirts.
I walked into the school and Michael Torres, Alamo Community School's media specialist, greeted me with open arms and a firm handshake. After having taught middle school for 10 years, the Soccoro, New Mexico native made the move out to Alamo to pursue a new opportunity to restructure the school's library. Mr. Torres has been teaching at Alamo for five years, so he has seen about 18 high school graduates a year, but he is still the awaiting the year when one of his former students makes it beyond the first year of college. Unable to handle the culture shock and pure isolation, 78 teachers have walked in and out of the doors of Alamo Community School during Mr. Torres's time there alone.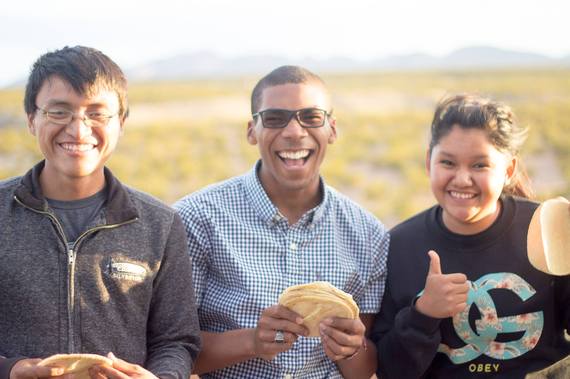 Together, Mr. Torres and I, walked into a class full of journalism students, and I was asked to share my personal story of founding Greening Forward when I was 12-years-old. I reminded the students that they, too, could lead community change even as young students. On a scale of 1-10, I asked the students to get up and move to a particular side of the room depending on how they felt about the statement: "My voice matters." All of the students stood to the wall, indicating 1, also meaning that all students thought their voice mattered very little. Some even wondered if 0 was an option. To them, it is easy to feel hopeless in a place like Alamo, where there are few examples of success and where they believe that there are no other options.
What do we do when we have few choices to choose from?
Even when it appears that we do not have any choices, we still have choices. We always have choices. Many students - many adults, even - do not even realize that so many more choices exist. In fact, Tierra, Daryl, and Hannah, had to travel a full day via car, plane, and shuttle to Honey Lake Plantation with the Turner Foundation just to realize that they could make a difference back at Alamo. Since our time at the Youth Summit at Honey Lake Plantation, the students asked the school if they would like a music class, and the school responded favorably. So, the students presented a plan to the school board, and now Alamo Community School will begin offering music classes. After this campaign, the students realized how much influence they had, and they are excited to suggest more ideas. I am excited to see what choices they will take next, because it will always be my choice to support them.
Popular in the Community