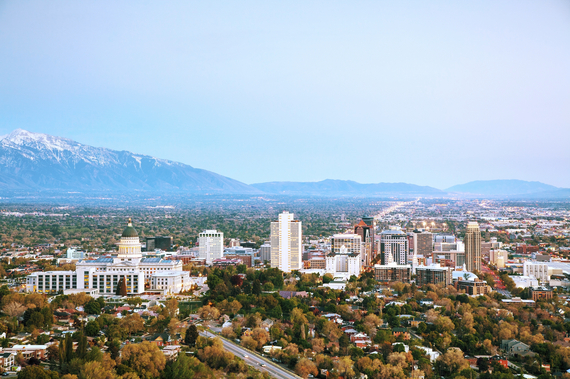 When most people think of their ideal place to live, they usually jump to big metropolises like New York or London. A few might picture rural retreats -- a sprawling French countryside or a California vineyard.
My perfect place doesn't fall into either of those categories. My dream location (and the place I've made my home) is Salt Lake City, Utah.
Believe me, I realize how strange that sounds. I didn't grow up in Utah, but I moved to SLC for undergrad simply for a scholarship and pretty campus close to the mountains. But no matter where I went after college, I had this nagging, unsettled feeling -- a feeling I never fully shook until I made it back to Salt Lake City years later. Coming back to this valley after being away felt like I was rediscovering a refuge I didn't know I'd lost. I could finally appreciate this city for what it is: a stunning, inimitable haven.
If I could give all you readers searching for fulfillment a piece of advice, it'd be this: find a place that brings you joy, and make it a priority to go there -- or even move there if you can. Nothing feels as enlivening as waking up each morning in a city or town that you love. For me, that means splitting my days between the majestic mountain sunrises and fiery desert sunsets that only Salt Lake City can provide.
Putting the "Great" in "Great Salt Lake"
Salt Lake City is more than the gorgeous nature that surrounds it -- though that is a compelling reason to move here. Living away from Salt Lake helped me to understand that there are more reasons to move to Salt Lake than most people realize, so I want to share a bit about my city's charm and what makes it so exceptionally rare.
1. Salt Lake is a high-tech, entrepreneurial paradise. Entrepreneurship is a core part of Utah's culture, so there are a lot of fascinating people to learn from and plenty of startup companies to get involved in. That business-oriented culture has quickly turned the city into a hub for the motivated -- a magnet for creativity and innovation. Per The New Yorker, Salt Lake is one of the cities helping to turn Utah into "the next Silicon Valley" -- a trend that companies like Google Fiber have been eager to support.
2. Downtown shopping is both chic and convenient. If you need a break from the hot summer temperatures or don't feel like snowboarding all winter, you can head to City Creek -- Salt Lake's upscale mall. The heated outdoor complex, complete with water features and wonderful little fishponds, is pretty much the perfect shopping experience, and it's one you don't get in bigger, busier cities like New York.
3. There's no shortage of sights to see or food to try. Right next to City Creek is Temple Square, a historic property owned by the Church of Jesus Christ of Latter-day Saints (the Mormons) and a must-see for tourists. I recommend going in the late spring, when the flower displays are at their most stunning; others say it's best during the holiday season, when thousands of twinkling Christmas lights decorate the square.
As you make your way around downtown SLC and the surrounding neighborhoods, you'll also note that there's no shortage of restaurants worth visiting in Salt Lake -- my personal favorites being Aristo's, Caffe Niche, and BTG Wine Bar. And you might be surprised by the number of local coffee shops in Salt Lake, but you really can find one about every couple blocks. Personally, I can't get enough of Publik, Blue Copper, or Alchemy Coffee.
4. It's not as Mormon as you might think. Those who are unfamiliar with Salt Lake and Utah may be thinking, "What about the Mormons? Don't their beliefs dominate the state?" Don't worry -- any Mormons you meet, like most Utahns, will be extremely friendly, so you'll never feel unwelcome.
There are ways you'll notice the culture's effect on the state, like when you try to order a drink and find out that Utah's alcohol laws are a little more restrictive than you're used to. But as long as you learn what the rules are, it's not hard to plan around them.
5. SLC has LGBT pride. After some bad press around marriage equality in 2008, you might not think of Salt Lake as a city with a strong LGBT community. However, per one 2015 national survey, Salt Lake actually has the seventh-largest LGBT population in the top 50 metro areas in the U.S. The city also hosts an annual Pride festival, embracing the LGBT scene that's absent in other Utah towns.
I think I love Salt Lake City so much because it's the perfect mix of beautiful wilderness with a bit of metropolitan infrastructure. It may sound cliché to say that Utah has changed me and taught me invaluable life lessons like choosing your home based on where brings you the most joy, but it really has. I'm not the only one, either -- Modern Family's Ty Burrell penned his own love letter to Salt Lake City, which is well worth a read if you want to further understand the appeal of this place.
I wouldn't trade my experience living in Salt Lake City for anything, and I'd highly recommend this unique part of the West to anyone looking for a more fulfilling lifestyle. You'll be hard pressed to find another city with such a beautiful balance of success and stillness.