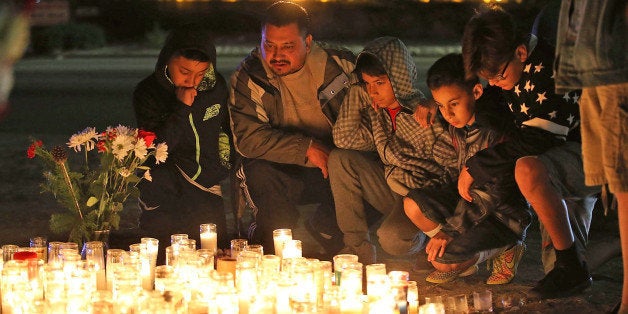 If a Christian person kills someone, it's a crime, but if a Muslim person kills someone, it's seen as an act of terror. In statements after the San Bernardino shooting, presidential candidate Ted Cruz called the shootings "radical Islamic terrorism" before an investigation was complete. And Chris Cuomo said that Christians don't kill in the name of Christianity.
As human beings, sometimes when we are afraid and angry, or when we we're grieving and we haven't grieved fully, we spew venom and violence into the world to make us feel more in control. No matter our religion or our race.
This is the danger that effects our country like a virus when we make blanket statements about religion and assumptions on people who are not white or don't "look Christian."
I was at a meeting this week with national interfaith leaders including Rabbi Sharon Brous and Linda Sarsour, hosted by Auburn Seminary. We lamented how Sikhs are being tormented by anti-Islamic sentiments. Just two weeks ago, I interviewed Dr. Prabhjot Singh, a Sikh and the victim of a hate-crime in recent years because he "looked Muslim."
As we watch the news about ISIS, let us also remember ISIS kills in the name of religion and Muslims are the greatest casualty.
Sadly, the "God" claimed by Christians, Muslims, and Jews as the creator of the universe has been hijacked way too often in human history to justify our hatred and fear: Witches burned at the stake, and crosses on lawns; bodies torn asunder, or gassed in ovens. Bus bombs, barbed wire, occupation and manifest destiny. Beheadings and murders in houses of worship.
What we have in common is that none of us is without sin, and all of religions have extremists.
I'm a Christian pastor--let me recall my own people. Christians invented Apartheid in South Africa. Christians tortured Muslims to convert them. Christians killed six million Jews during the Holocaust. Christians enslaved Africans, and the KKK claim their White supremacy as ordained by God.
But the Christianity I believe in stands for those on the margins. Muslims, refugees, and people who don't "look Christian" or "look white" are on the margins. They are being victimized. They are being attacked out of fear, misinformation, and hatred. This should not happen in the name of religion.
Linda Sarsour, Executive Director of the Arab American Association and activist in the Black Lives Matter movement recently preached with me at Middle Church. When I am with Linda, my despair turns more hopeful. We are prophetic in our grief, acknowledging the pain of the world we inhabit, connecting with community to feel all of it. Our prophetic grief is empathetic grief. When a body is violated in any place on the planet, because of what she believes or how he looks, we feel the pain and we mourn every lost life.
When I look in Linda's face, warmly framed by her hijab, and she says, "Rev. Jacqui, I see myself in you, and I see you in me," it seems like a benediction. It sounds like respect, like collaboration, like being held in a benevolent mirror.
Not all of us have friends who are Muslim and Sikh in our communities. We may not all know their personal stories and the trials they face because of how the media shapes our news. So it is imperative that those reporting on the world around us, and presidential candidates representing America to the world, not rush to judgment. Further, they must choose carefully what they call crime and what they name terrorism, no matter the religious tradition of the perpetrator involved.
Related
Popular in the Community