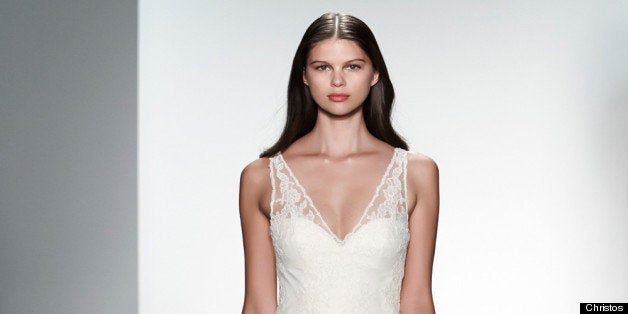 As a bride-to-be, you've most likely begun the very exciting task of browsing through several magazines in search of your dream wedding gown. We all know the search for the perfect gown can sometimes be an overwhelming experience, and with thousands of designs and styles available today, you want to make sure to choose the silhouette that will make you look and feel your best on your big day!
Chances are you've probably found yourself asking the question of how to choose a gown that best flatters your figure. Well have no fear! These tips will put your mind at ease and help you find the best dress that suits your body shape. Whether you're busty, tall, pear-shaped or petite there is a silhouette for you!
Apple - If you're widest around your waist you have an apple shape. A gown with a long torso, fitted to the high hip is a great way to flatter this particular body shape. This type of silhouette elongates the upper body and a fuller skirt provides balance. V-neck and sweetheart necklines will draw attention to your upper body and accentuate your bust line.
Busty - Undergarments are very important, especially if you have a fuller bust. Be sure to look for a great bra or corset for the right amount of support underneath your gown. A V-neck gown will minimize the width of the bust and elongate the neckline. This silhouette will draw attention to the complete look of the bride as opposed to just one area.
Hourglass - If your shoulders and hips are about the same width and your waist is well-defined, then you fall into the hourglass category. Showcase your beautiful curves and go for a mermaid, trumpet or sheath silhouette. You can also accent your waist with a beaded belt.
Pear - If you're smaller on top and curvier on the bottom, you are considered pear-shaped. A pear-shaped bride will never fail to look stunning in a ballgown or A-line skirt with a fitted bodice and a natural waistline. Draw attention to your upper half with interesting necklines such as a one shoulder or V-neck. An A-line or ballgown style will reduce attention to your bottom half and flatter your best assets.
Petite - If you're petite, try a gown that will elongate your small figure such as a 'Fit and Flare' style. A gown that is fitted to your body and then flares at either the lower hip or knee gives the illusion of height.
Rectangle/Straight Lined - If your shoulders and hips are similar in size and you don't have a well defined waist you have a straight lined figure. Suggested styles that best flatter a bride with a straight lined figure are fit and flare, trumpet, or mermaid styles. These silhouettes will hug all of the right places and often create the illusion of curves.
Small Bust - If you are a bride that has a petite chest and would like to highlight your bustline, you should opt for a sweetheart neckline. This is a great way to naturally accentuate your chest. Again, it is very important for even brides with a smaller bust to wear the appropriate undergarments--which can even assist in enhancing the chest.
Tall & Slender - The most flattering styles for a tall and slender bride are fit and flare, trumpet, or sheath style gowns. These fitted looks highlight the long lines of the bride and compliment her figure in every way.
Keep in mind that the above are merely helpful suggestions and when you are in search of your dream dress; the one best for you is the one you feel your best in! This is your day; wear whatever your heart desires!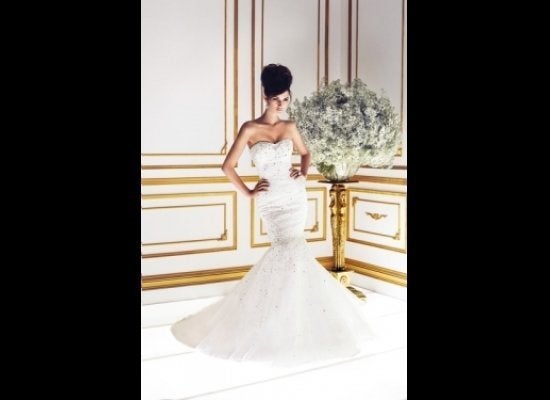 The Best Wedding Gown for Your Body Type