While I am a lifelong Democrat, I consider myself fortunate to know two Republican members of Congress. I was a high school classmate of Senator Pat Toomey and shared a secretary with Congressman John Katko when we were young lawyers in Washington. I think both are good men and, although our differences are great, I think many of them involve issues that people can in good faith disagree upon.
In this unprecedented and troubling era, however, there are three issues I wish to draw their attention to for which there should not be a Democratic or Republican position - but only an American position.

After less than 100 days in office, there already are a bundle of questions about potential conflicts ranging from pay-to-play allegations and profiting at taxpayer expense through his visits to Mar-a-Lago and other Trump properties; China's sudden approval of Trump trademarks after reversal of his position on One China; diplomats staying at the Trump International to curry favor; and now allegations concerning Trump's dismissal of U.S. Attorney Preet Bharara who was overseeing an investigation of Deutsche Bank AG whom Trump owes $364 million and insider trading allegations involving Health & Human Services Secretary Price.
Even Richard Nixon acknowledged that the people have a right to know "whether or not their president is a crook." Yet regrettably John and other House Republicans have blocked efforts to compel Trump to produce his tax returns as he once promised and have shown little interest in the ethical issues raised by the Trump Presidency.
The party that prides itself as Constitutionalists all of the sudden seems to have forgotten the Emoluments Clause forbidding tributes from foreign states. The American people rightly want to know and Congress should get to the bottom of this and revisit government ethics laws to make sure that all federal officeholders meet the same high standards.
The more serious issue, however, is Trump's entanglements with Russia and his campaign's engagement with the Russian government and Wikileaks, while making a decidedly pro-Russian pivot in foreign policy. Each week we learn of new ties and new lies about them, accompanied by some outrageous twitter allegation designed to distract attention. Last week we learned that the FBI truly is investigating the President.
I have been a Republican for decades, and the one thing that Republicans and Democrats should have in common is concern about our national security. . . This is not a Democratic and Republican issue, and figuring out who in our government is cooperating with the Russians is of the utmost importance.
This was one of President Washington's greatest fears, that "foreign influence and corruption" would subject the policy and will of this nation to "the policy and will of another."
I commend both of you for supporting a Congressional investigation on this matter and it is important that it proceed unimpeded by partisan considerations. Unfortunately, House Intelligence Committee Chairman Devin Nunes has demonstrated that his first priority is to protect President Trump and Speaker Ryan has backed him up.
There seems to be a disconnect between Republicans' fury and concern that Secretary Clinton's use of a private email server might have given our enemies a back door to classified information, and their lack of action and timidity when there are credible allegations that our chief geo-political rival may have gained access via the front door through the President and his allies.
Finally, fifty-two years ago President Johnson spoke to Congress after Selma's Bloody Sunday to declare that
At times history and fate meet at a single time in a single place to shape a turning point in man's unending search for freedom. So it was at Lexington and Concord. So it was a century ago at Appomattox. So it was last week in Selma, Alabama.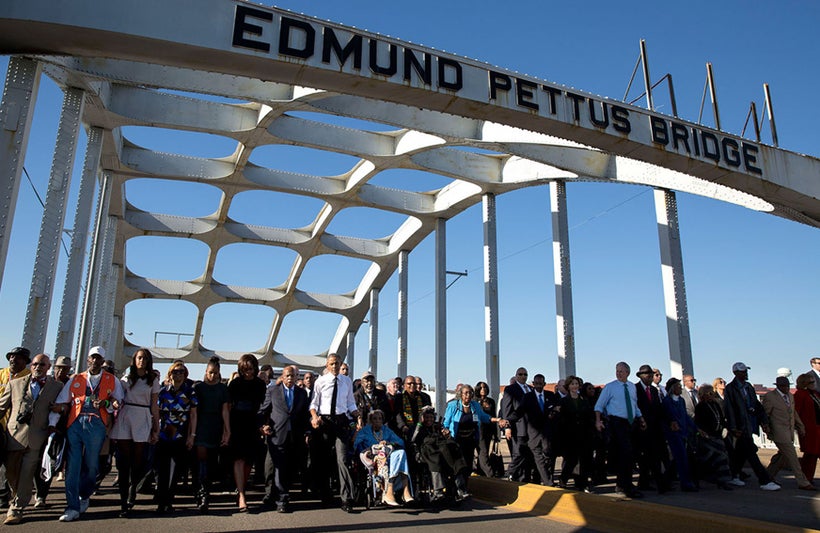 President Johnson stressed that this was not a regional or partisan problem, but an American problem that we must solve as Americans. At Johnson's urging Congress passed the Voting Rights Act. In 2006, then-House Judiciary Committee Chairman Jim Sensenbrenner (R-WI) introduce legislation reauthorizing the Act for another 25 years which passed the House 390-33 and the Senate unanimously.
The Supreme Court's decision in Shelby County v. Holder (2012) however, gutted a key enforcement mechanism that enabled the Justice Department to block discriminatory voting laws and has opened the door to a proliferation of voter suppression efforts. In the last two Congresses, Rep. Sensenbrenner and Sen. Leahy introduced legislation to reverse the Shelby County ruling. Last Congress the legislation had 111 co-sponsors in the House and 45 in the Senate – but this bi-partisan legislation could not even get a single hearing. That is shameful.
Now I know neither one of you have a racist bone in your body, but the reality is that today your party is standing on the wrong side of the Edmund Pettus Bridge and is actively promoting voter suppression. What side will you stand on?
Each of you have been credited for taking independent positions and reaching across the aisle. So I am asking you both to lead your party in the right direction and
(i) require that President Trump provide full financial disclosure and ensure that he is held to same ethical standards of other federal office holders;
(ii) demand that your party leadership remove all partisan obstacles to a swift, complete and thorough Russiagate investigation; and
(iii) co-sponsor the Sensenbrenner-Leahy Voting Rights Amendment Act and denounce voter suppression efforts.
An honest government, rooting out Russian spies and ensuring voting rights for all should not be partisan issues even in this era of hyper-partisanship. It involves a simple choice that the interests of the Republic are paramount to the interests of the Republican Party.
As members of Congress from Democratic states, I am sure you are acutely aware of the electoral consequences of such a choice. In this age of Brexit, however, I fear that a government of Republicans for Republicans takes us down a dangerous path that could imperil the very union that our first forty-four Presidents fought to preserve.
REAL LIFE. REAL NEWS. REAL VOICES.
Help us tell more of the stories that matter from voices that too often remain unheard.
This post was published on the now-closed HuffPost Contributor platform. Contributors control their own work and posted freely to our site. If you need to flag this entry as abusive,
send us an email
.