Picking a tub is a personal decision. These days, most people simply want a soaking tub to wash away the day. Clients are asking for therapeutic tubs, which have tiny pinholes that create tiny air bubbles that increase circulation.
Here are four tubs that are not only beautiful to look at, but easy to get into and use.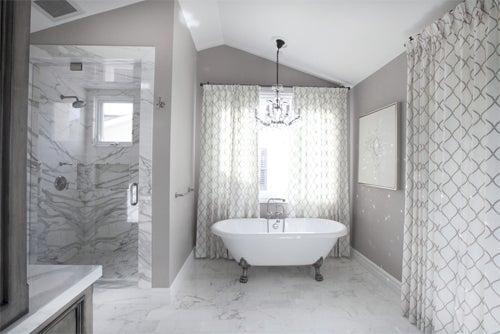 This vintage Ball and Claw tub stands alone in this elegant Carrara marble bathroom. The crystal chandelier sets the theme for the ultimate experience of relaxing in style. The color theme of the bathroom is taken from the pewter veins in the Italian marble used in the bathroom. This particular tub was chosen because of its beauty standing alone in the corner of the room and the ease of getting in and out of it.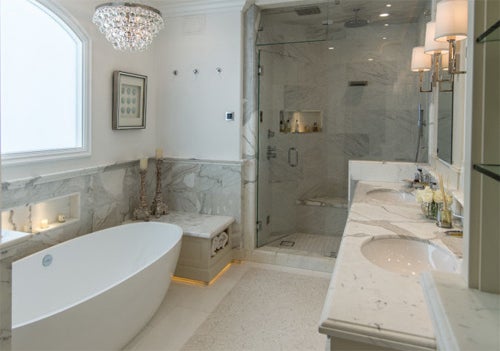 This particular tub is a modernized version of the Ball and Claw tub. It sits on the floor like an elegant bowl with its clean sleek lines and lack of detail other than the overall organic shape. The crystal chandelier is the finishing touch to this ever so elegant modernized traditional bathroom.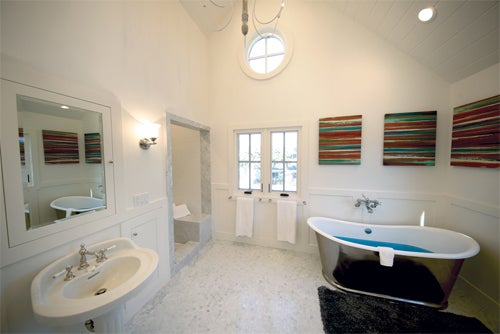 This vintage bathtub was placed alongside a 1928 original reclaimed vintage sink. It sets the stage for the overall 1920s theme for this home. The fixtures for the tub were also vintage reclaimed. This particular tub has a stainless steel clad exterior that has turned into a lovely dark pewter color over time and is of the slipper tub design overall.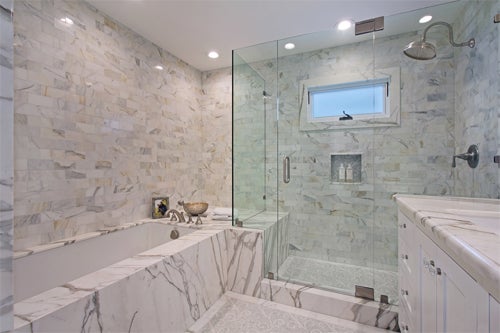 This tub is covered in Calacatta Gold marble slab and the slab extends into the back of the shower. This same slab continues to create an area for display and a place to sit for the shower user. The walls are also covered in Calacatta Gold marble and cut to 3 x 6 subway tile size. The floor is a custom mosaic with a curly pattern that represents crashing ocean waves as this home is only one block from the beach.