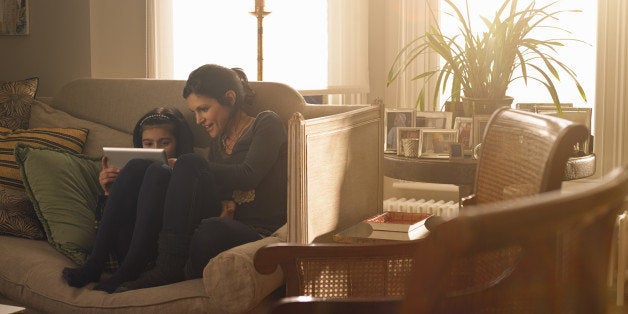 Today has been about pictures and ghosts because my house is haunted.
My Kindergartener has one of those "About Me" posters due in school in a month. Normally, I am a professional procrastinator with a black belt in inventing distractions. Something like this wouldn't get my attention until the evening before it's due. But I can't afford that luxury anymore. It's one of the many luxuries I gave up when I left my husband. In my new reality, I know that I have two more weekends with my daughter until it's due, and that means, I have to gather supplies (poster board), find pictures (spend an hour looking through files on my computer), order said pictures (through Costco) and afix these to her poster while coaxing her into writing sentences about them... in Spanish. It's going to take a little forethought and planning. This also means I have to look through pictures of her father. Happy pictures of before. Oh look, there we are on the beach! On vacation! In the backyard! What a great day that was! Remember!?!?!
Although it was a little torturous, I wouldn't dare leave him out of her poster about her.
I selected one. While I was at it, I decided I might as well fill that multi-picture frame collage that used to house our wedding photos. It's been sitting empty on my wall, like a hallow reminder of this past year. So I selected a whole stack of great pictures of me and the kids from the past year. The beach! Vacation! The backyard! What a great day that was! Remember?!?! And then a few more, for a few more empty frames.
After procuring these pictures at Costco... on a Saturday... with two kids in tow... because clearly I hate myself and put very little value on my sanity... I came home and started taking the frames apart, replacing older pictures with new. I have this habit of leaving old pictures in the frames behind newer ones. I'd done a pretty thorough sweep of "our" pictures many, many months ago, but in this process, I found a picture of us. We were smiling, a beach in the background. A ghost.
This house is full of them. It's haunted from the concrete slab up into the rafters, which is probably why he doesn't want it. Call me crazy (you wouldn't be the first) but I do. Yes, I want to live with these sad, haunting apparitions, and let me tell you, they linger E.V.E.R.Y.W.H.E.R.E. They're scattered about in the corners of closets disguised as dusty, ancient, random man-detritus; a belt, a lone shoe, a tie clip. They are in some trees he planted still thriving in the yard. On the top shelf in the garage, behind the coolers.
Along with these sad, melancholy ghosts are also these incredibly bright spaces. The space in the living room where my daughter took her first steps often pulses with the softest light. The spot in the driveway where my son learned to ride his bike is forever in sunshine even in the dead of winter. The electric majesty of the other tree where we hang our peanut butter bird feeders and homemade bird houses leaves me breathless. And there's this warm glow that comes from the front doors of the neighbors who are friends and the friends who are neighbors. But my favorite bright space is the flattened and stained carpet where my children run their paths through the only house they've ever known, the house where they were born. These paths have this beautiful, lusterous sheen, which might actually be apple juice, but it's still so, so lovely when the sun hits it just right.
Sometimes I envy his new digs; the top floor, spacious, two-bedroom, corner condo with a view of the pool. I don't actually know what it looks like inside, because he won't allow me in the building, but I'm fairly certain there are no ghosts living there. He is the type of person who doesn't look back and has no desire to do so. I assume it's because of the sadness that arises when you do. And for this, I also feel sorry for him.
Because I choose to live with ghosts, because I survive with them, too.
Because life is a messy mix of the joy and the pain. There can't be one, without the other. There is no definition of light that does not include the dark. And somewhere deep in my knowing I've learned that there is no gratitude without ungratefulness, no love without loss, no future without the past. Most important, I know that I could never know where I'm headed without remembering where I've been. And where I've been, is right here the whole time.
So I learn to live, and maybe even love, or at the very least appreciate, these ghosts.
And plus, there's this thing about ghosts and pictures... over time, the light... it fades them.
Related