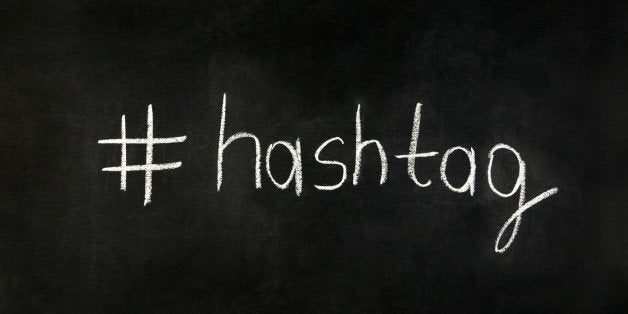 First and foremost, a fair warning -- photographers will tell you that one of the most frustrating wedding fails they face is missing that shot because a guest got in the way while trying to capture the same picture on their phone. Encouraging your wedding guests to take pictures and post them using your wedding hashtag may result in a situation or two like this. But, you know your guests best. If you think they can be trusted to discreetly capture wedding moments you won't want to miss, go for it -- and choose your wedding hashtag.
According to The Knot, 55 percent of couples now use hashtags at their wedding. Here are Something New for I Do's top tips on picking and using a wedding hashtag that reflects your wedding brand.
Get specific. To avoid running the risk of your hashtag becoming lost in the sea of others who may also be considering #SmithWedding, for example, make your wedding hashtag unique enough so that it stands alone. If you have a common last name, consider using your specific date like #SmithWedding2016 -- or even more specifically #SmithWedding4516.
Take it a step further and get creative by customizing your hashtag with an element from your wedding brand. My fiancé and I will be using "forevergreen2015" as I will soon be forever Mrs. Green and because evergreens will be a big part of our wedding décor.
Keep it short and sweet. Hashtags work best when they're short and easy to spell. Because one little typo affects the hashtag's searchability, make it easy for your guests. If your new last name requires a Facebook search for the proper spelling, consider using first names instead. Joe Manganiello and Sofia Vergara would make the perfect example -- #MrandMrsManganiello is a tough one!
Start using it before your wedding. Other bridal events leading up to your wedding day, such as your engagement party, showers and rehearsal dinner, are also great times to put your wedding hashtag to use. Include your hashtag from the start with your save the date and on your wedding website so there are no missed opportunities to get pictures from your guests' perspective.
"We chose #MillerTime because we wanted something fun involving our last name that would be unique to us and our wedding. The bridal party all got t-shirts made with the Miller Time logo on them to wear at the bachelorette and bachelor parties as a fun gag gift."
"We were trying to decide on a wedding hashtag our friends could have fun with that combined both our names, so on the way to my bachelorette, all my bridesmaids brainstormed and came up with #WhitGetsPerryed."
"Our names are Emily and Tyler, so our hashtag is #EmTystheKnot."
Related