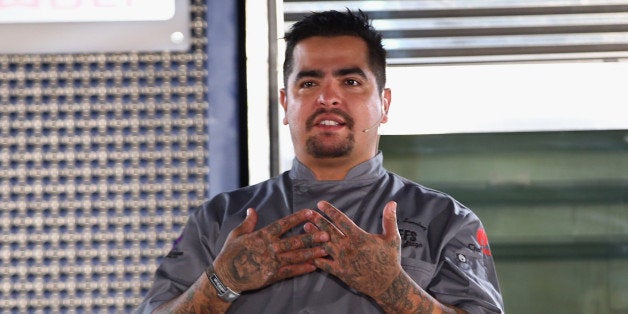 Aarón Sánchez, co-star of the Food Network's hit series "Chopped" and "Heat Seekers," says that he "never planned to become a celebrity chef." Though it is not a surprise given his mother is one of New York's most celebrated Mexican chefs, Zarela Martinez. At an age when most kids were playing after school, Sánchez was working hard at his mother's restaurant.
"I was 13 when I started gravitating towards the kitchen. Then it all felt natural. I about 16 when I decided that this [food] was going to be my calling," said Sanchez in an interview with VOXXI.
His passion, skills and charismatic personality have paid off. Aarón Sánchez is among the country's leading contemporary Latin chefs.
Sánchez is also the chef and owner of Mestizo, in Leawood, Kansas. In addition to being a restaurateur, television celebrity chef, consultant and spokesperson, Sánchez is an author. His first book, "La Comida del Barrio," was published in May 2003. His second book, "Simple Food, Simple Flavor: Unforgettable Mexican-Inspired Recipes from My Kitchen to Yours," was released in October 2011.
Yet Sánchez's creativity expands far beyond the stove. He is a strong admirer of the arts, "Music, poetry and art are all important to me. I write poetry, I love it." As an avid music lover he enjoys cooking to the sounds of Alabama Shakes, Amo Lee, Sade and The Cure… and singing too.
Aarón Sánchez tells us what influences him, his thoughts on the evolution of Latin cuisine in the United States, what's like behind the cameras on the set of "Chopped" and much more in our Q&A.
Who inspired you to become a chef? My grandmother and my mom.
How do you get inspired to create new dishes? By going to markets, traveling and going to my peers and colleagues' restaurants.
Why the tattoos and what do they mean to you? It began as a form of rebellion for me, but now it's a way for me to give honor to and recognize my faith, culture and family.
How do you keep yourself in shape and how do you relax? I love taking spinning classes at FlyWheel. I also play basketball whenever I get a chance. I like to relax by writing poetry, going to the beach and spending time with my family and son.
What does family mean to you and how do you relate food, friends and family? My family is my foundation. Food is the way we commune, it's what bring us all together. Cooking in my family is collaborative and a reason to spend the whole day together.
Chef Aarón Sánchez's likes and dislikes
One ingredient/food you do not like: Green bell peppers.
Favorite cuisine (besides Mexican): Korean. I love the chiles, the vinegar and the pickled vegetables.
Favorite and worst childhood food memories: Worst – Right after we move to NY my mom smoked out our apartment building toasting chiles for mole. Favorite – my grandmother inviting us over to cook, we'd make chorizo and tacos.
Favorite food/dishes to cook, and the most challenging one(s): Favorite – Pork, there are endless possibilities. Most challenging is eggs, it's easy to do something good, but so hard to do perfectly.
Favorite comfort food: Sopa seca.
Favorite chef and why: Chef John Besh, he's very well versed in so many types of foods. Also his work ethic and his love for his craft truly shows in the food. He's someone I truly admire.
Favorite thing to do when you are not cooking: Eating great food.
Your top three favorite restaurants in the U.S.: Barbuto in New York, August in New Orleans and Incanto in San Francisco.
Chef Aarón Sánchez answers 'what ifs'
Last supper—eating what, where and with who? I'd be with my family, eating chile Colorado in El Paso, Texas.
If you could be a flavor that defines you completely, what would that be? Chile Pasilla
If you weren't a chef you would be: A mariachi singer
If you could be a comic-book, who would you be and why? I would be a superhero that comes in and fights bad food. I'd have a cape and my name would be Capitan Rico.
If you had a magic wand and could have/do/be anything you want, what would that be? I'd be my dad when he was younger.
What three things would take with you to a deserted island? A knife, a pack of matches, and a comfortable, sturdy pair of shoes.
The 'Chopped' chef on cooking
How do think the perception of Mexican food has shifted in the country since your mother, Zarela Martinez, brought it to the forefront in New York City, back when you first started cooking at her restaurant?
It's has changed tremendously. The technique, quality, understanding, execution… it all has evolved tenfold. There's more of an awareness now. Mexican chefs are better trained now. When I started cooking, we weren't in power. They were expected to be washing dishes and prepping food. Today we see young aspiring kids working in nice kitchens and going to great culinary schools. Today, we have people like Rick Bayless.
Define Latin food in three words. Vibrant, colorful, and soulful.
What's the hardest (most challenging) thing about being a judge on "Chopped"? The fact that I am inevitably disappointing three people.
What's your secret to creating a successful dish?
I like to keep the essence of the dish intact while using contemporary techniques and presentations. Sometimes a simple dish like rice and beans, can be totally transformed if you work on the meat and sauces that will go with it.
What's it like behind the scenes? It's a ton of fun, there's a lot of goofing around. We're like one big happy family.
What makes "Chopped" so interesting to viewers? I think it's because it's a real game changer—it changes people's lives. You have four people walking in and one of them is walking out with $100,000. I think it's pretty cool.
What do you prefer, being behind the stove cooking or behind the judge's table? Behind the judge's table. I was on "Chopped All Stars" and it is a very stressful situation.
What top Mexican ingredients should cooks and foodies always have in their kitchen? Chipotle, huitlacoche, Mexican oregano and chiles en adobo.
What's your best advice for young chefs? Work under as many great chefs and in as many kitchens as you can. It will give you a well-rounded foundation and you can learn so much from experienced chefs. Also, you'll meet great mentors along the way, which was really important to me.
What's next for you? Any projects you are working on now? I'm working on a new restaurant in New York, Alegre. I'm also really excited about Johnny Sánchez, a restaurant that John Besh and I are working together on.