Remember a time when it was not cool to sing in Glee Club? When sexy was a size zero and when food was (audible inhale) simply seen as fuel for the body? We have come a long way since those very, very dark days and as we moved from geek to chic and an understanding that real women have curves... I found I was not alone in my fetish... I mean fondness for food as art, food as fun and the kitchen as a place where families gather and foodies turn the "c" in culinary inside out in the name of competition.
Therefore, it was great foodie television when on Sunday at 9 p.m. ET/PT when I turned on The Food Network for Chopped All-Stars and got my taste-buds ready to kick some butt with Season 3, hosted by Ted Allen. The show was offered up a full menu of Food Network chefs vs. Cooking Channel chefs waging a culinary smack-down. Week three's culinary chaos was epic as Chopped judges competed against one another only to face the ultimate judges, their peers.
"Chopped All-Stars raises the stakes of our popular franchise by pitting fiercely competitive food stars, and for the first time, celebrities, against each other," said Bob Tuschman, General Manager and Senior Vice President Programming, Food Network. "These stars use their culinary prowess to battle it out for their charities and bragging rights for winning this all-star competition."
Now in week four, celebrity chefs and celebrities -- consisting of competitors Johnny Weir, Joey Fatone, Laila Ali and Judy Gold, with judges the likes of Maneet Chauhan, Geoffrey Zakarian and Marcus Samuelsson -- enter the home stretch with everyone pushing their limits and patience in the name of being crowned winner.
In a recent sit-down to dish the dishes, Host Ted Allen summed it up perfectly explaining that,
The show has everything, food, fierce competition and some of the world's best chefs willing to put their skills to the test in a very public display. None of these culinary geniuses have anything to prove; they are all successful, innovative and yes at times dramatic individuals. Yet they continue to rise to the challenge knowing full well not everyone can win. It is a wonderful amalgamation of cutting-edge culinary skill at the hands of some of the fiercest competitors I have ever met.
No wonder we've seen weeks of the kind of decadent television the Food Network has come to embody. The finale on Sunday, May 5th at 9 p.m. ET/PT is sure to be (audible inhale) Chopped at its All-Star best.

Photo Credit: The Food Network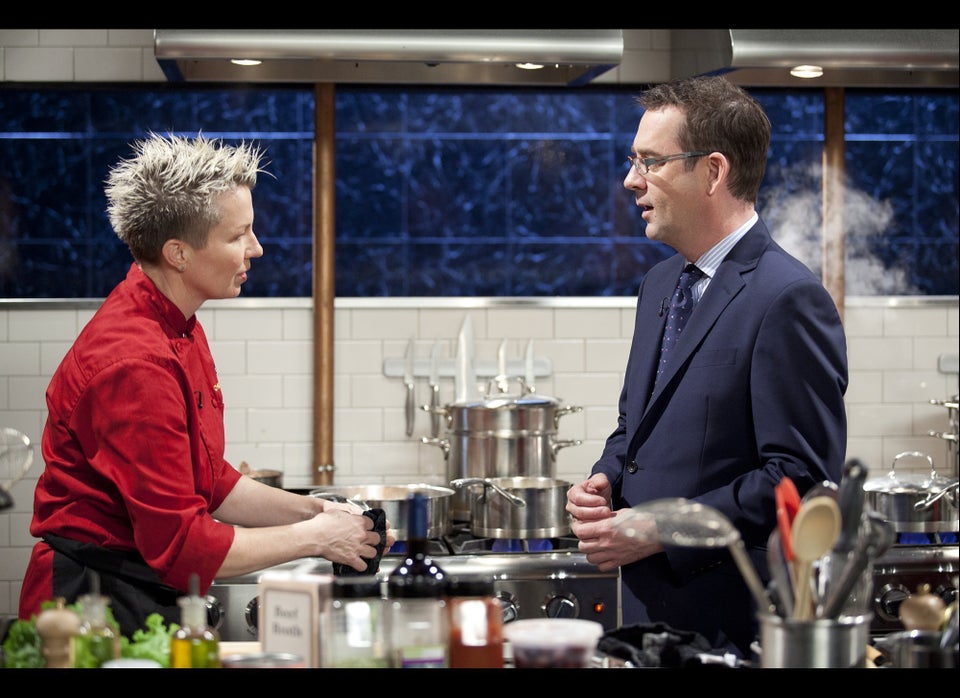 Chopped All-Stars on Food Network: Season Three