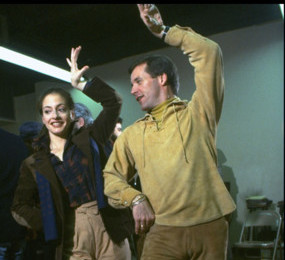 Larry Fuller rehearses with Patti Lupone in the original
Broadway production of 'Evita.' Photo: Martha Swope.
By Bob Rizzo, ZEALnyc Contributing Writer, October 17, 2016
Choreographer Larry Fuller is responsible for the staging of some of Broadway's most iconic musicals. Whether it was his Tony Award nominated dances in Evita, or his staging for the murderous Sondheim musical Sweeney Todd, his stylized movement always held your attention. Larry has staged both the Tony Awards and the Emmy Awards and has worked numerous times with legendary Broadway director Hal Prince.
On Monday, October 17th, the Dancers Over 40 will be honoring Mr. Fuller with one of their signature panel and performance nights. The evening, Larry Fuller: High Flying Adored, features Judy Kaye, Loni Ackerman, Sarah Rice and Jim Walton, among others at the St. Luke's Theater.
I spoke with Mr. Fuller on the phone at his home in Pennsylvania to talk about the event and his career.
Before we start I'd like to congratulate you on receiving the 2012 Legacy award from DO40C.
Thank you very much. It was a great deal of fun. Of course, I was honored and flattered that they did that.
How did you first hear about the organization?
John Sefakis who is the president of DO40 got ahold of me to do some sort of activity for them. I didn't know of the organization at the time, so I wanted to be sure they were doing something I felt was of real importance and interest to me. I found out that they were, and still are, indeed doing great work to support dance legacy. The fact that they donate to Broadway Cares was also a big attraction for me to begin with.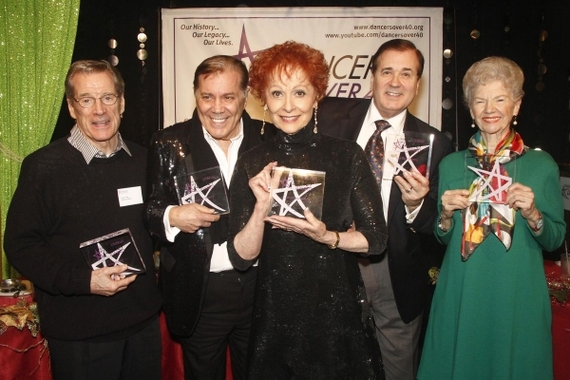 (L to R) Larry Fuller, George Marcy, Carol Lawrence, Lee Roy Reams and Norma Doggett-Bezwick at 2012 Dancers Over Legacy Awards.
When did you know you wanted to be a choreographer?
I got into being a choreographer by a stroke of really tragic luck. I was one of two assistants for Carol Haney on the original Broadway production of Funny Girl. I also was the dance captain and was in the show when it opened. Unfortunately, Carol was a diabetic and got double pneumonia three months after the show opened, and died at the age of forty.

After her passing I inherited Funny Girl. I recreated most of her work and did some additional work of my own that I was asked to do for the first national tour. I also did it in London with Barbra Streisand. The whole experience really opened up a door for me, as I had no idea I was a choreographer, let alone a director. Luckily I was given the opportunity to keep doing it.
You've done five Broadway musicals with director Hal Prince. How did that relationship come about?
Another stroke of luck, though this time it wasn't tragic thank God. By that time I had gone to Austria and Germany to work. A short time after doing West Side Story over there, I worked at the Theater an der Wien opera house in Vienna. They were doing the Broadway production of A Little Night Music in German. Since there is no dancing in that musical the contracted dancers at the Opera house had nothing to do for four months. I was hired to teach them jazz and tap dance. They asked me to create a Broadway dance evening that was to be done on the theater's dark night. I also put myself in the show. I was what I call Tommy Tune-ing myself.

When Hal Prince came over to put the finishing touches on A Little Night Music, we met during social gatherings at the theater. We got along great and he stopped in to watch a couple of my rehearsals for the dance evening I was directing. We also discovered we were fellow Aquarians. Though he left before my show opened, I translated the nice reviews I received into English and sent them to him. That was the beginning of a correspondence between us.
So what was the first show you did with him?
I actually worked for him, not with him. When a production of Candide was going to be done in Vienna, Hal contacted me and asked me to stage it. He and all of his people were tied up working on his Broadway production of Pacific Overtures at the time. I was flabbergasted and honored that he would give me that to do. Here I was doing Voltaire in German and I didn't even speak it very well.

I also got lucky with the film of A Little Night Music that was being shot in Vienna. It was postponed for so long that the choreographer, Patricia Birch, was only available for the first three weeks of the rehearsal. I was hired at Hal's suggestion to be her assistant during rehearsals and then help put her work on film once she left. That was my first actual experience working with Hal. Obviously we must've gotten along well because months later he offered me to choreograph his next Broadway musical, On The Twentieth Century.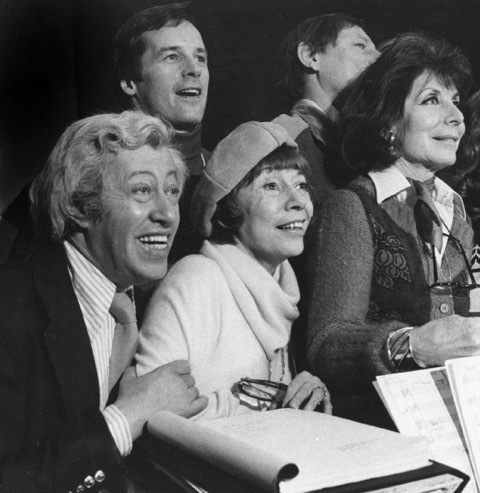 (L to R) 'On The Twentieth Century;' Adolph Green, Larry Fuller, Imogene Coca, John Cullum & Betty Comden; photo: original publicity.
During your Broadway tenure you've collaborated with some legendary composers and lyricists including Stephen Sondheim, Cy Coleman, Comden and Green, Tim Rice and Andrew Lloyd Webber. Do you have a story you'd like to share?
It was when I was working with Stephen Sondheim on Merrily We Roll Along. Both Hal and Steve would meet with me in the lounge of the theater where we had a piano set up to go over what I was going to redo that day. When we got to the end of Act One there's a song called "Now You Know" which features the whole company. The central character, Franklin Shepard, is being tossed somewhat friendly advice from various characters. They're singing in couplets during the number. I said to Steve that I'd like to give a specific couplet to someone on the other side of the stage as I was planning for something important to happen and wanted to take the attention over there. He said, "Oh no, you can't do that." Hal and I just looked at each other and I asked him why not? He said, "Because that is the rhyme scheme of the character singing it, so you cant give it to someone else." Now these were ensemble members and not characters you would recognize even though they did all have names. I said " Do you mean to tell me that every person on that stage who has a name has their own rhyme scheme?" He said, "Yes, well of course." I looked at Hal and said, "Did you know that?" Hal just wryly smiled and shook his head no. I said, "Okay Steve, I'll find another way to do it." I thought to myself how amazing that was. Who the hell would've known that he gave every single character their own rhyme scheme? He was just that amazing.
Of all the musicals you've choreographed what was your favorite?
Why Evita of course! That show actually gave me the chance to do some real dancing. "Buenos Aries" is an eight-minute production number. But people don't think of it as a big dance number as most of the focus is on Eva as she's singing. When I first did it, I thought to myself what a smasheroo dance number this is going to be. It ended up getting a nice applause but nothing spectacular. Then came "Peron's Latest Flame" with the soldiers and the aristocrats. It had constant staging. They never stopped moving once they got onstage but it really wasn't dancing. During the first preview the audience started applauding in the middle of the number. I was baffled and wondered what they were reacting to. I guess it was the style of the number as no one had ever seen something like that before.

I was hired as a swing dancer for the original production of West Side Story. At that time Actors Equity would allow performers to do partial performances. In the case of West Side Story, if a character such as Baby John or Action had an injury, they were allowed to do just their acting and singing part. As soon as any dancing would start they would somehow get upstage, sneak off, and I would sneak on. I would do their dance position in the number and at the end of it I would sneak off and they'd come back on.
Speaking of 'West Side Story,' what was it like to work for Jerome Robbins?
I was the only person in the entire company that hadn't been there from the very beginning of rehearsals. I never got the chance to go through it with Mr. Robbins. One night when I was on for one of the Jets, Mr. Robbins was there checking on the show. We were told he would be giving a note session after the show and to please get out of costume immediately and report to the stage. When we finished, I ran downstairs because I wanted to be the first one to stand next to God. That is more or less who I viewed him as, and still do, because I think he's the genius out of all of them.

There we were, the whole cast, sitting on the stage of the Winter Garden Theatre. During the note session I remember him turning to Carol Lawrence who was sitting there with a little pad and pencil. He slowly said to her, "Fake, Fake, Fake." Every time he said the word she wrote something down on her pad. She looked up at him with a look like, "anything else?" I guess she had been through it many times.

By the end of the forty-five minutes of notes, I figured he must've liked me. He hadn't criticized me yet. Well, the last thing he did was to turn to me with his laser beam stare and point to me with his thumb up. He said to me, " You stuck out like that, with a sore on it." That was the end of the note session. I was totally destroyed. I thought I was going to be fired.
I imagine any performer would feel that way. How did you manage?
Two of the guys, Tony Mordente and Jay Norman, took me out for a beer. I was all but crying, as I was so upset. They said that they'd all been through it and it was just my day in the barrel. They told me that the company thought I was doing a great job, but maybe I should think more about being a Jet, and less about worrying about the choreography. I have to say that that was the best piece of advice that I was ever given as a performer.

From that day forward I played raging anger from A to Z, or I should say A to B, because that's all I knew how to do. Whenever I went on I was just as angry as I could be. At least I didn't get fired.

Many years later when Jerry saw my work in Evita and Sweeney Todd he became a mentor. He even recommended me for some very good jobs.
What are your thoughts on the new generation of choreographers?
I loved what Jerry Mitchell did in the original production of The Full Monty. In that basketball number he took non-dancing actors and made them seem to be dancing. It was all an abstraction of the basketball vocabulary of movement. He did such a phenomenal job with it by telling the story through the characters and staging. I thought to myself that this guy is really something. Of course, he's gone on to show us that he is.

I also like Casey Nicholaw because he knows how to build an exciting number. It's really well demonstrated in Something Rotten. A lot of new choreographers don't know how to do that. It's something that you either know or you don't know. You can kind of learn it, but he can do it in spades.

Another choreographer is Sergio Trujillo. When I saw Jersey Boys I thought this guy knows how to take a traditional, now considered old-fashioned style, and make it work. He had to do number after number of doo-wop staging with four guys. That can really be a cliché, especially when you have to do so much of it. He managed to stay within the style and create something new. Again, it's a talent you can't teach. You either know it or you don't.
Well put. Thank you so much.
Tickets for Dancers Over 40's Larry Fuller: High Flying Adored available through Telecharge. For more information on Dancers Over 40 please visit: DO40.
______________________________
Bob Rizzo, a Contributing Writer for ZEALnyc writes frequently on Broadway and Dance. More information is available at his website, The Dance Coach.
Read more ZEALnyc features:
For all the news on New York City arts and culture, visit ZEALnyc Front Page.
Calling all HuffPost superfans!
Sign up for membership to become a founding member and help shape HuffPost's next chapter