Anyone can tell you who's already made it, but HuffPost Arts & Culture's On Our Radar series is here to tell you who's about to blow up -- and, in some cases, go pop.
Not only is Paul White one of Australia's most beloved dancers and choreographers, he also dabbles in Kung Fu. The 30-year-old talent is crossing into the American spotlight with his solo performance, "The Oracle," co-choreographed alongside dance legend Meryl Tankard.
"The Oracle," set to Stravinsky's "The Rite of Spring" in honor of its hundredth birthday, toys with the complexities and conflict between masculinity and femininity, man and nature. Inspired by the ominous artworks of Odd Nerdrum, the piece combines White's rugged muscular form with a sensitivity toward movement and emotion that leads the already controversial original in unexpected new directions. We spoke to White in anticipation of his American breakthrough.
HP: What are you trying to say with this project? 
PW: "The Oracle" is a solo piece and is set to Stravinsky's composition for the ballet "The Rite of Spring." The piece is about the forces of nature, man's strengths and vulnerabilities. It's about the "Oracle" foreseeing inevitable futures, and about the sacredness of the earth.
PW: It is humbling to hear and perform to this wondrous music. I am touched each show by its grandness. So, the music matters. Also, 2013 is the centenary year for "The Rite of Spring." Many artists have interpreted the score and ballet over the last one hundred years. The public revolted against the original work, yet so many years later we see the huge influence the piece has had in history. For me, dancing the piece is an offering in homage to the history that spawned from [Vaslav] Nijinsky's original work.
The interview continues after the slideshow.
PHOTO GALLERY
Paul White in 'The Oracle'
HP: Who has influenced your work?
PW: Working alongside Meryl Tankard has been hugely influential on how I am creatively. There is artistry even in the smallest of details in her work. In the studio, she is able to envisage how she wishes something to be, while simultaneously maintaining an openness and readiness for creativity. Other big influences have come from working with Lloyd Newson, Tanja Liedtke, and many brilliant dancers and creators that I've been blessed to work with. I first started out as a casino and jazz dancer, there's probably still a little bit of that seeping through somewhere!
HP: What are the lowest and highest points in your career so far?
PW: The lowlight is clear. In 2007, Tanja Liedtke –- one of my dearest friends, closest colleagues and at times my boss -– was killed in an accident. It was a horrific time, and many people across the world were affected by the strangeness of her death. Three months before her accident, we premiered her work construct at the Southbank Centre in London. Performing the trio alongside Tanja and fellow dancer and true friend Kristina Chan most certainly was what one calls a highlight! We continued to tour her work for a few years after. Closer Productions from Australia also made a documentary on her called "Life in Movement."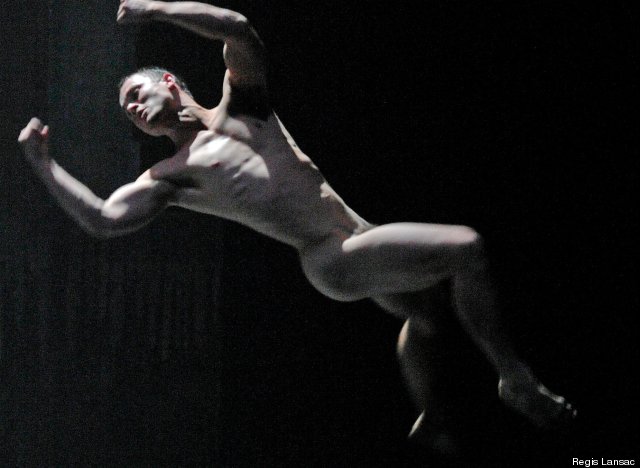 HP: What are you obsessed with right now, or what's inspiring you?
PW: I'm inspired by the colleagues I'm surrounded with at the moment while working in Wuppertal, Germany. The age group in the dance studio is between 24 and 62 years old; some of them have been working and refining their craft together for 40 years.
Also, the work of Familie Floez, a German company, has sent me on the route of discovering the world of performance masks. This coming May in Australia, I will have the chance to spend three weeks hand-making original masks and beginning to develop a piece with the characters. I'm finding the masks are difficult to work with, as it's a completely new craft to learn. On stage they are truly magical.
For the record: I remain heavily attached to ashtanga yoga, Joni Mitchell, and my family. 
HP: What movie/book/artist are you embarrassed about not knowing? 
PW: All of them! I'm terrible with names and history, so that "not knowing" seems to happen to me constantly! I'm not scared to own up and ask people what they are talking about.
HP: How would your childhood art/music teacher describe you?
PW: Mrs. Denny. Even after all these years, and all the times I've seen her in my adulthood, I still can't call her Lynette. She's a wonderful human, and has supported so many dancers and companies in her life. She would probably say, "Well, he was always a little bit odd. It's not a surprise he didn't stay with classical ballet."
Calling all HuffPost superfans!
Sign up for membership to become a founding member and help shape HuffPost's next chapter
BEFORE YOU GO