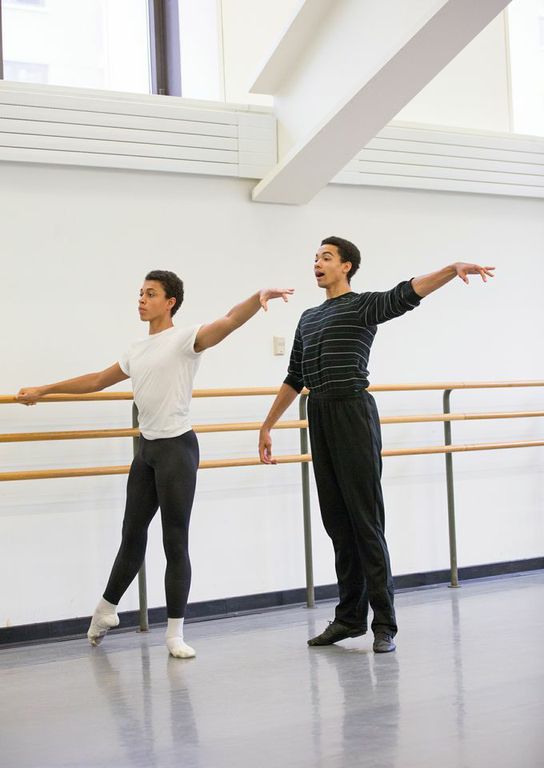 Silas Farley (r.) teaching class at the School of American Ballet
Photo by Rosalie O'Connor
Of all the young dancers at New York City Ballet none are getting as much attention as the eighteen year old apprentice, Silas Farley. Peter Martins has singled out Farley for some special early opportunities teaching and choreographing, culminating in the rare honor of being asked to choreograph a pièce d'occasion for the School of American Ballet's annual Winter Ball, sponsored by Van Cleef & Arpels. "The 2013 Winter Ball: A Night in the Far East" takes place at Lincoln Center's David H. Koch Theater on Monday, March 11, 2013. (For more information, contact Natalie Schweizer: nschweizer@sab.org or (212) 769-6610.)
In rehearsal, Farley handles the young dancers with such practiced ease that it's easy to forget that he's just eighteen. There's a maturity and confidence to him that is at odds with his youthful appearance. Then, one must remember that he is no neophyte. He has been working at this since he was seven years old and reaching this point has been the result of a lot of hard work. He's paid his dues and done his homework. There is probably no other eighteen year old who has seen as many performances of New York City Ballet or knows more about its culture and history.
During the rehearsal, Farley manages to find time to give everyone in the cast some attention, affirmation and an assignment or two to work on for improvement. His clarity of thought is apparent as he corrects positions and counts. There's no lesson left vague and his expectations are high.
It's not immediately apparent to an outside observer, but Farley is doing much more than merely teaching them to dance his ballet. He is also teaching them about the art of performance. One of the boys receives Farley's exhortation to do the best assemblé of his life to underscore the importance of that step in his variation. He points out to another boy that he is making faces he's completely unaware of and has to stop. Farley is trying to eliminate their distracting mannerisms and youthful affectations, reminding them how to walk and hold themselves when onstage. All of this is essential for a young dancer and it's not something that is usually learned in a classroom setting. This will be the first time many of these youngsters are performing onstage and Farley wants them all to have a chance to show their best selves.
In a conversation before the rehearsal, Farley shared his thoughts and experiences. Here is Silas Farley in his own words.
Farley's First Choreography
We had a student choreography workshop back home in Charlotte, North Carolina where I'm from. I made my first solo to a piece by Vivaldi when I was twelve. The next time I used four dancers and then I used five dancers. In my last year there I used twelve dancers.
Choreographing at the School of American Ballet
I was fourteen when I came here to SAB so I was too young to take part in the Student Choreography Workshop, but I still wanted to be part of it. I sort of farmed myself out as a rehearsal assistant, like a ballet master. I did that for two years. When I was sixteen and seventeen, I choreographed two pieces for the school. The workshop has a very clear structure. You can use a maximum of five dancers and the piece can only be five minutes long. There are only so many dancers and you have just two weeks to put it together. Both years I used music by Gustav Holst and each time, Peter Martins told me he enjoyed the work I did, so that was good. It's great to get props from the boss.
I participated in the Winter Ball twice as a dancer. What's exciting about the Winter Ball is that it's a special event every year, and it's the biggest fundraiser the school does. It raises money for scholarships. That's the only reason I'm able to be here. I'm the youngest of seven children and we didn't have any money. I always had to be on scholarship. Now it's very special to be back choreographing for an event that I danced in as a student when I was fifteen.
My first experience of the ball was the joy of getting to show what I could do so I'm trying to do that for the dancers. The dancers I used for this piece come from the intermediate boys and the C1 class of girls. This is the first opportunity to perform for many of the students. SAB is about training and classroom time to prepare you for a career and there's not a lot of performing. For them to have an opportunity to perform is exciting. I remember getting that first opportunity. It was so exciting and now it's a great joy to be on the other side, creating a work where other students will get to have that experience.
His Influences and How he Works
Music is sort of supreme in our whole school of thought here at New York City Ballet and the School of American Ballet because of Balanchine. This is the house that Balanchine built. We are the heirs to his inheritance. He said you have to see the music and hear the dance so that the dance is a visualization of the music. The audience will leave knowing something more about the music because of what you've shown them. The music has always been the starting point for me. I can't come up with steps in abstract that aren't connected with the music. When I see choreography, I want it to reveal something about the music. I think Balanchine and Robbins, since I've seen more of their works than any others, have been my biggest influences.
As a student at SAB you get all the free tickets you want to NYCB performances. My whole four years as a student I was at the ballet every single night. Many of the other students thought I was crazy. I did my homework during intermission. When are you going to be able to see so many performances? There's no other season of your life where you're going to have that opportunity, for free every night, to see the best ballet in the world. Seeing all those ballets performed every night - that's has had a huge impact on me. Now, as an apprentice, those are the people that I work with which is mind blowing to me. I still don't feel like I'm a colleague of theirs. I feel like they dwell in an unapproachable place. I feel honored to be in their presence.
This Ballet for the Winter Ball
The theme is "A Night in the Far East." I thought it would be fun for me to create something that was still a classical ballet, but that had the flavor of that part of the world. I think that's another lesson of Balanchine. He did ballets like Union Jack, Bugaku and Western Symphony, and it's unmistakable that he's evoking other parts of the world, but he does it all through gestures in the port de bras and the partnering. If you look at the steps, it's all still formal, classical ballet technique. He could flavor it so that it seemed to be many different ethnic dances. So I've tried to do that to a degree. I think Balanchine does that better than anybody.
Silas Farley's Aspirations
From a young age I knew I wanted to dance, I knew I wanted to choreograph, I knew I wanted to teach. I knew I wanted to be a ballet master and coach ballets. And from a young age, for a lot of reasons and because of the good graces of the directors I've had both in Charlotte and now with Peter Martins, I've gotten to do it. You learn it by doing it. It's not like someone is going to make Serenade from nowhere. You have to be given opportunities to find what your particular voice is.
Teaching versus Choreographing
I've taught in the school and choreographed and it's a different skill set. There are some things that cross over, but in teaching there's a very specific, codified way of doing a particular movement. There's also a Balanchine aesthetic and style of how to do that basic ballet vocabulary. It's a specific way of approaching these three hundred year old steps. So you're trying to creatively conform people to that model of what the ideal classical dancer is. In choreography you can more or less throw all that out the window. I can have them start a turn from any position I can think of or do an arm that doesn't exist in the classical ballet vocabulary. As a teacher, there's that ideal image that you're trying to mold people into in a classroom setting but then you can create your version of what you want the dancers to be in your ballet and you're trying to get the dancers to become that. Hopefully that image you're trying to create is drawing from all the best qualities of their own dancing. You can cater to each person's strength and maybe cover up their weaknesses in choreography that you can't do in class. Everyone has to be taught to do a double pirouette from fourth and some people are going to be better at it than others. In a ballet, you know this boy has a great turn, so you're going to make him do it and you're going to try to draw more out of him than he thinks is there.
Before Beginning the Choreography
I went and watched the classes for a few weeks to see where their strengths were before we started this ballet. I knew I was going to use all of them, but I was looking for people who had a presentational kind of sparkle to their dancing. Even if they weren't technically perfect in a particular movement but they did it with conviction and authority that was connected to the music and even if they made a mistake they never let it show. That's what you need on stage. There are plenty of great principal dancers on stages all over the world who don't have perfect classical ballet technique. They don't have textbook classical facility with beautiful feet and straight knees but they have the magic that covers up a multitude of faults. From a technical aspect, I want to see someone who's very musical. The way we're trained, everybody's musical because you wouldn't even get into the school otherwise. But some people have an exceptional ear in that they're able to visualize music in their movement.
Equal Measures of Elation and Terror
I'm thrilled about this. I always say when I get opportunities like this that I have equal measures of elation and terror. The bigger the thing gets, the higher the expectations are. But the first thing you create isn't the Winter Ball. The first thing I made was a solo for myself when I was twelve. I've made all the incremental steps in between and I've enjoyed all of them for what they were. This is what I'm doing right now and I'm going to be totally invested in it and enjoy this piece of music and these dancers. It's exciting to see how staying in the moment along this journey has allowed the territory to expand.
I'm very thankful to Peter Martins. He's been very encouraging. The company grows from strength to strength with every group of dancers he takes in. He has cultivated talent. He obviously has a great eye for dancers, but he is also an incredible teacher and teacher of teachers. We sat and talked after the classes Christina Ghiardi and I taught last spring and he gave us feedback. He said, "Take everything I'm going to tell you with a grain of salt." And then he gave us very clear and helpful feedback about things we could improve in our teaching. At the end he said, "George Balanchine told me that you have to let teachers be teachers." And so Peter's strength is in giving people the opportunity and then giving them space to be themselves in those opportunities. That will be part of the enduring legacy of Peter Martins.
Edited by Ellen Dobbyn-Blackmore
Calling all HuffPost superfans!
Sign up for membership to become a founding member and help shape HuffPost's next chapter