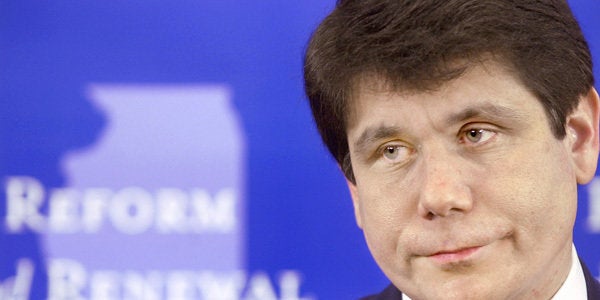 If convicted, Blagojevich will be the fourth Illinois governor in recent history to be convicted of white collar crimes.
Lt. Governor Pat Quinn (D)

State Treasurer Alexi Giannoulias (D)

Illinois Attorney General Lisa Madigan (D)

State Comptroller Dan Hynes (D)

Illinois Secretary of State Jesse White (D)

U.S. Representative Jan Schakowsky (D, IL-8)

U.S. Representative John Shimkus (R, IL-19)

U.S. Representative Don Manzullo (R, IL-16)

State Rep. Jack Franks (R, IL-63)

State Rep. Tom Cross (R, IL-84)

State Sen. Bill Brady (R, IL-44)

State Rep. Bob Flider (R, IL-101)

State Rep. Bill Mitchell (R, IL-44)

State Rep. Dan Brady (R, IL-88)

State Sen. Mike Frerichs (D, IL-52)

State Rep. Chapin Rose (R, IL-110)
"Today, our worst fears have been realized," said Attorney General Madigan. "Once again, the people of Illinois have learned that a Governor has engaged in a shockingly flagrant scheme to sell his power and authority to the highest bidder."
"This is a sad day for Illinois government and for the people of our great state," said Treasurer Giannoulias. "Governor Blagojevich's actions alleged in the complaint show a complete disregard for Illinois residents who elected him to lead. Today's indictment further demonstrates that we need to reform a deeply flawed system where political money is traded for favors and government is clearly for sale. The governor has failed in his responsibilities and should resign immediately."
"If Governor Blagojevich has any regard for the State of Illinois and its residents, he will immediately resign from office," said Congressman Shimkus. "The State of Illinois needs to move forward with its business, including the appointment of our new Senator, and he cannot remain at its helm."
Many elected officials, including U.S. Senator Dick Durbin (D, IL), are also calling for a special session or election to reassign responsibility to determine President-elect Obama's successor, which currently falls to the governor.
Calling all HuffPost superfans!
Sign up for membership to become a founding member and help shape HuffPost's next chapter