In the last decade or so, there's been a lot of talk about "chosen families" ― a term pulled from anthropological literature used to describe the intimate, family-esque relationships people form outside their biological relatives.
"Chosen families are basically relationships that we intentionally choose, build and nurture that provide love, nurturing, and familial support regardless of legal or biological relations," said Jesse Kahn, a therapist and director of the Gender & Sexuality Therapy Center in New York City.
These types of bonds ― usually created among people with shared values and experiences― are especially common in the LGBTQ+ community. Chosen family, especially chosen moms, can be a respite and safe haven from the judgment someone may receive from their own family when they come out.
"Chosen families are particularly important in communities where we can experience isolation and familial rejection," Kahn said. "They can provide LGBTQ+ people and communities with the love, support, nurturing and closeness they are needing and lacking."
A 2015 study of mothers ages 65 to 75 years old with at least two living adult children found that one in 10 mothers were estranged from a child. Of that number, 62 percent reported contact less than once a month with at least one child. The researchers said they found that, more often than not, mothers were upset about issues related to their core values and beliefs.
Of course, bonds with a "chosen mom" aren't always the result of a complicated, broken relationship with a biological mom. A chosen mom can be an additive part of someone's life; your biological mom may be still important and much-loved while your bonus, chosen mom provides a different kind of support.
Other times, a chosen mom steps up in the wake of the loss of someone's biological mom. Many roads lead to chosen moms.
With Mother's Day just around the corner, we asked our readers to share how they found their chosen moms ― or how they came to become chosen moms themselves. Read their touching stories below.
These responses have been edited lightly for clarity and length.
Tara Skurtu and her chosen mom, Gail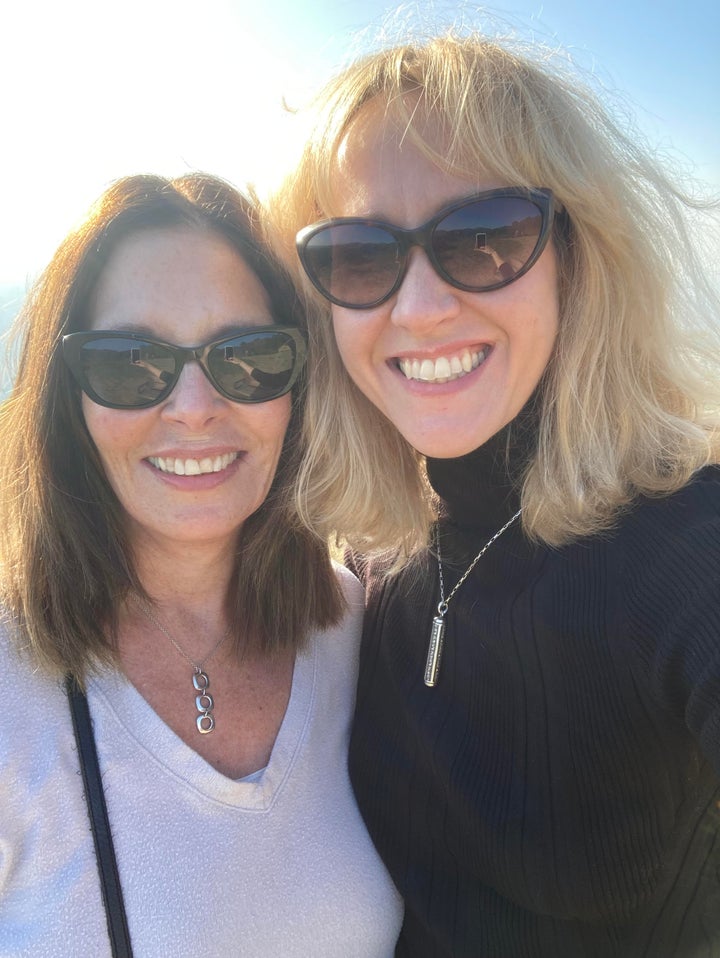 "I met Gail when I was 10 or 11. She was my mom's boss's friend. Gail had a baby and a young kid, and was raising them alone most of the year because her husband was a research captain away for months at a time. I don't remember any specifics of the first day we met, I just remember we bonded immediately and I started spending a lot of time at Gail's, especially when I started babysitting her boys. Gail was a haven away from home life where my parents fought nonstop on the verge of a nasty divorce and where my biological mother oscillated between maxed out and checked out. Gail took me in unconditionally, and has loved and looked out for me as her own blood ever since — for three decades and going.
At forty, I have a healthy, measured relationship with my biological mother that continues to open; getting here took decades of realizing and navigating boundaries and distance necessary to my well-being. After the divorce, she mothered her boyfriends. Luckily I had my chosen mom Gail, who invited me to live with her during my hardest times, and I did. The turning point that reopened my relationship to my biological mother happened during a call. She apologized and said she knew she was a bad mother. This hit an unexpected reset button that allowed me to understand her limitations, and I began to forgive. I'm grateful she was able to tell me; to admit that must have been very hard to do. During my last trip to Florida, right before the pandemic, we played pool together for an afternoon ― she's a self-taught pool shark ― and when she started teaching me how to bank a shot, I realized during that moment that it was the first time I was feeling grateful to be with her after many years. And Gail has helped me get here, because we've had many talks about my mother, about limits and love and understanding and forgiveness — which is to say she's helped me heal.
I'm also a member of the LGBTQ+ community, and the life-changing power of even one supportive person who sees you, who understands and loves you for who you are — this embeds into your whole being that you are best as you are, and this can make the whole difference.
My relationship with my chosen mother Gail is the best gift of my life. And as an added bonus, she's a life coach for a living ― how lucky am I to have been coached by her my whole life. I wouldn't be who and where I am without her, there's no other way to say it. I'm realizing more and more that 'mother' is a community of mothers." ― Tara Skurtu, a poet, writer and speaker
Damon "Magic" Percy and his chosen mom, Darnell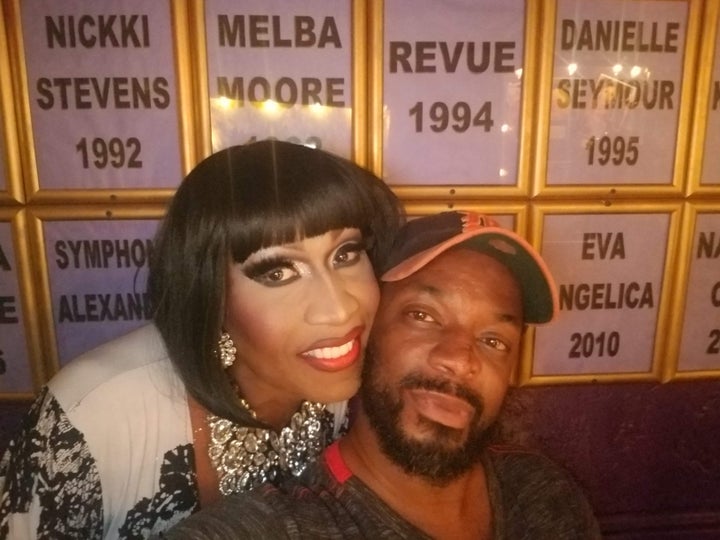 "My chosen mother is Darnell Lanier aka DIVA. We have been mother and son for 31 years. Because she was out in the community and more knowledgeable about being 'in the life,' as they called it, she began to teach me about being myself, tapping into my creative side, being cautious of being naive, and different things and people that existed in the community.
My chosen mother will always be one of the most beautiful individuals ever created, heart and soul. I am her first-born chosen child and am indeed a true momma's boy! She is the most talented seamstress and one of the most truly legendary drag performers in the game! I am her biggest fan! We have gone through many iterations and levels in our bond, walking each other through the good and bad times; she is a nurturer who instinctively and continually cheers and corrects me. We laugh a lot, cry and reflect, having made it this far in life when society would have us not exist otherwise.
That said, my relationship with my biological mother is a great one. It took her a while to really understand and accept my sexuality, but we have come to a happy medium. I come from a very religious family and in the Black community, being gay is sometimes seen as the biggest transgression and sin. To come out and not be accepted and loved is a big fear. I didn't experience anything like that but knew many who did.
The importance of chosen parents and family is vital to the heartbeat of the LGBTQ+ community as it provides structure, safety, unconditional love, and examples of resilience, perseverance, fabulousness, strength, support, bonding, and always home. Those who are chosen parents, as well as those who choose to be, are special because they decide to present themselves in such a light to reflect all the goodness someone who may have never experienced love before needs. Many queer children have been cast out of their biological homes for just being who they are and chosen parents have found them, filled them with all the things that prevent them from thinking about suicide, substance numbing, and straying that may have otherwise happened without this chosen family. It brings our community together in such a strong and powerful unification; the most glorious and diverse family tree ever grown." ― Damon Percy, a writer from Detroit, Michigan
Theo and her chosen mom, Jeannie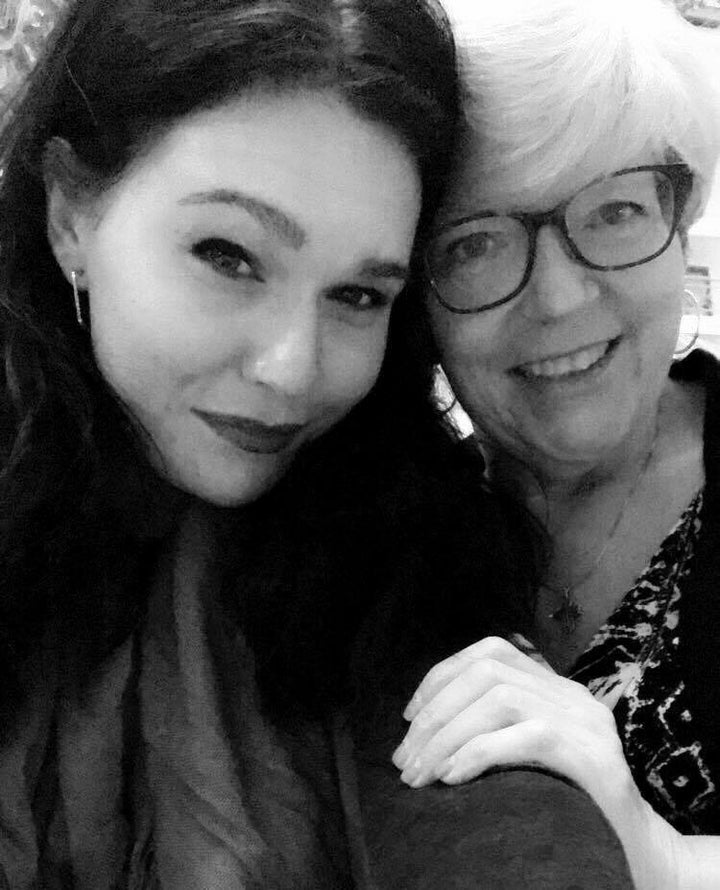 "I met my chosen mother, Jeannie, through a good friend of mine. I've gradually come to see her as a mother figure to me and she's said for a long time that I am family to her. She's wickedly funny, warm and compassionate. Every time I visited her home I always felt so safe and cared for. She has a hospitable, non-judgmental nature and a no-nonsense way of carrying herself as a woman. We are both Eastern Orthodox, and from the outside looking in it might seem like a very patriarchal religion, but as they say in 'My Big Fat Greek Wedding,' 'the woman is the neck that turns the head.' And so she really exemplifies that for me.
The other part of this story is that I am queer, and queer folks don't have full liberation in the Orthodox Church yet (a very complicated process to get going with regard to church polity and revising doctrine ― I have no hard feelings about that). But being able to talk to her about relationship woes or just say, 'oh, I've got a crush on so-and-so' and not feel condemned is really wonderful.
When we get together, usually on the last day of the trip, we'll go to a breakfast spot with her husband and son (my friend) and just really enjoy each other's company. We laugh over good food and have wide-ranging conversations. The breakfast place is called Magnolia, and the beauty of magnolia flowers always makes me think of how beautiful she is. We don't talk every day, but when we're in the same space we always seem to be able to catch up on the last year and goodbyes are never sad.
My relationship with my biological mother is complicated for a lot of reasons, most of which I'll keep private. I will say that lately, we've made some incredible improvements in the way we communicate to each other and treat each other. We've had a lot of ups and downs. However, learning how to love well from my chosen mom has honestly helped me learn how to love my mother better. There's a process that's part of growing up in which kids learn their parents aren't perfect. And if you throw in things like queerness, or just different political/religious/what-have-you worldviews, it muddies things up and can lead to hurt feelings on both sides if communication breaks down and respect for each other's opinions isn't there. I'm really grateful for both of them." ― Theo, an activist that lives in the upper Midwest
Toni Bryce and her chosen children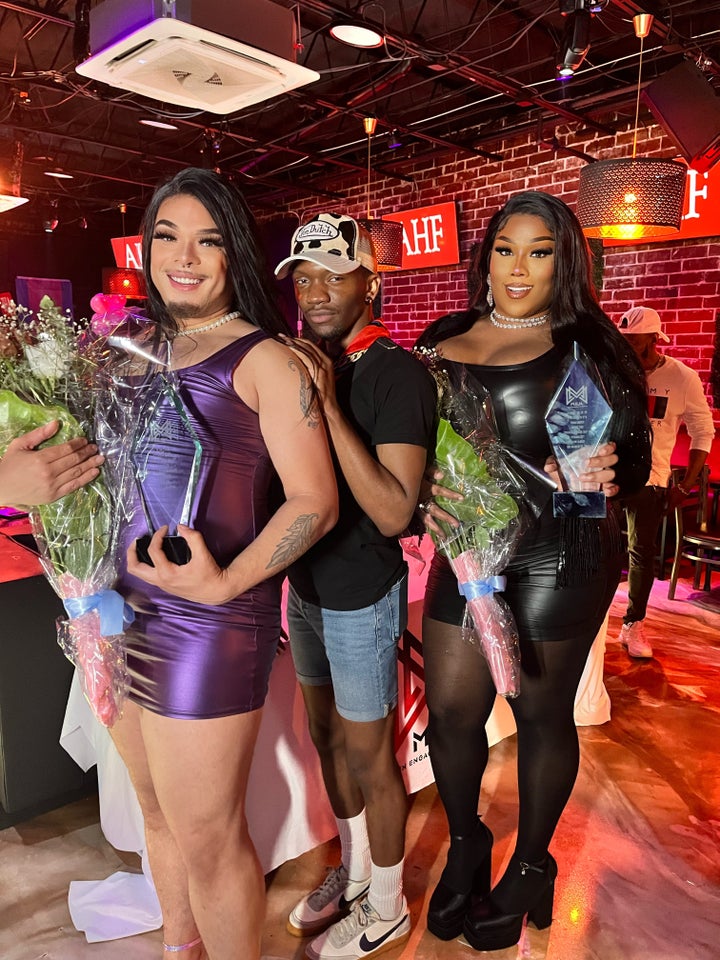 "I'm part of the ballroom scene. In the LBGTQ+ community, the ballroom scene consists of events that mix performance, dance, lip-syncing and modeling. A lot of the time, young people come into ballroom so green, they desire that motherly or fatherly connection with someone that they feel they can trust to guide them on that journey. I was able to teach them about the ballroom, categories (for instance, voguing, runway, performance, realness, fashion), houses, families, how to participate. But while ballroom was where we met, our bond went beyond ballroom.
I first became a chosen mother in 2019. I was the mother of the Haus of Marciano, a ballroom organization, in Atlanta. After nine months of being part of the house, one of my house children, Nastee, asked me to be her chosen godmother. I took the role seriously, it wasn't a game for me. Later would come my sons Montel and TJ and my additional godchildren Pink, Ajani and Supa via community and ballroom.
Most of my 'children' have relationships with their mothers already. But there's always that disconnect in their relationships due to past traumas and some of their mothers not always either understanding their sexual orientation and/or gender identity, which lead to some of them feeling alone or alienated. Some have even been put out on the streets to fend for themselves. My goddaughter Pink went through deep abandonment. She is part of a very religious family and when they found out, she was put out of the house. Her and mother have come a long way and have a better relationship now. Her mother has even asked for forgiveness for her past actions, which Pink forgave her for.
As a chosen mom, I do everything that I could to make them feel supported, mentored, and guided in the right direction. I try my best to support their goals. If it was to model or dance or act or school, I'd try to show up to those dances, make connections for the modeling gigs, give advice on how to get started in acting and looking at contracts, assist in whatever way to make sure they didn't go without.
It would be a dream to one day walk into a store and see a Chosen Mother section for the Mother's Day cards. I really might weep deeply." ― Toni Bryce, an actress and public speaker from Atlanta
Breanne Armbrust and her chosen mom, Brenda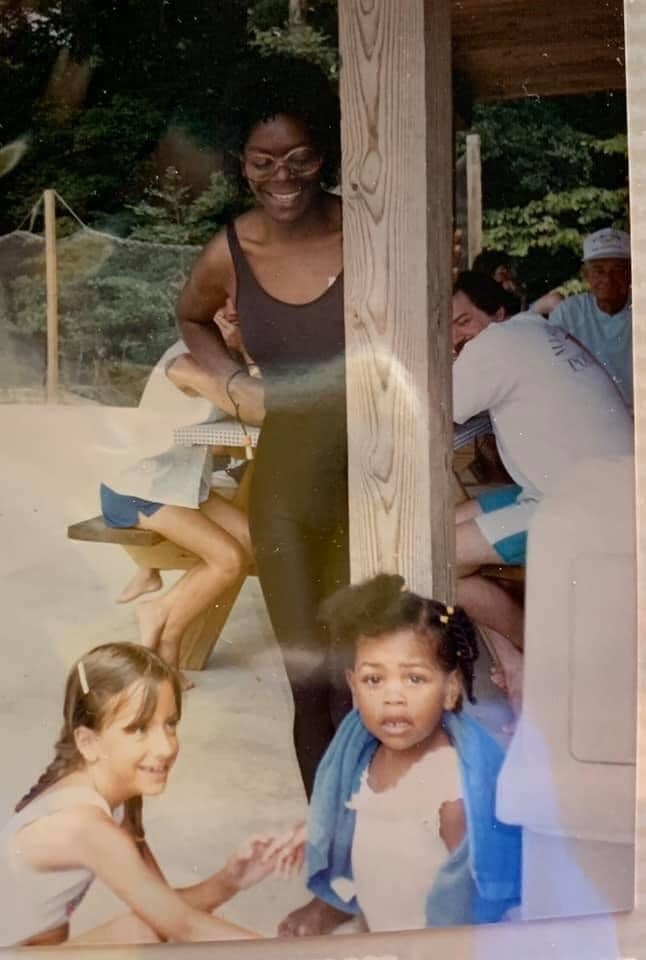 "Brenda is the woman that I call my chosen mother. She used to work with my dad, first as a receptionist and then as an HR representative at the company where he worked. I was a baby when I first met her and for as long as I can remember she was always the primary person I wanted to see when I would visit my dad. I was always known as Brenda's 'baby' and when she would see me even as an adult she would always introduce me to people as her baby. Brenda was a Black woman in the South and had no reason to love a white child of her white co-worker as if I was her own. In spite of that, she loved me and my parents like we were her family.
When I was young, I was able to spend time with her grandchildren at company events. Brenda attended events to support me as a child, including piano and dance recitals. We attended her church once as a family. Brenda always treated me like I mattered and in my darkest moments in life she kept me focused on the light.
One of the greatest honors that I've ever had in this life is to have known Brenda and be loved by her. The deepness of her love she demonstrated toward me and others is something that I learned and have drawn upon throughout my life. She didn't raise me, so we didn't have the complications and responsibilities in a relationship that can come from genetic connections. She sought me out to love on me in a way that I can't quite justify with words. Chosen mothers actually choose us and step into cracks in our hearts that we sometimes don't know that we need to have filled.
Brenda passed away in the summer of 2021. I was fortunate that she allowed me to be with her during that period as a death doula. In so many ways as she was actively dying, I was able to give back to her the love that she poured into me throughout my entire life. In the summer of 2021, Brenda sat me down and informed me that she had decided to stop her treatments for cancer and despite my attempts not to, I started to cry. Brenda hugged me and said, 'Baby, it's going to be alright. You're going to be alright.' These two sentences repeat in her voice in my head all the time and encourage me to keep going. Brenda's daughter and her grandchildren are my family. They are my brothers and sisters and will be that way for the rest of my life. As I was growing up, Brenda would always give me 'assignments' to look after her grandchildren when we were at company events to keep them safe. In Brenda's last few days in this life, she gave me assignments to look after all of them and her daughter. I know that she didn't have to do any of what she did to enrich my life, which has made her demonstrations of love stand out as strong memories." ― Breanne from Richmond, Virginia