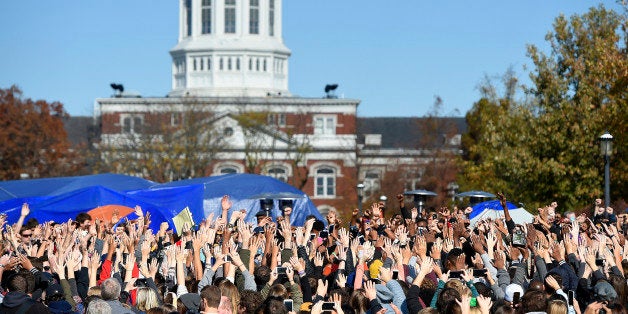 As an African-American woman from the South, I thought that I would have experienced racism. But throughout my 17 years, I never came face to face with racial tensions, differing opinions, and threatening situations. But in just one week at The University of Missouri, I experienced all of that and more.
I've always loved to write, it has been a passion of mine since I was little. But it wasn't until my junior year of high school that I realized I wanted to pursue journalism. After a lot of thinking and research, I stumbled upon Mizzou and completely fell in love. It's strange to look back now at the first time I found out about the university. I never thought that I would end up here, but now I can't see myself anywhere else. I remember the day I got my acceptance letter and how I imagined the possibilities and experiences that I would have at my dream school. The experiences of the past few weeks were not on the list, but they definitely gave me a chance to take a step back to evaluate myself and the world around me.
Throughout the past month, I noticed several instances on campus. From the time our student president, Payton Head, was called a "nigger" one evening on his way to get some food, to when the Legion of Black Collegians homecoming court practice was disrupted when members were verbally assaulted with the same racial slur. I knew the Mizzou campus was different from any other environment I had ever been in. I then began to see the group ConcernedStudent1950, named for the first year an African-American student attended the university. In the weeks leading up to Tim Wolfe's resignation, I would see them and a large group of students marching through campus. They would start at the Black Culture Center and go to the student center, Memorial Union, dining halls - anywhere to have their voices heard. I became curious about the group and hungry to be part of the movement.
I watched the video of the group protesting in front of Tim Wolfe's car at the homecoming parade in early October. As I watched the "original 11" members trying desperately - and peacefully - to display their wants and needs to the president of the university, it brought tears to my eyes. He ignored them, and watched as police took them away and threatened them with pepper spray. It hurt to see people who looked like me being treated like that. And it hurt even more to realize that the man who could change things for all of us wasn't doing anything about it.
After watching that, I took to Twitter and Facebook and began to share articles, videos, and posts about the events happening on campus. I wanted to get the word out and I wanted my friends and family to know what was happening here. I thought if people outside of my campus knew about what was going on, change would come sooner.
In addition to watching the video, I learned and read about Jonathan Butler and his decision to participate in a hunger strike until Tim Wolfe resigned as president. I remember one day in class we were discussing the issue, and a girl expressed her ambivalence towards Butler's decision. Although I personally respected Butler's choice, I began to wonder if it was too drastic or too dangerous. But I knew that I wanted to support him and found myself becoming angry with people who criticized him, and avoiding conversations about the issue so I wouldn't have to fight with anyone.
On Nov 8th, the football team announced that they were going on strike until Tim Wolfe resigned. Their announcement filled me with so much happiness and hope. I knew that the university could not look past this. And sure enough, the next morning Wolfe resigned, and my university was the top trending topic on Twitter. It felt so exhilarating to see the power students and student athletes can have if they all come together for a cause. I felt so proud of my school and my peers for standing up for what was right. It seemed like things were truly turning around. Members of CorncernedStudent1950 were rallying on the quad and celebrating, and I was lucky enough to be there with them during that amazing moment.
But after the overall surprise and shock of Tim Wolfe's resignation, people began to ask the real question:
As the day went on, I felt more and more discouraged by the overall mood on campus. Every time I went on social media my school was the top headline. It became extremely overwhelming. I would look at comments on Twitter and Facebook about Wolfe's resignation and saw so many angry people saying they were disgusted with the university for letting students change their minds and how they no longer were proud to have Mizzou as an Alma Mater. Not only were alumni upset, so were a lot of my peers. And people were threatening black students on Yik Yak. I began to realize that Wolfe's resignation was not going to automatically fix everything on campus.
Since that day, campus has never really felt the same. Panic had been instilled in all of us, and we were all scared for our safety and our lives. Our beloved school was being talked about on every media platform known to man, and it became extremely frustrating. People were putting out false information about what was happening. No one seemed to be getting the story right, and the only ones who actually knew what was going on were the students.
People have asked me if I want to transfer schools, or consider attending a HBCU. And I honestly have considered. But the truth is, I love Mizzou today just as much as I did the first day I learned about it. My experiences over the last few weeks have only reinforced my feelings about how amazing the school is. I have been lucky to be on a campus where people have done something, have stood up for what they believe in and made their voices heard. I have never been so proud to be a part of student body that could promote such change not only on our campus, but on campuses all across the country. I have learned the importance of listening. A lot of us on campus have opinions about every single issue - from the Paris attacks to what is happening in our own backyards - and I have realized the only way that we are ever going to grow as a university, and as a community, is to listen to what everyone has to say. In the end, I know that it will take some time for the university to heal, but I know that I will still be here while it does.
Calling all HuffPost superfans!
Sign up for membership to become a founding member and help shape HuffPost's next chapter