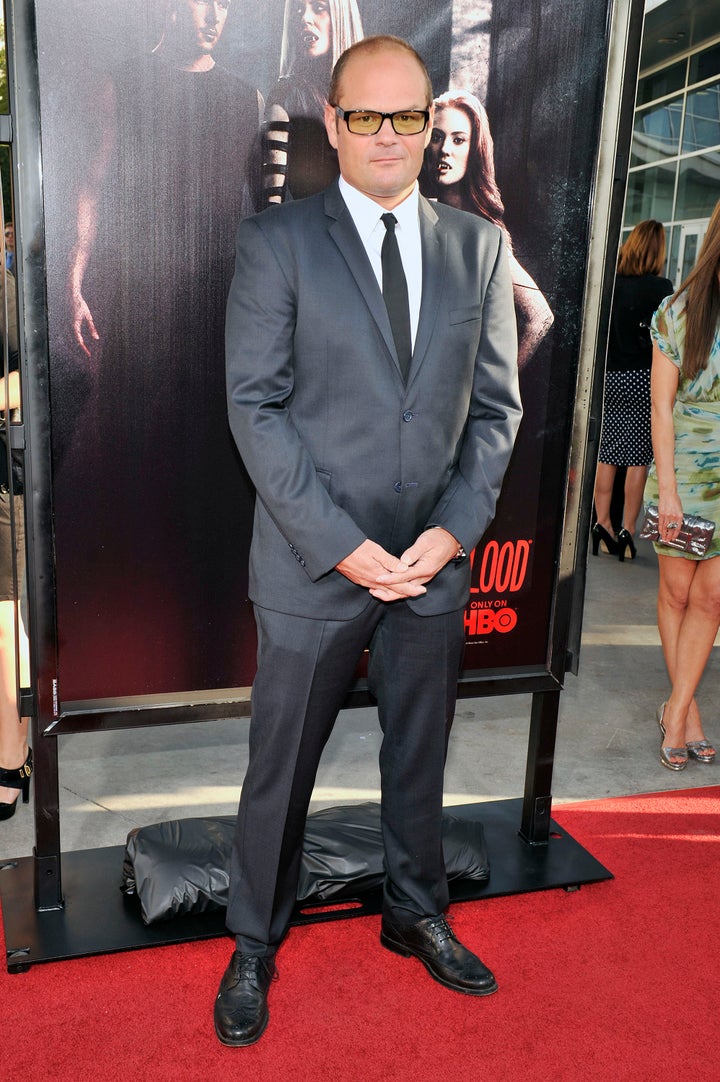 Fact: Chris Bauer looks -- and sounds -- nothing like Bon Temps' resident drunken detective, Andy Bellefleur -- the troubled character he currently plays on the hit HBO series "True Blood."
And even though he may have perfectly embodied the corrupted union boss Frank Sobotka on the critically acclaimed show "The Wire," in person, Bauer comes off as much more confident, kind-hearted and stable than the deeply flawed characters he's known for playing.
In fact, Bauer is a true thespian at heart. He enjoys the challenge of playing new and interesting characters on both the stage and the small screen, and for Bauer, Andy Bellefleur was an exciting -- and intriguing -- challenge. Over the past four seasons, fans have watched Andy evolve from a fumbling, drunken deputy to an unlikely dark hero, who often tries to understand the twisted world of vampires, shapeshifters, werewolves, witches and fairies around him.
"Andy Bellefleur, by no means, had any particular comedic traits to begin with, but as the first and second seasons evolved and he was put into this postion to have the plausible reaction to the insanity around him, it made a lot of sense for him to have some humor," Bauer told Huffington Post Entertainment, regarding his character's dark comedic appeal.
However, in season four of "True Blood," Bon Temps' favorite deputy is struggling with a pretty serious and debilitating V addiction -- and it's anything but funny. It looks like this could be officer Andy's darkest season yet.
"It's just going to get worse and worse," Bauer said. "In this season Andy has fallen into the proverbial hole, and I think he won't be able to get out unless someone gives him a hand."
And that helping hand may come from Andy's cousin Terry (Todd Lowe). Over the past three seasons, Andy and Terry have struggled to build a relationship, but somehow, as "True Blood" fans know, Terry's always there when Andy needs him the most.
But when it comes to budding relationships, one of the most sincere friendships on "True Blood" happens to be between Jason (Ryan Kwanten) and Andy. The two bonded when they tried to save Bon Temps from the persuasive powers of Maryann in season two, and their friendship solidified when Jason shot Eggs and Andy took the blame (and the subsequent grief). Since then, the two have become slightly reminiscent of a bickering old married couple, but watching Jason call Andy out on his V addiction and then proceed to search his car for V proves that these two have developed a pretty deep friendship -- one that can hopefully help Andy overcome his addiction.
Playing a character with addiction is a heavy task for any actor, but veteran Bauer seemed to have no trouble going into the mind of an addict, a feat he credits to life experience.
"One of the deals with Andy is that he can't stand the way he feels at any given time," said Bauer. "He locks onto things like authority, like his position, to make him feel better -- and things like boos, and in this season it's vampire blood. That's a transaction that I understand very well, so it's an easy place for me to go to."
While handling addiction may be a doable task for Bauer, he admits that one of his biggest challenges as Andy is trying not to be intimidated by his incredibly fit "True Blood" co-stars Alexander Skarsgard, Stephen Moyer and Ryan Kwanten.
"It's sad because I'm actually in pretty good shape, and I spend a lot of time at the gym," Bauer joked. "I think they have a lot to do with how popular our show is."
Yeah, that sounds about right.
Watch the interview in its entirety below, and to catch all of the sexy vampire action, the new episode of "True Blood" airs this Sunday at 9 p.m.
Popular in the Community