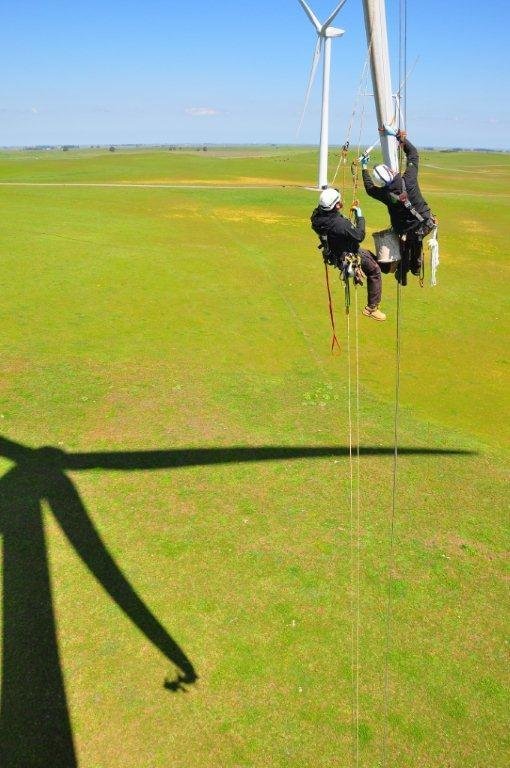 Chris Bley, the son of an engineer and a school psychologist, remembers what his life was like right after he graduated from college -- he sat at his desk, stared out the window and waited for the weekend to come around.
"I worked for a computer company," Chris said. "We manufactured barcode readers."
Having grown up and attended school in California, Chris was always an avid mountain climber and environmentalist. Even while working a desk job, climbing remained an important part of his life. But during one climbing trip at Joshua Tree National Park in southeastern California, he met two East German best friends who had actually figured out a way to make their living climbing on ropes.
"They scaled churches and other buildings, and made their money this way," he said. These guys were also part of a "rope access" team who'd wrapped a German Parliament building, the Reichstag, in fabric, as part of an art project.
Chris was intrigued, and in the early 2000s he visited Germany himself to see how it was done. He trained extensively with his friends, learning the ropes (sorry) and seeing them in action, before heading back home to California, where he came up with the idea of scaling wind turbines.
"I remembered seeing them all start to pop up around me, and in Palm Springs. And I thought, this could be the perfect opportunity."
So he started attending wind power conferences and shows across the West Coast, getting his name out there, shaking hands, and meeting people. He learned as much as he could about the industry, and eventually companies began to take notice. Chris called his company, "Rope Partner."
"Rope access can save these companies lots of money on cranes and lifts," Chris said. "It saves them a lot in energy costs."
Today, Chris and the other team members, many of whom he "recruits" from a local California rock-climbing gym, scale heights of up to 150 feet in order to clean, inspect, or repair wind turbines. Some jobs are as far away as Canada and Mexico, and his climbers live all across the country.
It's kind of the ideal job, Chris says. His freelancers are able to work on a certain project for a few months and then let loose to climb recreationally on their own time. What started as a one-man operation has quickly expanded to a team of over fifty, and he has plans to expand to "offshore" turbines, where the wind is much more consistent.
Have there been accidents? "Sure, a few pinched fingers, things like that, but nothing too bad," Chris said. "We take all that very seriously."
Chris insists that once he clung to his plan and made it his primary goal, he was able to fully realize the future success of his business. "I was very confident with this idea," he said. "I knew it was something that would last. And help the environment. Both of those things were very important to me."

Related
Popular in the Community