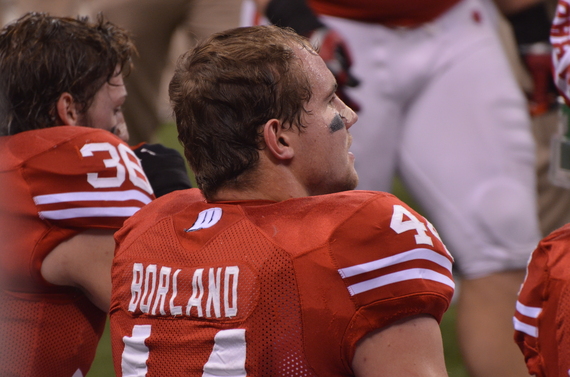 Chris Borland played at the University of Wisconsin. Credit: Steve Schar
When it comes to great sports moments, Hail Mary touchdowns can't touch this. Walk-off home runs? Forget it. Even a March Madness buzzer-beater dulls in comparison.
Chris Borland's retirement from the NFL blows them all away.
At 24, the San Francisco 49ers linebacker and budding superstar shocked his team and the league this week by retiring after his rookie season. Borland told ESPN's Outside the Lines he is leaving the game to hopefully avoid the adverse health effects of repetitive head trauma.
Simply put, Borland has had his brain addled enough.
In looking out for himself, Borland has done a huge favor for the millions of youth and high school players banging their heads day in and day out, every fall across America. Perhaps, his retirement will tip the scales of awareness in favor of banning tackle football to children under 14 and away from letting the greedy NFL and NCAA continue to feast on the free minor league system that is youth football.
Furthermore, scientists have discovered chronic traumatic encephalopathy (CTE) -- a progressive degenerative disease of the brain found in people with a history of repetitive brain trauma -- in deceased high school and college football players. Researchers at Boston University's Center for the Study of Traumatic Encephalopathy say there is reason to believe CTE can begin when a child is very young.
Like virtually every NFL player, Borland's success was built on the backs -- and shaken brains -- of hundreds of children, who didn't measure up talent wise to Borland but whose participation was necessary for Borland to ply his trade as a hard-hitting, nose-on-the-ball wrecking machine.
To become great -- and great he was in 2014, racking up more tackles per snap than any other player in the NFL -- Borland needed high school teammates willing to be on the receiving end of his helmet-to-helmet strikes during practice and to "go to war" with him on game day.
And without opponents and organized leagues, Borland would not have had a stage to secure a football scholarship from Wisconsin and similar offers from other schools.
Very few players survive the football funnel through youth, high school and college to have the opportunity to play professionally on Sundays. But that doesn't mean they all haven't paid a dear price.
Walking away from millions of dollars, stardom and a dream job is nothing short of courageous. I consider Borland a hero.
Yet while his prudent decision is an effort to secure a healthy brain, there's no guarantee that significant damage hasn't already occurred deep inside Borland's young skull.
Fortunately, Borland's parents kept him out of football until he enrolled at Archbishop Alter High School in Kettering, Ohio. As a youth, Borland developed his athletic prowess playing what so many gorilla-minded youth football coaches label as "wussy" sports: tennis, soccer and baseball.
In a campaign funded by the NFL, USA Football's "Heads Up Football" initiative aims to make football "better and safer" through concussion awareness, proper equipment fitting and heads up tackling.
There are two problems with this emphasis on heads up tackling. One is that it's nothing new. Youth coaches have taught this for decades. Nowadays though, I suppose some dads just don't cheer as hard for those loud ear-piercing cracks and pops caused by helmet-on-helmet contact.
The second issue I have with relying too much on heads up tackling lessons is that football is impossible to choreograph. At full speed and in the chaos that is football, heads duck and brains collide.
I suppose I suffer from buyer's remorse when it comes to the game. I played youth, high school and college football and what I have to show for it are two herniated discs, a tendency to imagine myself clothesline tackling people who irk me and a nagging concern that my forgetfulness is connected to head trauma.
I also know that signing my son up to play tackle football a month before he entered kindergarten was foolish. How on Earth can a 5-year-old -- or a child of any age up to 16 -- make an informed decision to play football?
My son ended up playing 10 seasons -- a decade's worth of football. Every day, I hope the pounding he took and gave as a linebacker and fullback won't affect his brain when he's 20, 30 or at some point after I'm not around to witness it.
Chris Borland's announcement can help spark an epiphany that leads to a ban on tackle football for children under 14 and removal of the sport from high school. Such progress will take litigation, legislation and perhaps educators and taxpayers asking, "What is the educational value of a sport that makes its participants less intelligent?"