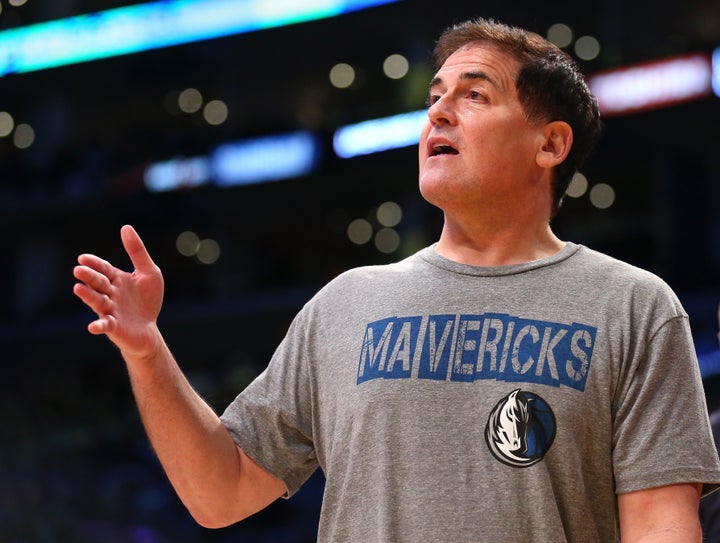 Check and verify, Chris! Check. And. Verify.
There have been a lot of ridiculous details that have come out regarding the DeAndre Jordan free agency drama. First, the emoji-laden tweets from his Los Angeles Clippers teammates signaling their journey to Jordan's Houston home to get him to re-sign with Los Angeles, rather than jump ship to the Dallas Mavericks. Then came photos of chairs against doors and Paul Pierce once again proving why he is brought into these situations. Reports said that Jordan more or less ghosted Cuban, not returning communications as he began to have second thoughts about leaving LA. Then came a scathing interview Chandler Parsons gave ESPN, in which he said, among other things, that Jordan was "scared" to take the role of franchise player. 
But amidst all that, there still proved one nugget too good to be true, even if it's about the most Oz-like NBA owner, Mark Cuban:
Don't get us wrong, the thought of a truly-over-the-rails Cuban hopelessly driving around Houston (Broussard later corrected the above tweet to clarify the location of an event that may or may not have happened) is beautiful. Cuban is crazy enough that many people took Broussard's information as fact. But we're not that lucky, and even Cuban isn't that desperate or unaware of DeAndre's address, as he pointed out himself.
When you have Prof. Cuban schooling you in media ethics, you know you've got to reassess. Broussard did just that on Friday, tweeting an apology for not confirming with Cuban first.
Regarding my Wednesday report: I should have attempted to contact Mark Cuban before reporting what my sources were telling me. I always try to carry myself with honesty and integrity both personally and professionally. I recognize that I tweeted hastily, I'm sorry for it, and I will learn from my mistake.
Not on Mark's watch, Chris, will a mistake like this stand.
So don't worry, guys, it's not like Cuban totally lost it over this whole losing Jordan thing after making trades and deals to build the future of the Mavericks around him.
He just decided to fly to Houston and get a hotel room minutes from the player's home. He then had his driver take him to Jordan's home, which, I mean, the gate was just like, open -- so like, why would you not drive in and walk up to the door?
PHOTO GALLERY
The Hilarious Cuban Tweets
So let this be a lesson to everyone. If you hear a totally ridiculous story about just how far Cuban is willing to track down a free agent, don't take it at face value. 
Because there's probably a much more insane story Cuban is willing to explain in detail himself.
Calling all HuffPost superfans!
Sign up for membership to become a founding member and help shape HuffPost's next chapter