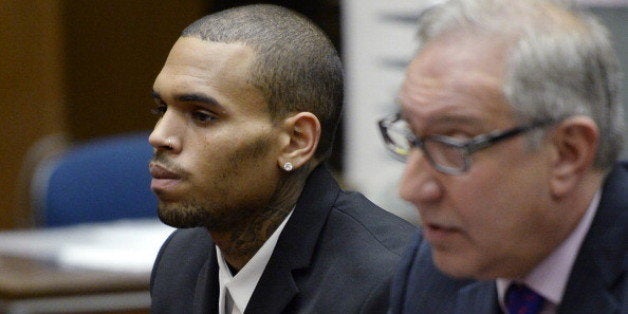 Brown's probation was reinstated and the singer was sentenced to 1,000 additional hours of community labor on Friday, Aug. 16, by Superior Court Judge James Brandlin.
CAUTION: Strong language ahead.
The sentencing came after a May hit-and-run incident as well as a dispute over the community service he performed following his 2009 assault case involving ex-girlfriend Rihanna.
Nigga done 6 months community service wit police and the DA racist ass crying to the judge that I didn't do it. Fuck the SYSTEM!

— Chris Brown (@chrisbrown) August 23, 2013
How about y'all take care of all the homeless kids and families on skid row. Promote helping people that are really fucked up in your city!

— Chris Brown (@chrisbrown) August 23, 2013
I paint pics of monsters because its a reflection of u bitchass niggas and this bitchass system!

— Chris Brown (@chrisbrown) August 23, 2013
E! News reports that while being sentenced in court, the 24-year-old told his attorney, "I understand. I understand. I am going to say whatever I want to. It's how I feel. I don't care."
Earlier this month, Brown suffered a seizure and blamed it on the stress of the "continued onslaught of unfounded legal matters and the nonstop negativity," according to a statement from his rep, obtained by The Hollywood Reporter. Prior to that, he announced plans to quit music because he is "tired of being famous for a mistake."
The R&B star has a year to complete the most recent sentencing. He is due back in court Nov. 20.
BEFORE YOU GO
PHOTO GALLERY
Celebrity News & Photos