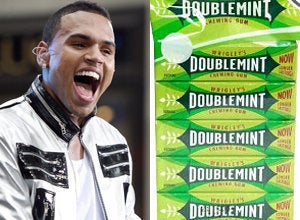 Sharp-eared pop-music fans may have noticed a brief reference to an old chewing-gum jingle buried in "Forever," Chris Brown's top-10 hit. "Double your pleasure/double your fun," the R&B singer croons in the chorus.
What listeners don't know -- and what Wm. Wrigley Jr. Co. planned to reveal Tuesday -- is that the song is a commercial.
"Forever" is an extended version of a new Doublemint jingle written by Mr. Brown and scheduled to begin airing next month in 30-second spots for Wrigley's green-packaged chewing gum.
Mr. Brown is one of a trio of pop stars enlisted by ad agency Translation Advertising, a unit of Interpublic Group of Cos., to update the images of three of Wrigley's best-known brands.
The campaign includes spots featuring R&B singer Ne-Yo doing his own take on Big Red's "kiss a little longer" jingle. And "Dancing With the Stars" regular-turned-country-singer Julianne Hough recorded a twangy version of Juicy Fruit's "The taste is gonna move ya."
But Mr. Brown's "Forever" is the most ambitious part of the campaign. Mr. Brown was commissioned to write and sing both the pop song and a new version of the Doublemint jingle, introduced in 1960.
Related
Popular in the Community