If you thought you would never see a Hot Wheels car again after you gave away your beloved collection to that little cousin of yours, we have great news! LACMA has installed a sculpture that is a shockingly complex mini-metropolis, complete with mini-cars zooming by. Made by the infamous performance artist Chris Burden, the piece is called 'Metropolis II.'
The miniature city in motion consists of 1,100 Hot Wheels-sized cars, 25 large buildings, 18 lanes of traffic, 13 trains and a human operator. The cars zoom at 240 miles per hour to scale, meaning upwards of 100,000 cars circulate through the urban network each hour.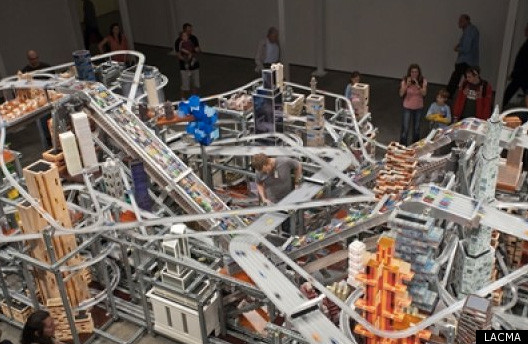 The installation shows the restless, dizzying vertigo of modern city life, reflecting the stress and wonderment we experience living in thriving urban areas. Burden's installation merges childlike playfulness with adult frenzy, and we can't wait to see it in action. (In the meantime, check out this video from the LA Times.)
'Metropolis II' will begin operating on January 15th. The work will run in 90 minute shifts from Friday through Sunday.
Friday: 12:30-2 p.m.; 3-4:30 p.m.; 5-6:30 p.m.; 7-8:30 p.m.
Saturday and Sunday: 11:30 a.m.-1 p.m.; 2-3:30 p.m.; 4-5:30 p.m.; 6-7:30 p.m.
PHOTO GALLERY
burden LACMA
REAL LIFE. REAL NEWS. REAL VOICES.
Help us tell more of the stories that matter from voices that too often remain unheard.