That was a cliffhanger if we've ever seen one, y'all.
The "Nashville" Season 3 finale on Wednesday was chock-full of twists, turns, drama and tears. Deacon (Charles Esten) and his sister Beverly (Dana Wheeler-Nicholson) went in for liver transplant surgery, but just when everything seemed to be going OK, Rayna (Connie Britton) got some bad news. (Now we get to wait all summer to find out what the heck happened). Juliette's (Hayden Panettiere) postpartum depression took a major toll on those closest to her and Teddy (Eric Close) was arrested on corruption charges. Plus, Scarlett (Clare Bowen) and Gunnar (Sam Palladio) finally realized their feelings for each other (or did they?!) and, of course, Jeff (Oliver Hudson) proved once again he's a slimy, two-timing sneak. But one of the biggest moments from the final episode was when Will (Chris Carmack) came out as gay to the public, and told his partner Kevin (Kyle Dean Massey) that he loves him.
"I want Will to be out and happy and still a huge country star and people loving him for who he is. I want him to make some decisions that are going to help him fulfill his life," Carmack said of his character's storyline. "I get a lot of tweets and comments from people about how, 'Will should just come out already! It's 2015! Audiences aren't what they used to be! The United States is progressing!' And I understand where they're coming from because sometimes I feel that way too, but at the same time, I have to respect the fact that it's dice Will doesn't get to take back if he rolls them. He's rolling the dice of his entire career. Historically, those things have not gone over well with country audiences," he added. "So there's a discrepancy between what we as the viewers, fans and as sympathizers want Will to do, and what Will should do for himself."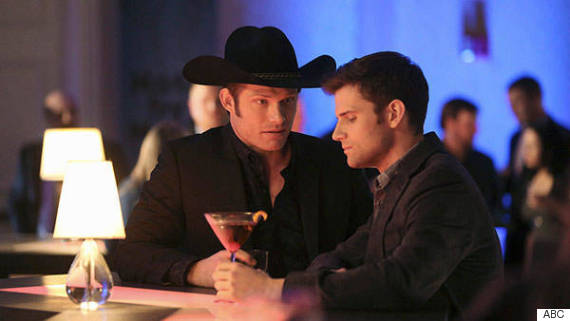 Carmack, who is also known for his role as Luke Ward on "The O.C.," explained that playing Will on "Nashville" means a lot more to him than some of his previous projects. "This is the first role I've ever played that I really do feel that I have a responsibility in the playing of it to get it right," he said. "I'm fully aware that it's a character on a nighttime soap and we're amping up the drama, but I think this is the first time that I've ever played a character that is so connected to a part of my own social consciousness and the social consciousness of many people that I love and respect. It's freeing and daunting at the same time to feel that connected to a role that you're playing."
As for what we can look forward to in Season 4, Carmack kept pretty mum on the subject. "I can tell you that Will Lexington will have plenty to deal with next season. And we got a pretty good cliffhanger with Deacon and let's just say, people might be chomping at the bit this summer. I wish we could just plow right on through and keep on going, but network television has its process," he said.
For now, fans can follow the musical career of Carmack, who, like Will Lexington, is pursuing his dream. The 34-year-old is releasing his first EP, "Pieces of You," later this spring and is looking forward to getting his music out there. "It's pretty scary, but also really exhilarating," he said of recording the album. "I've always wanted to do this, but I don't think I ever had the courage or the finances to pull it off ... [My songs] are not necessarily packaged for mass consumption, but I think they're very good songs and I'm very proud of them and they're personal to me, so I hope people like them."
Calling all HuffPost superfans!
Sign up for membership to become a founding member and help shape HuffPost's next chapter
BEFORE YOU GO