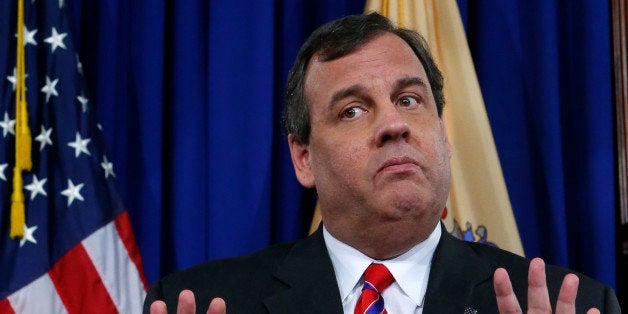 Yesterday Governor Chris Christie vetoed an automatic voter registration bill that would have put New Jersey at the vanguard of the national movement to modernize voter registration, facilitating access to voting for nearly half a million eligible but unregistered New Jersey citizens. His worry? The same phantom epidemic of voter fraud that led Donald Trump to claim our elections are "rigged" and to call for people to rise up to protect the polls from the hordes of fraudsters -- a claim he doubles down on in his new ad campaign. But don't be fooled: far from being a "cocktail of fraud" or rigging our elections, automatic voter registration makes them more accurate and secure. The only election rigging going on is at the hands of those trying to block progress and keep people whose votes they don't expect to get from voting.
Automatic registration is an innovative policy that has been taking the country by storm. Under automatic registration, any eligible citizen who interacts with an approved government agency is automatically registered to vote unless she declines, and the agency transfers her voter-registration information electronically to election officials without any new paper forms. Everyone is given the opportunity to opt out, giving people a choice while taking advantage of the added convenience of automation.
Automatic registration would create a seamless process that will be safer, more accurate, and more convenient for voters, agency staff, and election officials. The only people it flags for registration are those who have already demonstrated to a government agency that they are U.S. citizens and over 18 years old. Because automatic registration relies on modern computer technology and already-vetted state records, it is far less prone to error than systems based on paper and snail mail. The accuracy and security of the system is enhanced by the fact that it shifts primary responsibility for voter registration to the government, rather than millions of individuals and campaign workers.
Of course, the main benefit of automatic registration is that it dramatically increases registration rates while reducing administrative hassles for voters and government workers alike. Oregon, the first state to implement automatic registration, registered 95,605 voters at the DMV in the first 130 business days -- roughly four times the rate of registrations at the DMV from the past four election cycles. All told, Oregon has already increased its registration rate by nearly 10 percentage points, accounting for population growth. And this has led to higher turnout too: in the state's presidential primary this year, young voters who registered automatically turned out at higher rates than those who registered through traditional means. Nationally, up to 50 million eligible but unregistered voters could benefit from automatic registration.
Given these benefits, it is no wonder that states across the country are advancing this reform. So far 5 states -- California, Connecticut, Oregon, Vermont, and West Virginia -- have adopted automatic registration since 2015. In the last legislative session, over half the states considered automatic registration legislation. On the national stage, Rep. Bob Brady (D-Pa.)and Sens. Patrick Leahy (D-Vt.), Amy Klobuchar (D-Minn.), and Dick Durbin (D-Ill.) introduced a bill in Congress to make automatic registration the new national norm. And the Democratic Party recently included automatic registration in its platform for the first time in 2016.
Let's be clear: this is not a partisan reform -- it's about good election administration. West Virginia and Vermont, which both passed automatic registration this year, each did so with broad bipartisan support and only one "no" vote in their entire legislatures. New Jersey's bill also won the votes of several Republican legislators. Washington State's Republican Secretary of State, Kim Wyman, is one of the nation's most vocal proponents of this reform. And significant majorities of regular Americans from both major parties support it.
It is troubling that Gov. Christie is bucking a bipartisan reform that could dramatically improve election administration in New Jersey. It is even more troubling that he is infusing it with divisive rhetoric about fraud and election rigging -- especially now. That same rhetoric has been used over the past few years to justify a host of laws rolling back voting rights and making it harder for eligible citizens to access the ballot box. But in recent weeks a slew of court decisions across the country have pushed back, repudiating this effort as discriminatory and unnecessarily burdensome. Worse, courts have found that in several states legislators passed restrictive laws precisely for the purpose of discriminating against black and Latino voters, young voters, and other groups. The legislators who passed those laws did so under the same mantle of voter fraud invoked by Governor Christie and Donald Trump. That's what we should really be worried about.
Support HuffPost
The Stakes Have Never Been Higher
Popular in the Community