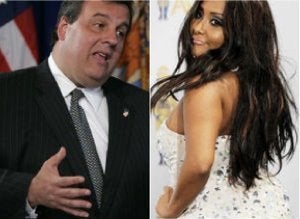 New Jersey Gov. Chris Christie (R) says MTV reality show sensation "Jersey Shore" casts a "negative" and inaccurate light on the Garden State.
"What it does is takes a bunch of New Yorkers -- most of the people on Jersey Shore" are New Yorkers ... [and] drops them at the Jersey Shore, and tries to make Americans feel like this is New Jersey," Christie told ABC's Jake Tapper in an interview over the weekend. "I could tell people, they want to know what New Jersey really is? I welcome them to come to New Jersey any time. The Jersey shore is a beautiful place, and it's a place that everybody should come on vacation this summer."
The criticism from Christie comes as the second season of "Jersey Shore" is set to premiere this week.
At the end of the segment, the New Jersey Governor made one last attempt to lure viewers to his state. "We've got another 6 weeks or so of summer left," he said. Come to New Jersey!"
WATCH: New Jersey Governor Chris Christie Blasts MTV's 'Jersey Shore'
Popular in the Community