WASHINGTON -- During an event at an African-American church in Paterson, N.J., Gov. Chris Christie used the word "boy" during a heated exchange with a man in the audience. The governor has a loose and colloquial style, and no history of racial animus in his past, but his remark and how it's been heard by the black community underscores the challenge Republicans face as the party begins its post-election outreach.
The exchange was captured by NJToday and highlighted by the liberal New Jersey blog Blue Jersey.
Christie was responding to an African-American man, identified by the Associated Press as Mike Henry, who shouted that the governor should focus on fixing the public schools. "You can yell all you want about 'fix the public schools.' Yeah, I hear ya, boy, I hear ya. I hear what you're saying, but let me tell you something else. What I hear is the despair, I hear the despair of folks all over this state," Christie said at the event on Tuesday. Christie then went on to engage the man in an argument over the virtues of school choice.
Some church members called for the man to be ejected for repeatedly interrupting the governor, according to a transcript of the exchange. But Christie defended his right to stay.
"We can yell and scream at each other, or we can try to answer the questions. Listen, sir, I'm not asking you to leave. Guess who's running the show? Me, not them. I don't want you leaving. You want to yell and scream? Yell and scream. That's the way it goes. Everybody gets their chance to do something, but you've got to give me the chance to answer the question, okay? And I don't want people yelling to kick somebody out. It wouldn't be the way I'd act, but you know what? I invited everybody here, so I'm going to let everybody stay until we're done," he said.
At the same event, Christie referred to Democratic Speaker Sheila Oliver only by her race and gender, prompting the pastor at the church to demand an apology.
"I was and am saddened by the governor's blatant attack [on the speaker]," said Kenneth Clayton, pastor of St. Luke Baptist Church in Paterson, according to the Associated Press. "The words that the governor chose to use in speaking of Oliver, while not even respecting her enough to call her by name, defy his earlier assertion that political leaders, himself included, need to learn to respect all views and work together."
Clayton told HuffPost that he was, and still is, offended by the Oliver swipe, but that he thinks Christie meant no harm with his use of "boy."
Clatyon said that while it struck him at the time, he's gone back to watch the video repeatedly. "I've watched it at least 10 times already," he said. "I don't think it is what people have taken it to be. I think he used the word 'boy' to catch his breath. Like, 'Oh boy.'"
Under Clayton's interpretation, the comment could be punctuated something like this: "You can yell all you want about 'fix the public schools.' Yeah, I hear ya. [Oh] boy, I hear ya. I hear what you're saying, but let me tell you something else. What I hear is the despair, I hear the despair of folks all over this state."
Clayton said that he has been flooded with complaints from many people in the African-American community who have interpreted it differently.
"I've told people in the community the same thing [that he told HuffPost]. They don't agree with me," he said. "I don't think it was a direct reference to the gentleman at all."
HuffPost asked if those offended have been swayed by his reasoning.
"Most people have not. They heard what they wanted to hear," he said. "That's a sensitive word to be used, and in the context of the discussion, him using the word made it more sensitive."
"I wouldn't think that the governor meant anything derogatory about that," he said. "I think maybe it was a form of expression. I don't think it was a personal attack against me. The governor is a gentleman as far as I'm concerned."
A spokesman for Christie declined to comment for the record.
HuffPost Readers: Were you at the Christie event? Email openreporting@huffingtonpost.com to give us your impression. Please include a phone number if you can do an interview.
The dust-up comes just after Christie, who's running for reelection, won the endorsement of Chesilhurst's Michael Blunt, the African-American mayor of town that is predominantly African-American. "It's an honor to stand here today with a governor who has demonstrated real leadership by putting aside partisan politics to move New Jersey forward, particularly after superstorm Sandy," Blunt said in announcing the endorsement, adding that he was impressed by Christie's knowledge of African-American history. He became the third Democratic mayor to back Christie.
Michael Drewniak, a spokesman for Christie, in discussing Oliver's role in New Jersey schools, cited comments made in 2010 by then-Rev. Reginald Jackson who said of the Opportunity Scholarship Act when advocating for its passage:
"We have heard this promise and witnessed this betrayal before," the Rev. Reginald Jackson, executive director of the Black Ministers Council, said about stalling passage of the bill. "The fate of this bill is in the hands of the Democratic majority in the New Jersey Legislature, especially Speaker Sheila Oliver," Jackson said. "African Americans are the most loyal base of the Democratic Party and our children are the ones primarily trapped in failing schools. The Democratic Party must stop taking us for granted and failing to act for our children."
Drewniak added: "Today, 1,009 days since the Opportunity Scholarship Act was introduced, Gov. Christie wholeheartedly agrees with Bishop Jackson."
This post has been updated to include comments from Christie's office and a statement by Henry to The Record.
Before You Go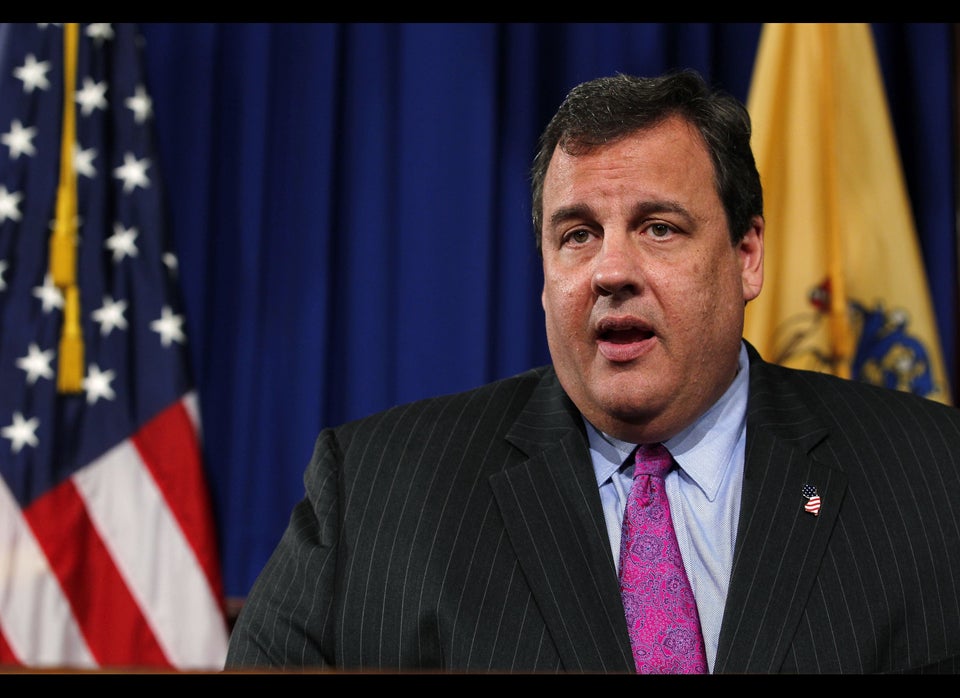 Chris Christie's Greatest Hits
Popular in the Community