WASHINGTON -- New Jersey Gov. Chris Christie (R) sought to quell mounting questions over whether his administration used the busiest U.S. bridge in a political retribution scheme, holding a lengthy press conference Friday where he gave his first extended remarks on the issue since the controversy erupted.
Christie essentially admitted that some of his top appointees at the Port Authority of New York and New Jersey screwed up, but he insisted there was no political motivation behind what they did, and said he had not known what was happening.
"I'm responsible for everything that happens in this government. ... I didn't know anything about it, but I'm responsible," said Christie. "For every person who acts in this government, I am ultimately responsible. So if you want to hear that, I'm happy to say that, because it's true. ... That's different obviously than direct responsibility, but ultimate responsibility, sure."
The problems began on the morning of Sept. 9, when New Jersey drivers attempting to cross the George Washington Bridge by one of the three access lanes in Fort Lee, N.J., found two of the lanes closed. The result was massive traffic jams, with cars backed up into Fort Lee's local roads.
The closures were ordered by David Wildstein, a high-ranking Port Authority official and Christie ally, without the knowledge of the Port Authority Executive Director Patrick Foye, who was appointed by the governor of New York. Wildstein's boss, Christie appointee and former New Jersey state Sen. Bill Baroni, defended the closure, saying it was necessary for a traffic study. Foye said he was never informed of the study, and he ordered the lanes reopened on Sept. 13 when he found out what had happened.
Just weeks before the closures, Fort Lee's Democratic mayor, Mark Sokolich, refused to endorse Christie's reelection bid. On Sept. 12, Sokolich said he believed Wildstein's actions were "punitive," although he later backed off that accusation.
Christie also announced that Baroni was resigning, although he denied that it was connected to the bridge controversy. He said the move was planned because Baroni already had served four years with the Port Authority, and the reason it was being announced on Friday was simply because it had become a distraction.
Christie stood by Baroni and Wildstein, characterizing the incident as a "mistake" and asserting that they did not have malicious motives and did not do it for political reasons.
"I can only tell you what Sen. Baroni has said publicly and to everybody in this office, which is they believed the traffic study was necessary and that they ordered it, but the way they did it was mistaken and they didn't follow protocols," he said.
When pressed on the issue of whether there was more wrongdoing, Christie said to a reporter, "There's got to be a time ... that you made a mistake in a story. By definition, you didn't do it on purpose. It was a mistake. ... Sen. Baroni has characterized this as a mistake.
Christie also denied a Wall Street Journal story that said Christie called New York Gov. Andrew Cuomo (D) recently and complained that Foye was pressing too hard to get to the bottom of the bridge matter.
"The story is categorically wrong. I did not have that conversation with Gov. Cuomo in any way, shape or form, and Gov. Cuomo didn't have it with me," said Christie. "And when the story came out yesterday, I called him and said, 'Did we talk about this?' and he said, 'No.'"
National Democrats have begun hammering Christie, seen as a possible 2016 presidential contender, over the controversy as well. On Friday morning, the Democratic National Committee put out a video saying Christie was "playing politics." Super PAC Correct the Record also made a graphic this week charging the governor with "political retribution."
Christie dismissed the Democratic attacks on Friday.
"National Democrats will make an issue about everything about me. So get used to the new world, everybody," he said. "You know, we're not in Kansas anymore, Dorothy. That's the way it goes, so it's fine."
DNC Press Secretary Michael Czin responded. "At Governor Christie's press conference today on the bridge scandal that has dominated headlines in New Jersey, Christie took a very long time to not answer one simple question: 'Why?' Why were the lanes to the bridge shut down? After an hour long performance, with a lot of his customary swagger Christie's not answering and the people of New Jersey still deserve answers," he said.
The Democratic-controlled committee investigating the lane closures in the New Jersey General Assembly subpoenaed new documents on Thursday, indicating that it believed there was more to the matter than had been revealed. The inspector general of the Port Authority has also launched a probe into the issue.
Before You Go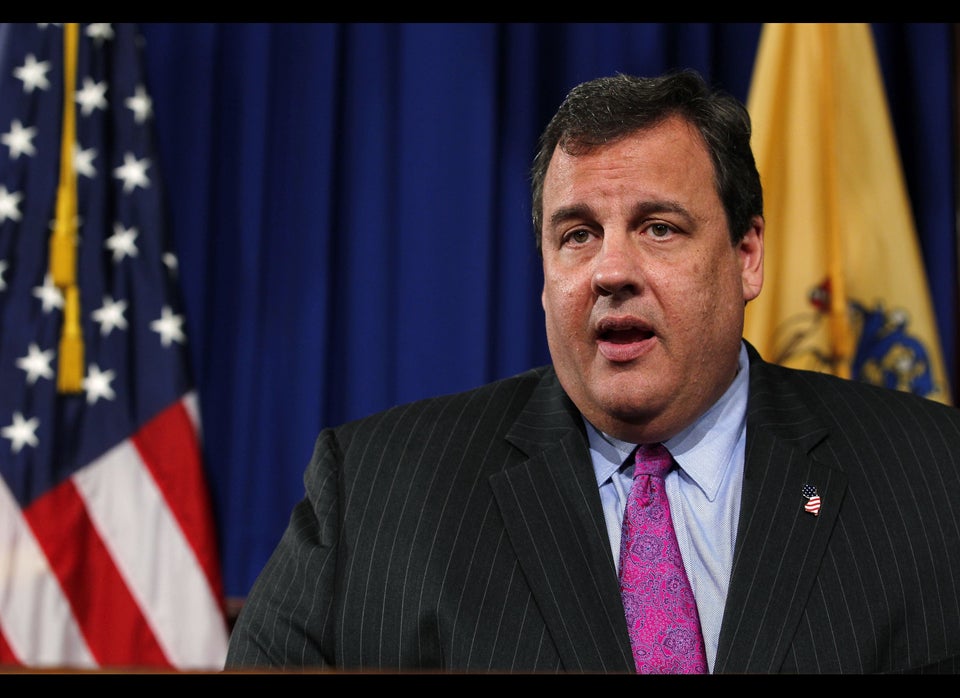 Chris Christie's Greatest Hits
Popular in the Community