WASHINGTON -- New Jersey Gov. Chris Christie (R) apologized to the residents of his state Thursday, saying he had fired his deputy chief of staff and cut ties with his top political adviser after learning they had carried out a mean-spirited political payback scheme that caused massive traffic jams around the country's busiest bridge.
"I apologize to the people of Fort Lee, and I apologize to the members of the state legislature," said Christie. "I am embarrassed and humiliated by the conduct of some of the people on my team. There is no doubt in my mind that the conduct that they exhibited is completely unacceptable and showed a lack of respect for their appropriate role of government and for the people that we're trusted to serve."
"Mistakes were made, and I'm responsible for those mistakes," he added.
Thursday's press conference in Trenton was the first time Christie spoke publicly about the scandal since emails came out Wednesday morning linking members of his inner circle to it. He said in a statement Wednesday evening that he'd had no knowledge of what had happened, and he canceled all public events Wednesday in order to, he said, get to the bottom of the controversy.
On the morning of Sept. 9, 2013, David Wildstein, one of Christie's top officials at the Port Authority of New York and New Jersey, shut down two of the three access lanes in Fort Lee that lead to the George Washington Bridge. Drivers weren't given any advanced warning, creating dangerous traffic jams on local roads on the borough's first day of school.
The lane closures were more than just inconvenient for commuters; they delayed emergency responders from attending to at least four medical situations in Fort Lee, including a 91-year-old woman who lay unconscious and later died.
Since the controversy began heating up in early December, officials in the Christie administration -- and Christie himself -- have scoffed at Democrats who raised the possibility that the lane closures were part of a political payback scheme directed at Fort Lee's Democratic mayor, Mark Sokolich, who did not endorse Christie's reelection bid. Instead, they said the lanes were closed as part of a traffic study.
The new emails, obtained from Wildstein in response to a subpoena request from the state legislature, blew apart that explanation.
On Aug. 13, Christie's Deputy Chief of Staff Bridget Anne Kelly wrote to Wildstein, "Time for some traffic problems in Fort Lee."
"Got it," Wildstein replied.
Other emails and text messages between Christie's aides contained discussions of "retaliation" against uncooperative officials, jokes about Sokolich's ethnicity and expressions of delight at the traffic problems the lane closures were causing.
Wildstein and another Christie Port Authority appointee, Bill Baroni, resigned last month. On Thursday, Christie announced that other key members of his inner circle -- former campaign manager Bill Stepien and Kelly -- are also gone.
"This morning I've terminated the employment of Bridget Kelly, effective immediately," Christie said. "I've terminated her employment because she lied to me."
Christie said he brought his senior staff together four weeks ago and told them that if they had any information about the lane closures, they had to tell his chief of staff or his chief counsel. Kelly, according to Christie, never spoke up. Later that day, he told reporters at a press conference that no one in his office was involved in the matter.
Christie also told Stepien not to nominate himself for state party chairman and withdraw from being a consultant of the Republican Governors Association.
"If I cannot trust someone's judgment, I cannot ask others to do so, and I would not place him at the head of my political operation because of the lack of judgment that was shown in the emails that were revealed yesterday," Christie said.
The governor at times portrayed himself as a victim in the controversy, saying he was "sad" and "heartbroken" that his aides had betrayed him.
"It is heartbreaking to me that I wasn't told the truth. I'm a very loyal guy, and I expect loyalty in return. And lying to me is not an exhibition of loyalty," he said.
"But I don't want any of you to confuse what I'm saying this morning," Christie added. "Ultimately I am responsible for what happens under my watch -- the good and the bad. And when mistakes are made, then I have to own up to them and take the action that I believe is necessary in order to remediate them."
The New Jersey Assembly Transportation Committee convened following Christie's press conference to probe the lane closures, and Wildstein was scheduled to testify.
Christie, meanwhile, said he will head to Fort Lee Thursday to try to meet with the mayor and apologize to him in person, and to speak with local residents.
Sokolich has remained relatively silent over the past six weeks as news of the controversy trickled out. But after the emails were published Wednesday, he was furious.
"My reaction wavers everywhere from comical to criminal," said Sokolich. "It is absolutely the most disheartening example of petty politics ... to create a manmade set of circumstances that put all of us in harm's way."
Christie is now being hounded by the perception that he is a bully who retaliates against others for petty political reasons -- a tough reputation to shake if he wants to run for president in 2016.
The governor pushed back against this perception Thursday, saying, "I have very heated discussions and arguments with people in my own party and on the other side of the aisle. I feel passionately about issues. And I don't hide my emotions from people. I am not a focus-group tested, blow-dried candidate or governor."
"I am who I am," he added, "but I am not a bully."
Before You Go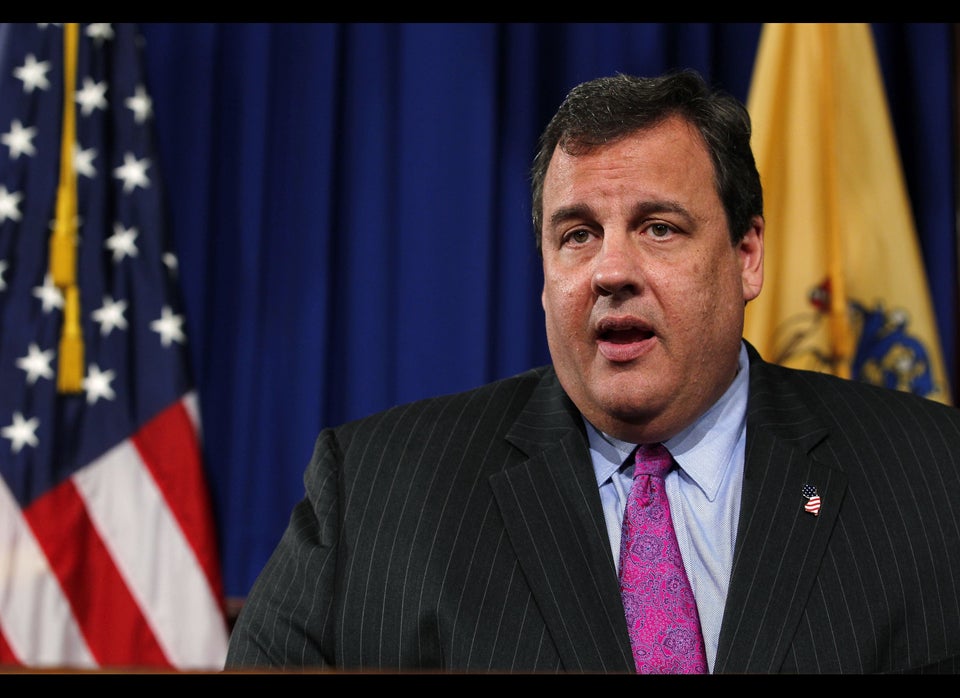 Chris Christie's Greatest Hits
Popular in the Community