New Jersey Gov. Chris Christie (R) had trouble on Sunday explaining his decision to endorse Donald Trump's candidacy for president in light of his past differences with the Republican front-runner.
On ABC's "This Week," George Stephanopoulos asked Christie question after question about his previous criticism of Trump. Whether it was Trump's plan to get Mexico to pay for a wall along the United States' southern border or his pledge to protect Social Security from cuts, Christie struggled to come up with plausible reasons for supporting a candidate whose positions he once opposed so passionately.
It was a cringe-inducing performance from a governor whose presidential campaign slogan was "telling it like it is."
1. Getting Mexico to pay for the border wall.
Stephanopoulos played a video clip from the campaign trail in which Christie questioned how Trump would get Mexico to build the border wall.
"I tell everybody who goes to a Donald Trump event, if he gets asked a question, just ask him how," Christie said at the time. "First, he says he's going to build a wall across the entire border between the United States and Mexico. How? How is he going to make the Mexicans pay for the wall? How? They are a sovereign nation."
Christie said he now believes Trump is capable of convincing Mexico to do it, and that Trump has enough time before the election to "answer" how he would accomplish that goal.
"You know, George, this is a February -- this is February of a campaign," he said.
"You know, George, this is a February -- this is February of a campaign."
Stephanopoulos pressed Christie, noting that the presidential campaign has been under way for eight months.
Christie vaguely offered that Trump would get it done through "diplomacy and other tools," and emphasized the real estate mogul's "strong leadership."
"Strong leadership is able to exert those things and be able to talk to folks about what advantages and disadvantages are of certain policies," Christie said. "The fact of the matter is that there won't be any question about Mr. Trump's strength and his resoluteness in terms of getting the things done that he's wanted to get done."
When Stephanopoulos did not let up, pushing Christie to offer specific ways Trump could realize his goal, Christie finally settled on the prospect of leveraging the U.S.' trading relationship with Mexico.
"Listen, I think what he's talked about is the trade relationship and working on the trade relationship and he talked about that yesterday," Christie said. "And using that as a lever to get them to do things on immigration."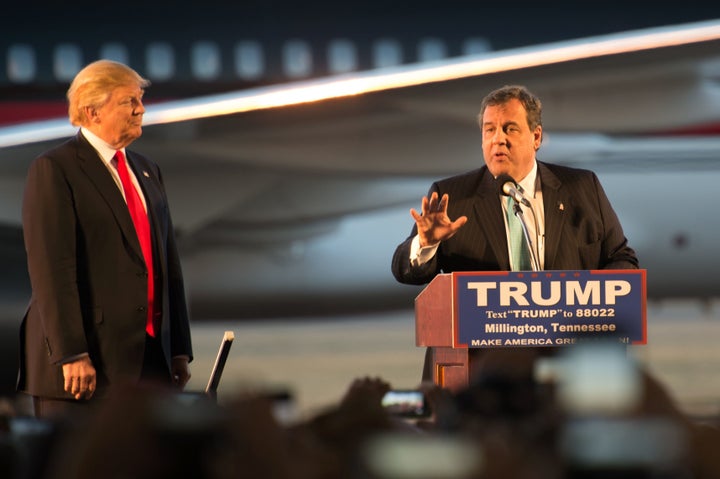 2. Not cutting Social Security.
Stephanopoulos went on to ask Christie what he thought of Trump's opposition to cutting Social Security benefits, something Christie had openly embraced in his straight talk-themed presidential run. The host played another clip of Christie on the stump mocking Trump's promise not to cut the popular social insurance program.
"I think that we need to do something on Social Security," Christie told the host. "And I've made that really clear. And so listen, Donald Trump and I are not going to agree on every issue."
Stephanopoulos again asked for a better explanation, saying Christie's support for cutting benefits for future beneficiaries was the "signature issue" of his campaign.
"It's not the signature issue of my campaign," Christie retorted. "The signature issue of my campaign was national security, keeping America safe and secure from terrorist attacks and making us a better ally and neighbor around the world."
Christie even argued that Trump's plan was no less fantastical than the other Republican candidates'.
"The fact of the matter is, though, when you look up on that stage, no one else has a plan on Social Security, George," Christie said.
"What I'm saying is that he's going to give more complete answers as time goes on on these issues," he added. "Let's hold every candidate to that same standard."
"What I'm saying is that he's going to give more complete answers as time goes on on these issues."
In fact, Trump's top rivals for the GOP nomination, Sens. Marco Rubio (R-Fla.) and Ted Cruz (R-Texas) both have plans to alter Social Security that are more detailed -- and more closely resemble what Christie had proposed as a candidate -- than anything Trump has put forward.
Rubio would raise the retirement age for claiming full benefits above 67 -- something that is already scheduled to happen -- reduce benefits for "upper-income" seniors and adopt a more modest cost-of-living adjustment.
Cruz has embraced similar proposals and gone further, expressing support for partial privatization of the program.
Trump, by contrast, has said he would close Social Security's funding gap without cutting benefits by growing the economy and cracking down on "waste, fraud and abuse."
The AARP says Trump is the one candidate in the presidential race -- in either party -- who has yet to lay out a concrete plan for the program.
3. Banning Muslims from entering the country
The difficult questions did not stop there for Christie. Christie was at pains to explain how he reconciled his apparent disagreement with Trump's proposal to ban Muslims from entering the United States with his current backing of the candidate.
He first insisted that because Trump had modified his proposed ban to exclude U.S. citizens, it was now acceptable.
Then he argued the ban was less important than Trump's "overall" tough stance on national security, which was evident in his support for mass surveillance, a "stronger" military and the police.
"Mr. Trump has talked about the idea of making sure we restore NSA authority, he's -- which some people in this race have not been in favor of, like Senator Cruz," Christie said. "He has stood up and said that he wants to make our military stronger, which we need to do. He's stood up for law enforcement in ways that other candidates in this race have not done."
4. Accusing New Jersey Muslims of celebrating Sept. 11.
Christie was again caught flat-footed when Stephanopoulos asked whether Trump's claim he saw Muslim Americans in New Jersey celebrating the Sept. 11, 2001 attacks was a "slander" of Christie's constituents.
"I don't think he means it as that at all, as a slander of my state's citizens," Christie sputtered. "What I think, though, is when I say he's -- can be trusted, this is a guy who, when he makes promises, he keeps them. Um, and I've seen that over the course of a 14-year relationship with him."
Christie's embrace of Trump is notable since, as a presidential candidate, he specifically spoke out against judging all Muslim Americans for the actions of a few extremists. At one New Hampshire campaign appearance, Christie touted his nomination of Sohail Mohammed, who is Muslim, as a judge in New Jersey, and his outreach to the state's large Muslim population.
Several times on Sunday, Christie gave up trying to explain his support for Trump's policies, talking up his electability instead.
"Given the other options on the stage, let me tell you something, he's the strongest, best guy to be our nominee to beat Hillary Clinton and to be the next president of the United States," he concluded.
Popular in the Community