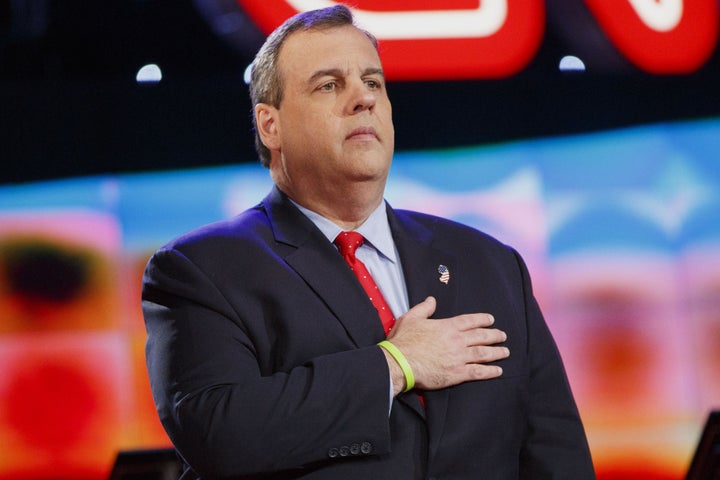 New Jersey Gov. Chris Christie (R) on Wednesday came to the defense of fellow Republican presidential hopeful Donald Trump, who drew criticism at the GOP presidential debate for proposing a controversial ban on all Muslims from entering the United States.
On stage Tuesday in Las Vegas, former Florida Gov. Jeb Bush forcefully called out Trump for his proposal and said he wasn't a serious candidate for the presidency.
"He looks like a serious candidate to me," Christie said in radio interview with Laura Ingraham Wednesday. "And I've always said all along, having known Donald Trump for 13 years on a personal level, that Donald will be as serious candidate for president as he wants to be. And he sounded serious to me last night. And so, maybe Jeb and I were listening to different things."
The interview isn't the first time Christie has stood up for his New York City neighbor. Last week, the governor said he doesn't "believe he's hateful and I don't believe he's a bigot."
But Christie felt differently about Trump's qualifications for the job earlier this month. Reacting to news of the proposal, Christie called it "ridiculous" and further derided it as "the kind of thing that people say when they have no experience and don't know what they're talking about."
Christie's comments in support of Trump are all the more bizarre given his record on standing up to Islamophobia. In the wake of the Sept. 11, 2001, terror attacks, Christie boldly stood by his decision to nominate a Muslim American lawyer to the New Jersey Superior Court amid a wave of conservative criticism. And just this month, in the early primary state of New Hampshire, the governor passionately stumped about the need to combat anti-Muslim bigotry in the United States.
Christie and his campaign may have concluded, as Sen. Ted Cruz (R-Texas) admitted in a private fundraiser earlier this month, that it made more sense to strategically bear-hug Trump so as not to alienate his army of supporters at a time when the governor appears to be surging in New Hampshire.
REAL LIFE. REAL NEWS. REAL VOICES.
Help us tell more of the stories that matter from voices that too often remain unheard.