Former New Jersey Gov. Chris Christie (R) repeated his promise to take his 2024 primary fight directly to coup-attempting and newly indicted former President Donald Trump on Monday, telling a national TV audience that Trump's conduct is putting the country through unnecessary trauma.
"He is voluntarily putting our country through this," Christie said in a televised town hall event hosted by CNN. "This is vanity run amok. Ego run amok. ... Everyone is blaming the prosecutors. He did this."
Christie, a former U.S. attorney, said the indictment by itself is damning ― "the conduct in there is awful" ― but that he also expects that special counsel Jack Smith has much, much more information he hasn't yet revealed. "There's probably about a third of the evidence they have in that indictment," he said.
He also criticized Republicans who have claimed that the "weaponization" of the Department of Justice is behind Trump's prosecution. "We're in a situation where there are people in my own party who are blaming DOJ. How about, blame him? He did it," Christie said.
"He flew the boxes up to New Jersey for summer vacation. What is this, like, they're a family member?" Christie said. "Seriously, I've got to have my boxes with me. Let me ask you a question. What exactly was he doing with them? Did someone remind him he's not the president anymore?"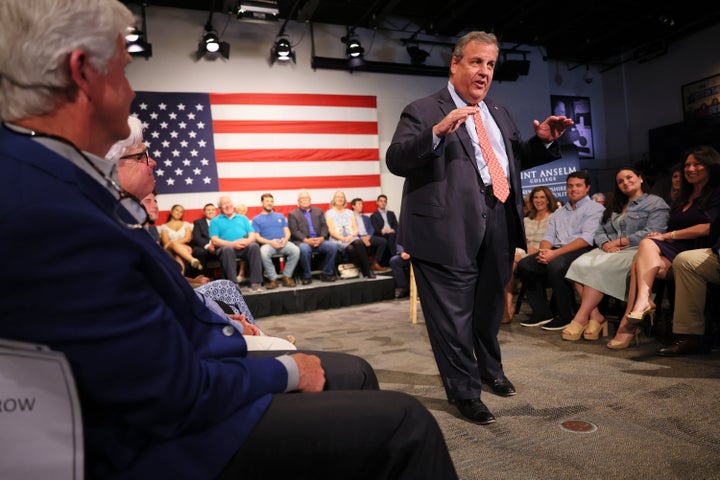 Christie and former Arkansas Gov. Asa Hutchinson were the first among Trump's Republican rivals to criticize him after prosecutors released an indictment charging the former president with 37 felony counts of withholding highly sensitive national defense documents and then conspiring to hide them from authorities seeking their return.
They were joined Monday by South Carolina Sen. Tim Scott and former South Carolina Gov. Nikki Haley, who criticized Trump's actions and called the allegations in the indictment serious and indicative of a reckless disregard for national security.
Other Republican presidential candidates have attacked the Department of Justice for bringing charges at all, without a word of criticism for Trump. Biotech entrepreneur Vivek Ramaswamy went so far as to promise that he would pardon Trump.
Christie mocked those rivals on Monday, saying they feared mentioning Trump's name as if he were Voldemort from the Harry Potter books. He said they all agreed that what Trump did was wrong, but did not want to say so in the hope of picking up his voters after he is convicted. "They're playing political games with you," he told CNN's studio audience.
Christie considered running against former President Barack Obama in 2012 but chose not to. Four years later, he was among 17 Republicans running for the presidential nomination, but failed to get traction and instead won notoriety by becoming the first major endorser of Trump after dropping out of the New Hampshire primary.
The New Jersey Republican continued supporting and defending Trump even when Trump passed him over for running mate and then for attorney general, and then, with son-in-law Jared Kushner, summarily threw away months of Christie's work putting together a transition team.
Christie backed Trump through all the controversies of his four years in office, including after Trump infected him with the coronavirus at a 2020 debate prep session despite testing positive for the coronavirus earlier that day. Christie spent a week in an intensive care unit as a result.
All that changed, though, when Trump began lying about the 2020 election having been "stolen" from him. "To me, this is the most destructive thing he's done," he said Monday. "That's when it was over for me with Donald."
Christie's criticism became even more forceful after Trump's Jan. 6, 2021, coup attempt in which he incited a mob of supporters to attack the Capitol as Congress was certifying the election result.
While announcing his presidential candidacy at an event in New Hampshire last week, Christie explained why he was taking on Trump when he did not do so eight years ago, saying he had assumed that voters would see through Trump's obvious lies and impossible promises.
"It was a mistake in 2016 not to confront Donald Trump early," he said, adding that he does not understand the criticism that he appears to be in the race merely to hurt Trump. "I am going out there to take out Donald Trump, but here's why: I want to win. And I don't want him to win."
He also said Trump's campaign is now entirely about grievance and revenge. "It's the last throes of a bitter man who only wants power back for himself," he told his New Hampshire audience.
Support HuffPost
The Stakes Have Never Been Higher
Popular in the Community