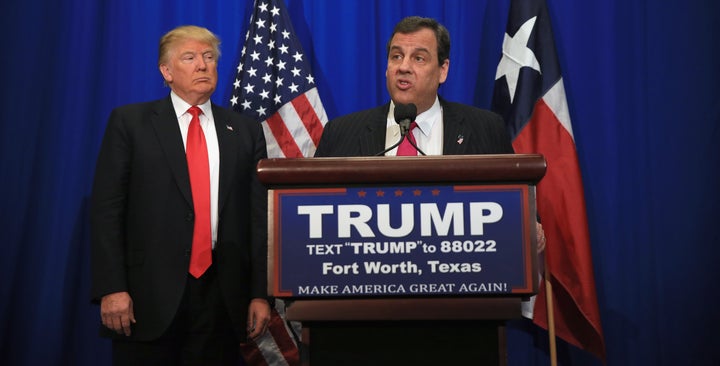 As governor, Chris Christie committed himself to building bridges with the Muslim American community in New Jersey. He named Muslims to positions in state government, brought religious leaders to his house to break the daily Ramadan fast and warned his party not to embrace anti-Muslim bigotry in the name of fears about terrorism.
On Friday, however, Christie threw all that out the window and endorsed GOP presidential candidate Donald Trump, a man who wants to ban all Muslims from entering the United States.
It doesn't matter that the vast majority of Muslims have nothing to do with terrorism. Trump said he didn't want to take any chances.
"Until we are able to determine and understand this problem and the dangerous threat it poses, our country cannot be the victims of horrendous attacks by people that believe only in jihad, and have no sense of reason or respect for human life," he said.
Trump has also said he isn't sure whether he could support a Muslim in the Oval Office because there is a "very severe problem" with some Muslims in this country.
That sort of approach is exactly what Christie has said he is against.
Just days after Trump announced his Muslim ban, Christie spoke passionately about the need to reach out to Muslim Americans and avoid caricaturing an entire religion.
"I went to mosques all around New Jersey, and I met with the people in those mosques so that they could see me, and I could see them," he said during a campaign stop in New Hampshire. "And what you realize over the course of time is that they're Americans too. And they love this country. And they care deeply about its future and their children's future. And this is just common sense, everybody. You can't paint everybody with the same brush. You just can't. We're all individuals."
In a radio interview at the time, Christie also called Trump's proposal "ridiculous" and "the kind of thing that people say when they have no experience and don't know what they're talking about."
One of Christie's most public fights against Muslim bigotry was when he nominated Sohail Mohammed for a seat on the New Jersey Superior Court of Passaic County in 2011. Mohammed, an immigrant from India, rose to prominence as a leader in the Muslim community. He helped the FBI understand Muslim culture, and after the 9/11 terrorist attacks, he spoke out against the government's targeting of Muslim and Middle Eastern individuals.
But Mohammed still faced intense criticism from conservatives who were worried he might have ties to terrorism. Those accusations were unacceptable to Christie, who publicly called out members of his party.
"They are criticizing him because he is a Muslim American ... Sharia law has nothing to do with this at all -- it's crazy! It's crazy. The guy's an American citizen," Christie said at the time.
"This Sharia law business is crap. It's just crazy, and I'm tired of dealing with the crazies," he added. "It's just unnecessary to be accusing this guy of things just because of his religious background."
The New Jersey Legislature did end up confirming Mohammed to the bench. He is still a judge in the state.
Even before Friday's endorsement, however, Christie, at times, hesitated in criticizing Trump too harshly for his comments about Muslims.
In November, Trump made the outrageous, unfounded claim that there were thousands of Muslims in New Jersey who cheered when the World Trade Center came down on 9/11.
"I do not remember that, and so it's not something that was part of my recollection," Christie replied simply. "I think if it had happened, I would remember it, but, you know, there could be things I forget, too."
Many Muslims in New Jersey, who considered the governor their champion, have also been disappointed that Christie has not been as forceful in speaking out against Trump and anti-Muslim bigotry on the campaign trail.
"He has abandoned us," Mohammed Hameeduddin, a councilman in Teaneck who was the township's first Muslim mayor, told The New York Times in December, "and has moved on."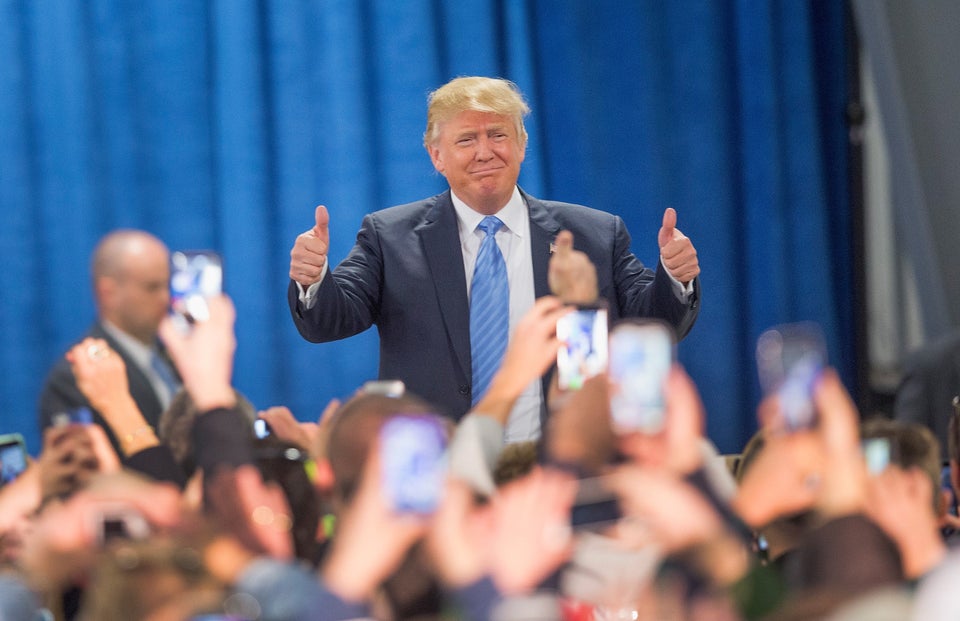 Donald Trump On The Campaign Trail
Popular in the Community