New Jersey Gov. Chris Christie (R) defended his endorsement of Donald Trump Thursday, as he faces criticism from many in his own party that he gave legitimacy to a person who may destroy the GOP. 
"As a Republican, I feel strongly about making sure that Hillary Clinton does not become president of the United States," Christie told reporters Thursday during his press conference in Trenton, New Jersey, "and I believe Donald Trump is the best person of those remaining to do that."
Christie shocked the Republican Party last week when he threw his support behind Trump. The move gave the GOP front-runner some establishment backing that he had lacked -- and seemed designed, in part, to spite Sens. Ted Cruz (R-Texas) and Marco Rubio (R-Fla.). Christie said he has not had any conversations with Trump about potentially becoming his running mate if he wins the GOP nomination. 
Christie stood by Trump's side at a press conference in Florida on Super Tuesday. At times, he looked dazed and distracted, with many people wondering if he regretted his endorsement. 
The governor insisted Thursday that he had no regrets.
"I don't know what I was supposed to be doing," Christie said. "I was standing there listening to him. All these armchair psychiatrists should give it a break. ... He was answering questions from the national press corps, and I was listening. This is part of the hysteria of the people who oppose my Trump endorsement. They want to read anything into it that can be negative."
"So no, I wasn't being held hostage," he added. "No, I wasn't sitting up there thinking, 'Oh my God, what have I done?'"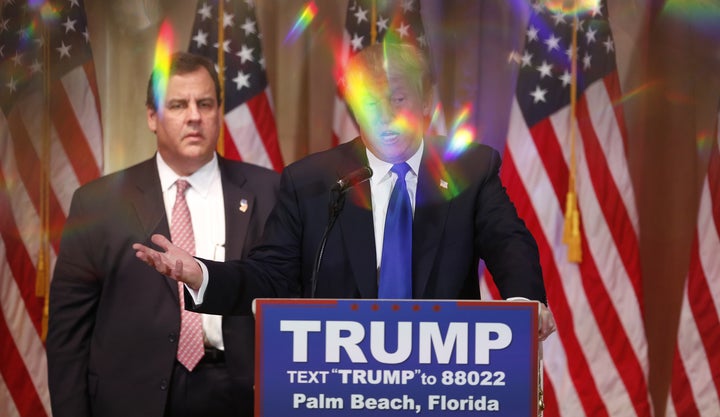 Since dropping his presidential bid, Christie has faced a significant amount of criticism at home. On Tuesday, six newspapers in New Jersey called on him to resign, calling him an "embarrassment" and an "utter disgrace."
"We're disgusted with his endorsement of Donald Trump after he spent months on the campaign trail trashing him, calling him unqualified by temperament and experience to be president," read the joint editorial. 
"They're trying to be relevant, and the only way to do that is to set themselves on fire, which is what they did over the last two days," Christie replied Thursday.
The governor's backing of Trump has also disappointed many of his supporters. Meg Whitman, the CEO of Hewlett-Packard Enterprise who served as national finance co-chair of Christie's presidential campaign, called his endorsement "an astonishing display of political opportunism." 
Earlier in the day, Mitt Romney -- the Republican Party's presidential candidate in 2012 -- gave a scathing speech criticizing Trump and calling on the Republican Party to reject him. Christie said he considers Romney a friend and respects him, but they simply disagree politically on this issue. 
He also said he wasn't that concerned with some of Trump's recent controversies -- including declining to disavow a former leader of the Ku Klux Klan in a recent interview -- saying he knows Trump and trusts him, since they've been friends for 14 years. 
"I know much more about him than Gov. Romney does," Christie told reporters. He added, however, that he doesn't agree with 100 percent of what Trump says. "I just have a different view."
Calling all HuffPost superfans!
Sign up for membership to become a founding member and help shape HuffPost's next chapter
BEFORE YOU GO
PHOTO GALLERY
Chris Christie