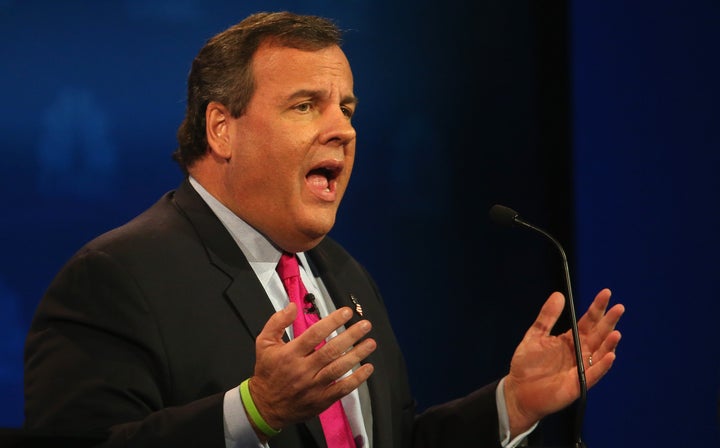 WASHINGTON -- New Jersey Gov. Chris Christie earned cheers from the crowd at Wednesday night's Republican presidential debate when he slammed CNBC moderator Carl Quintanilla for a question about daily fantasy sports.
Toward the end of the two-hour debate, Quintanilla asked former Florida Gov. Jeb Bush whether he thought the federal government should have a role in regulating the rapidly growing industry that, thanks to an advertising blitz and a scandal that erupted earlier this month, has drawn scrutiny from sports fans, media, members of Congress, and federal and state regulators alike.
Bush answered earnestly, saying that "this has become something that needs to be looked at in terms of regulation" and that daily fantasy sports is currently akin to "day trading without any regulation at all."
That's when Christie interjected.
"We have -- wait a second, we have $19 trillion in debt. We have people out of work. We have ISIS and al Qaeda attacking us. And we're talking about fantasy football? Can we stop?" Christie said. "How about this? How about we get the government to do what they're supposed to be doing, secure our borders, protect our people and support American values and American families. Enough on fantasy football. Let people play, who cares?"
Christie wasn't the only one unhappy with that line of questioning. But despite his apparent incredulity, the reality about daily fantasy sports is that unresolved questions about the industry matter to millions of Americans. And those questions could fall squarely under the purview of Congress, federal regulators and potentially the next president.
The scandal blew up when an employee of DraftKings, the largest daily fantasy site, inadvertently released proprietary information about daily fantasy contests in early October and then won $350,000 in a paid fantasy contest on a rival site the same weekend. Major concerns were raised about consumer protections, internal data controls, and fraud and negligence within the industry. New York Attorney General Eric Schneiderman launched an investigation. Rep. Frank Pallone (D-N.J.) and other members of Congress intensified previous calls for hearings into daily fantasy sports. Pallone and Sen. Robert Menendez (D-N.J.) also urged the Federal Trade Commission to examine the companies' practices.
But the most pressing question about daily fantasy sports remains its legality under federal law. In 2006, Congress passed legislation that banned most forms of online gambling, but included a carve-out for fantasy sports in general -- essentially on the grounds that they are "games of skill."
A former NFL lobbyist who became a White House official  in the George W. Bush administration may have played a role in creating that carve-out. It has allowed the industry to grow, largely through partnerships with major sports leagues and media companies like ESPN. The realm of paid fantasy in particular has expanded dramatically -- DraftKings and FanDuel are both worth roughly $1 billion. 
The legal landscape for paid fantasy, however, is murky. State regulators in Nevada have ruled that the daily fantasy industry constitutes gambling, meaning operators of such sites need a license. A federal grand jury in Florida is investigating the companies to see if they have violated state and federal gambling laws. Attorneys general in other states are looking at the industry's legal status, too. And two weeks ago, the U.S. Department of Justice and the FBI launched an investigation to determine whether daily fantasy operators have violated federal anti-gambling laws.
Christie, of all the presidential candidates, is closest to the issue. The question of whether daily fantasy sports is or isn't gambling has placed discussion of the industry within a broader debate over the legality of wagering on sports, and Christie has spent his time as governor on the front lines of that controversy.
In 2014, he signed legislation that legalized sports gambling in New Jersey. There was only one problem: Under the federal Professional and Amateur Sports Protection Act of 1992, sports wagering is illegal in all but four states. New Jersey isn't one of them, but it proceeded anyway -- a move that landed it in a legal battle with all four major sports leagues and the NCAA. (Though the state lost its most recent appeal, the federal circuit court has decided to rehear the case.)
The odd legal split between traditional sports gambling and paid fantasy sports is the major reason why Pallone and other New Jersey lawmakers have sought hearings in Congress. They don't want daily fantasy sports banned; they have questions about why it's legal when traditional sports wagering isn't.
Meanwhile, NBA Commissioner Adam Silver has called for congressional re-evaluation of the 1992 law and wants sports gambling -- a multibillion-dollar industry that exists largely in the shadows -- legalized and regulated. Given their relationships with DraftKings and FanDuel, the major leagues and millions of their fans also have a stake in how states and the federal government decide to proceed on paid fantasy.
Christie's call to "let people play" isn't necessarily inconsistent with New Jersey's court battle. He wants legal sports gambling in his state; perhaps he also believes that daily fantasy should be legal and governed on a state-by-state basis.
But the reality is that federal law has helped create daily fantasy sports, and the federal government may have a future role in regulating that industry and protecting its millions of customers from potential fraud, negligence and abuse. While Christie might not view fantasy sports or gambling as a topic that rises to the level of a presidential debate, the next Oval Office occupant might not be able to simply brush it off.
PHOTO GALLERY
Moments From The CNBC Republican Debate
Calling all HuffPost superfans!
Sign up for membership to become a founding member and help shape HuffPost's next chapter