During his latest campaign-style swing through New Hampshire Monday, New Jersey Gov. Chris Christie (R) criticized opponents of the Patriot Act and government eavesdropping, while calling for an expansion of the military in a speech designed to highlight his hawkish national security views.
Addressing a topic that ranks at or near the top of Republican primary voters' concerns heading into the 2016 campaign, Christie sought to draw a stark contrast between his perspective on foreign policy and that of the noninterventionist wing of the GOP, led by Sen. Rand Paul (R-Ky.).
"When Edward Snowden revealed our intelligence secrets to the world in 2013, civil liberties extremists seized that moment to advance their own narrow agenda," Christie said in an outdoor address with the Portsmouth Naval Shipyard serving as the backdrop. "They want you to think that there's a government spook listening in every time you pick up the phone or Skype with your grandkids. They want you to think of our intelligence community as the bad guys, straight out of 'The Bourne Identity' or a Hollywood thriller, and they want you to think that if we weakened our capabilities, the rest of the world would love us more. Let me be clear: All these fears are baloney."
Christie's speech Monday was the third in a recent series of policy addresses he's delivered in New Hampshire; he previously laid out proposals to reform entitlement programs and lower tax rates on individuals. Though not yet officially a candidate, Christie is moving to get out in front of the rest of the GOP field on an array of policy proposals and reinsert himself into the 2016 conversation, as his standing in the polls has slipped significantly amid continued fallout from the so-called Bridgegate scandal and other problems back home in New Jersey.
That the onetime GOP frontrunner has delivered every one of his three policy speeches in recent weeks in New Hampshire demonstrates how much he's relying on the first-in-the-nation primary state to revive his diminished presidential prospects.
Christie told the crowd in Portsmouth on Monday that American power has been "in retreat" under the Obama administration, and called for an expansion of the Air Force and more Navy ships.
"We need to give our men and women in uniform the resources they need to get the job done," he said, pointing to threats from Russia, China and North Korea. "And we owe it to them."
Invoking his personal recollections of the Sept. 11 attacks, Christie pointed to his time spent as a U.S. attorney, when he "focused on fighting terrorism every day."
"I've used all the tools we had to go after terror," he said. "I've used the Patriot Act myself and personally reviewed the applications. I've prosecuted terrorists, and sent terrorists to jail. And I've seen what happens when our intelligence community, legal system and law enforcement work together. We can use information to save lives."
On the issue of domestic wiretapping, Christie was particularly emphatic in aligning himself with the federal government against those who have expressed concerns about personal liberty abuses. He referred to Snowden as "a criminal who hurts our country."
"The vast majority of Americans aren't worried about the government listening in on them, because it hasn't happened," Christie said. "But they are worried about what happens if we don't catch the bad people who want to harm our country."
Christie also said the U.S. needs to put pressure on its NATO allies to help check Russian aggression in Eastern Europe.
"Until Putin chooses the path of peace, we should keep applying pressure," he said.
On Monday afternoon, Christie is slated to speak at a town hall meeting in the southern New Hampshire town of Hudson during which he will take questions from voters on a range of issues.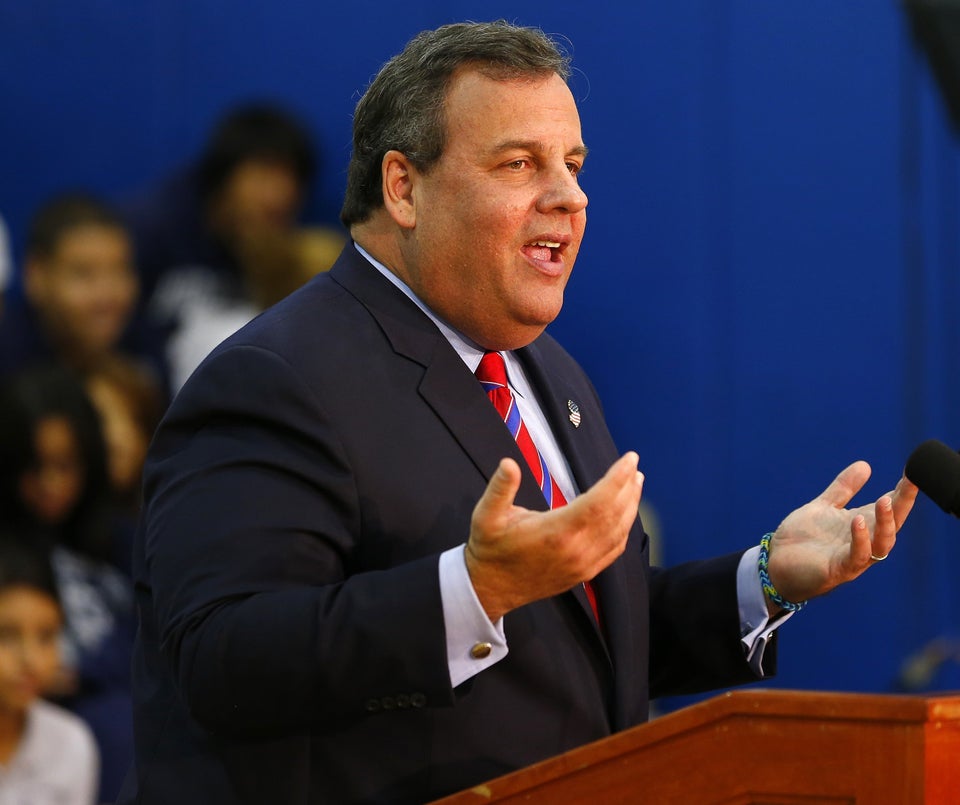 Chris Christie Is Absolutely Shocked
Popular in the Community