Saying that an elected senator is needed quickly, New Jersey Gov. Chris Christie (R) on Tuesday called for a special election in October to fill the seat of Sen. Frank Lautenberg (D), who died on Monday.
"This is about guaranteeing the people of New Jersey a choice and a voice in Washington," Christie said.
Christie said that politics did not factor into the decision to call the October special election. But scheduling the special election for November would have set up the possibility of popular Newark Mayor Cory Booker (D), a potential Democratic Senate candidate, running statewide at the same time that Christie faces presumptive Democratic gubernatorial nominee Barbara Buono (D) for the governorship. Christie is leading Buono by 30 points in recent polls, but the presence of the popular Booker on the ballot could have helped Buono and helped Democratic state legislative candidates.
"I will not play politics with this," Christie said, stressing that New Jersey needed an elected senator for the next 18 months.
Christie did not name an interim senator on Tuesday, saying that he is still weighing his options. He said he would allow his appointee to run for election this year if desired. The October election will fill the remainder of Lautenberg's term, which expires in January 2015.
"I will not give you any indication of who is on the list, what their gender is, what their political party is," Christie said.
Christie's decision ends a debate over conflicts in state law that indicates the election could be held in November 2013 or November 2014. The law provides Christie the option of scheduling a special election if he deems it necessary, which he did. Democrats planned litigation in the event that Christie decided to let his appointee serve the remainder of Lautenberg's term.
Christie said that legal considerations did not play a role, saying that he wanted the elected senator in office as soon as possible.
On Monday, the nonpartisan New Jersey Office of Legislative Services authored an opinion that it would cost $11.9 million for the August primary and $11.9 million for the October election. Christie said that the state would cover those costs. Democrats have been critical of the decision to spend close to $24 million for an election when it could be held the same day as the regularly scheduled November election. A copy of the OLS letter obtained by The Huffington Post can be found here.
"I don't care," Christie said when asked about the cost. "You can't put a price tag on having an elected official in the United States Senate."
Several Republican names have been circulating to be Christie's appointee or the Republican nominee in October. The list includes Lt. Gov. Kim Guadagno, state Senate Minority Leader Tom Kean Jr., Assembly Minority Leader Jon Bramnick, state Sen. Jennifer Beck, state Sen. Joe Kyrillos, state Sen. Kevin O'Toole and businessman John Crowley.
Former Gov. Tom Kean Sr., the father of the Senate minority leader, is being mentioned as a potential Christie appointee.
On the Democratic side, both Booker and Rep. Frank Pallone have been exploring Senate races for next year and would likely run in August. Rep. Rush Holt, Senate President Steve Sweeney and Assembly Speaker Sheila Oliver have also indicated interest in a Senate race. A competitive Democratic Senate primary in August would come as the state party deals with rifts stemming from the governor's race -- Democrats endorsed Christie for reelection -- and from opposition to Buono's choice of Assemblyman Jason O'Donnell (D-Bayonne) for state party chairman.
Christie stressed that his position would also prevent party leaders from picking Senate candidates.
"I will not permit the insiders and a few party elites to determine who the nominees of the Republican Party and the Democratic Party will be," he said.
Before You Go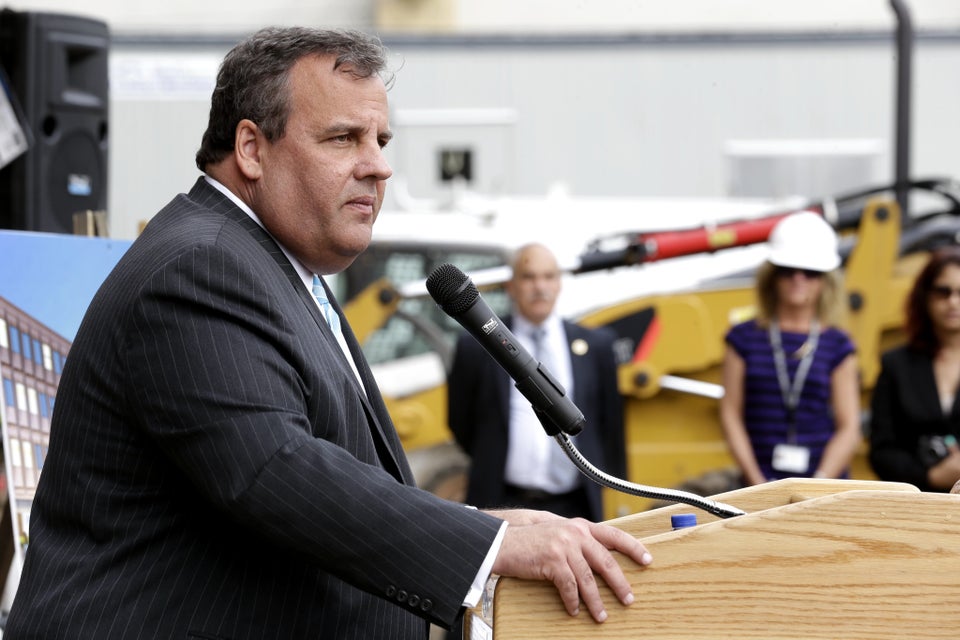 Politicians React To Frank Lautenberg's Death
Popular in the Community