 New Jersey Gov. Chris Christie (R) is trumpeting a significant fundraising advantage over his only announced Democratic rival based on donations collected in the closing days of 2012.
The first-term Republican, who enjoys a 72 percent approval rating, said he raised more than $2.1 million in the final 36 days of 2012, the Star-Ledger reported Thursday.
State Sen. Barbara Buono (D-Metuchen), the only Democrat who has entered the governor's race, said she has raised almost $250,000 since launching her campaign in mid-December. Christie formally entered his bid for reelection in November, but has had political machinery in place since his 2009 election.
Christie's camp said that the donations were received via online solicitations, not through organized events.
"This is unprecedented, the speed at which the governor raised the maximum," Christie political adviser Bill Palatucci told the Star-Ledger.
"When I first decided to run for governor I knew the implications of the struggle," Buono said in a statement. "I knew I would come under attack by Governor Christie and I knew it would be no easy road to the Democratic nomination."
Democrats are continuing to organize against Christie, who has enjoyed high approval ratings in the wake of his response to Hurricane Sandy, which devastated the Garden State. Patriot Majority, a national 527 group run by Democratic strategist Craig Vartoga, unveiled on Wednesday a new anti-Christie website, called Chris Christie Exposed.
The website criticizes Christie's economic record, including rising unemployment in the state. The site also includes a map detailing Christie's national travels for Republican candidates during the 2012 election, a frequent target for Democrats. Patriot Majority spokesman Sean Darcy confirmed over the summer that a tracker for the group would be following Christie's travels.
In September, Lt. Gov. Kim Guaragno (R) defended Christie's out-of-state travel to The Huffington Post, saying it has raised the state's profile and made her role as Christie's economic development czar easier. Guadagno also defended the state's unemployment rate, saying it increased under the governor's watch because unemployed people from other states moved to New Jersey looking for work.
Several other Democrats, including state Senate President Steve Sweeney (D-West Deptford), state Sen. Richard Codey (D-Roseland), Elizabeth Mayor Chris Bollwage and U.S. Rep. Bill Pascrell have been mentioned as potential gubernatorial candidates. Sweeney and Bollwage both confirmed to HuffPost that they are considering entering the race.
Before You Go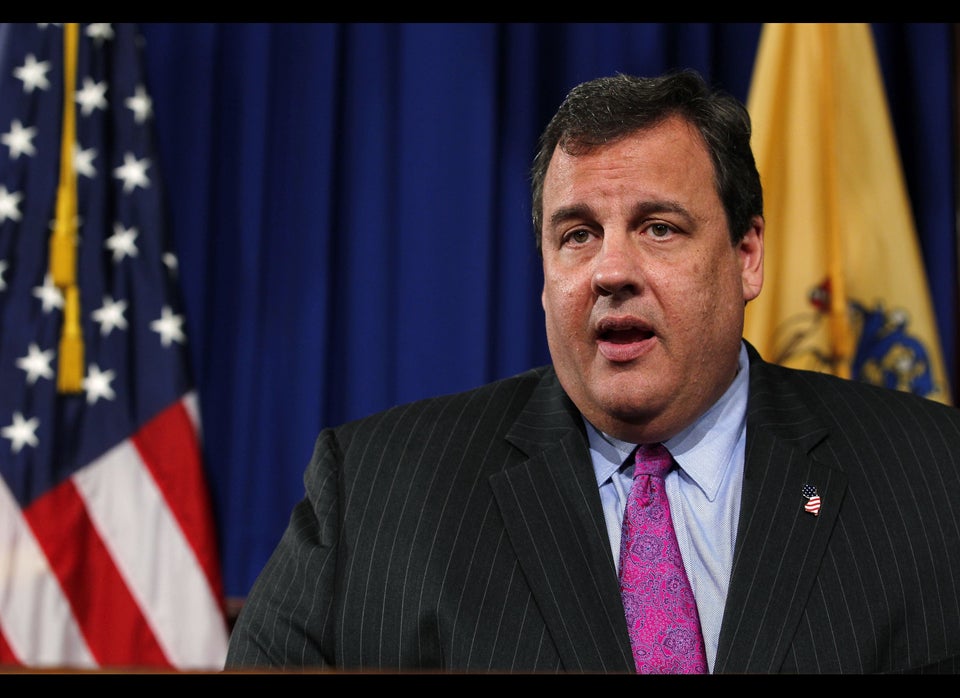 Chris Christie's Greatest Hits
Popular in the Community