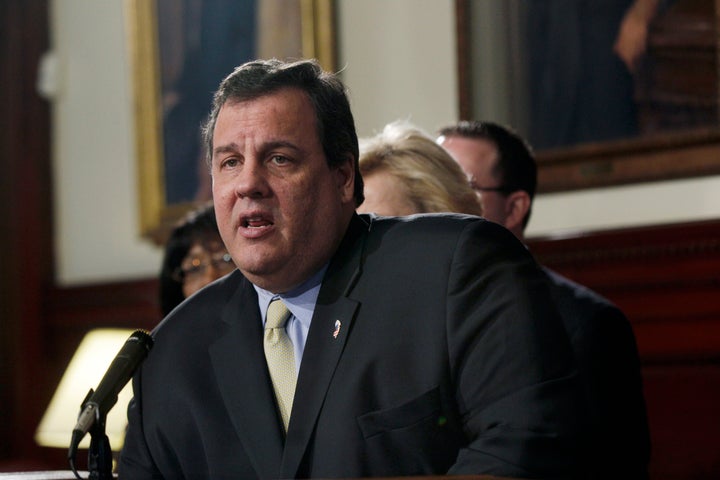 WASHINGTON -- New Jersey Gov. Chris Christie (R) told 800 business and political leaders Thursday night that his state should be focused on economic and fiscal issues and not move on to social issues like gay marriage.
Speaking at the New Jersey Chamber of Commerce's annual Washington dinner, Christie touted his administration's economic record -- including a variety of budget cuts -- and said that social issues should not be on the radar screen for state leaders. Christie did not specifically mention gay marriage, but the context of the speech hinted at the issue, which has become the most prominent social issue in the state, Democratic legislative leaders making it their top priority for the 2012 session.
"How about saving that until we put people back to work," Christie said of social issues.
Christie has proposed that the legislature give the power to legalize gay marriage in the state to a statewide referendum, a move immediately backed by Republican legislative leaders, who have remained the governor's most loyal supporters. Democratic leaders have continued pressing the issue, with the state Senate's judiciary committee passing a bill earlier this week over Republican objections. He has also vowed to veto a bill on the subject.
Christie spoke to an audience of Garden State political and business leaders who traveled on the Chamber of Commerce's annual train ride to Washington, capping the day with the governor's speech and a series of cocktail parties.
The majority of Christie's speech had the same feel of his State of the State address from earlier this month, where he touted his first two years in office, providing an unofficial kickoff to his expected 2013 reelection campaign. Portions of Thursday's speech were spent on two of Christie's favorite topics: attacking the work of the Democratic governors who proceded him, and highlighting what he sees as his own successes.
Among the other areas he played up were his series of budget reductions in 2010, which included deep cuts to education and local government aid -- a move that was attacked as "draconian" by local education leaders. Christie also played up the 10-percent income tax cut he introduced in his State of the State address, a measure questioned by Democrats who have pointed to the plan's fiscal impact as cause for concern.
"I laugh when I hear that reason," Christie said. "I am being lectured about fiscal responsibility? This is hysterical. The guy who has cut billions in spending is being lectured by those who dug the hole we have to dig out of."
Christie, a prominent Mitt Romney supporter and potential vice presidential candidate, also took swipes at Washington during his speech, saying national politics has become too partisan. Christie pointed to what he described as New Jersey's bipartisan success, including legislative Democrats approving his proposals for a property tax cap and pension and benefits reform. Much of Christie's legislative success has been due to his alliance with top Democratic leaders around the state, including several influential state senators.
"We have worked hard to make New Jersey not like this town," he said of Washington.
Calling all HuffPost superfans!
Sign up for membership to become a founding member and help shape HuffPost's next chapter
BEFORE YOU GO