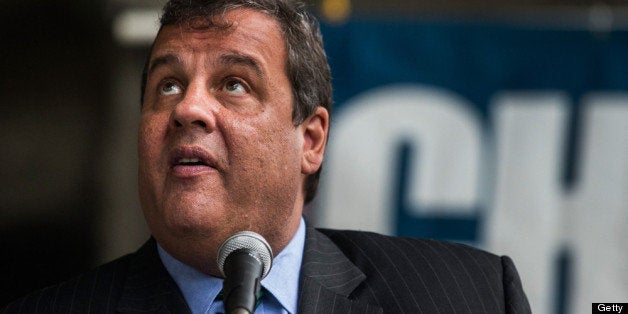 WESTFIELD, N.J. -- On the sloping lawn of the suburban home of lesbian grandmothers preparing to celebrate their 30th anniversary as a couple, state Democratic leaders said Tuesday that Gov. Christie should let Republican lawmakers "vote their conscience" on gay marriage.
Christie vetoed a gay-marriage bill last year. In the wake of the U.S. Supreme Court rulings last week affecting gay marriage, Democrats hope their Republican colleagues find the moxie to help override that veto, which would require a two-thirds majority.
The setting for the Democrats' plea was symbolic: The handsome maroon home on a quiet block in Union County is in the district -- and hometown -- of the state Senate's Republican leader, Thomas H. Kean Jr., and the assembly's Republican leader, Jon M. Bramnick, both gay-marriage opponents.
Democrats repeatedly referenced, and praised, Kean's father, former Gov. Thomas H. Kean Sr. Kean Sr. told Republicans in the 1980s to vote their conscience on the issue of prayer in schools -- which Kean personally opposed -- and Democrats said they wanted Christie to do the same thing with gay marriage.
They depicted an ironfisted Republican governor who has punished wayward GOP legislators. "When they've crossed this governor on minor issues, they've been punished, they've walked out of his office crying," said State Sen. Raymond Lesniak (D., Union).
State Senate President Stephen Sweeney (D., Gloucester) said his Republican colleagues have privately told him of being punished by Christie. He said some backed away from supporting gay marriage once Christie came into office, and he hoped they developed the "intestinal fortitude" of the only two Republican senators who voted for gay marriage -- Diane Allen (R., Burlington) and Jennifer Beck (R., Monmouth).
As for the two Democratic senators who voted against gay marriage, Sens. Jeff Van Drew (D., Cape May) and Ron Rice (D., Essex), "we're talking to them, too," Sweeney said.
Christie has rebutted the idea that he forced lawmakers to vote one way or another.
"What you're implying through your question is that Republicans to this point have not voted their conscience," Christie told reporters Tuesday in Seaside Park, according to the Newark Star-Ledger. "How the hell do you know that? How would you know?"
He added: "Members of the legislature in my experience do what they think is in the best interest of the state, and they often come to me for my view and my opinion, and I give it to them. But in the end, I'm not the one down there pushing the buttons. They are."
For his part, Kean Jr. noted in a statement that Sweeney did not vote on a gay-marriage bill in 2010 that would have been signed by Gov. Jon S. Corzine.
"We do not need lectures from a senator who did not take a stand in 2010," Kean said, "and cannot rally full support from his entire caucus for this legislation."
He also reiterated Christie's view that the question should be decided by voters in November. "Sen. Sweeney is exhibiting a complete lack of faith in the people to offer a permanent solution," Kean said, "one outside the whims and politics of future courts and legislatures."
Gay-rights leaders have said civil rights should not be subject to public opinion. They said Tuesday that they would pursue the issue in the courts -- they are due to file a brief Wednesday in Superior Court -- and will wait until they are sure they have enough votes before calling for an override.
The issue has also become a centerpiece of the gubernatorial campaign of State Sen. Barbara Buono (D., Middlesex). Her youngest daughter, who is gay, released a video last month blasting Christie on the issue.
"One man in New Jersey stands in the way of marriage equality, one man who says their love is not as good as everyone else's," Buono said.
"It's time for this governor to release his hold on his legislative leaders and let them do the right thing."
Democrats also urged Kean Jr. to visit the home of Liz Flanagan, 69, and Nancy Wilkinson, 56, who will celebrate their 30th anniversary together next week. They raised Flanagan's son and daughter in that house, and last year Wilkinson adopted Flanagan's 40-year-old son, Mike.
Flanagan and Wilkinson are in a civil union, but do not have access to rights afforded to gay couples in states that have legalized same-sex marriage.
Mike Flanagan attended the news conference with two of his three children. After Liz Flanagan's remarks to reporters, he yelled from the front porch: "Nice job, Ma!"
Contact Matt Katz at 609-217-8355 or mkatz@phillynews.com, or follow on Twitter @mattkatz00. Read his blog, "Christie Chronicles," at www.inquirer.com/ christiechronicles. ___
(c)2013 The Philadelphia Inquirer
Distributed by MCT Information Services
REAL LIFE. REAL NEWS. REAL VOICES.
Help us tell more of the stories that matter from voices that too often remain unheard.
BEFORE YOU GO
PHOTO GALLERY
SCOTUS Decisions On Prop 8, Defense Of Marriage Act