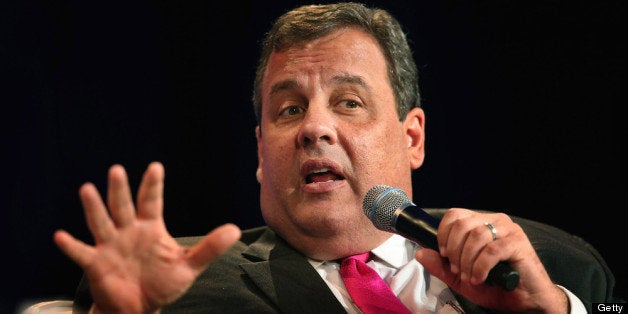 New Jersey Gov. Chris Christie (R) prides himself on his record of fighting pork in the state legislature. But he's never taken that mandate as literally as he did Thursday, when he vetoed a bill that would have banned the use of gestation crates on pig farms in New Jersey.
The bill, S. 1921, passed the state Assembly by a vote of 60 to 5 and the state Senate by a vote of 29 to 4 in May, with both Democrats and Republicans supporting the effort to prohibit farmers from using any confinement method that would prevent pigs from turning around or laying down. A poll taken in the state showed that 89 percent of voters were in favor of Christie signing the measure into law [pdf].
The bill's passage was hailed by animal rights groups, such as the Humane Society of the United States, as an important symbolic victory for their movement. Though major buyers, such as McDonald's and Smithfield Foods, have recently announced plans to stop buying pork from farmers that use gestation crates, 83 percent of American pigs still spend some time in them, and their use remains legal in 41 states, including all the major pork-producing states. Recent efforts to pass such legislation in four other states have failed, though a bill remains on the table in Massachusetts.
But agricultural interest groups have been pressuring Christie's office to veto the bill for the past six weeks. They argued that gestation crates are not only the cheapest method of raising sows, but also the best for their health, because they allow the farmer total control over the animals' upbringing. And on Thursday, Christie sided with the hog farmers.
In his statement on the decision [pdf], he noted that "neither the American Veterinary Medical Association nor the American Association of Swine Veterinarians advocates" banning the use of gestation crates, and suggested that the legislature continue to take its cues on animal welfare from the state's Department of Agriculture, which opposed the bill.
The National Pork Producer's Council applauded Christie's veto. "It's important that these things are defeated, because we don't need outside groups telling farmers how to raise their animals," spokesman Mark Warner told The Huffington Post.
It's unclear what practical impact the veto will have on animal welfare, if any. New Jersey is among the smallest hog-farming states in the country, with just 700 pigs residing in the Garden State [pdf]. Still, animal rights advocates were unequivocal in their denunciation of Christie's veto.
"From our perspective, even one gestation crate is too many," said ASPCA attorney Debora Bresch, who lobbied for the bill in New Jersey.
"It seems odd that anyone would want to be on the side of such a barbaric practice," added Bruce Friedrich, senior advocacy director at Farm Sanctuary. "When you compare badly on animal welfare with Smithfield and McDonald's, you might want to reconsider your position."
Friedrich chalked Christie's rejection of the gestation crate ban up to his busy schedule. "My suspicion is that the governor didn't fully consider the issue. He's had an awful lot on his plate recently," he said.
Though the pork lobby was among the groups that allegedly encouraged Christie to veto the bill, New Jersey pig farmers aren't necessarily thrilled about it.
Michael Clampffer of Mosefund Farm is one of the biggest hog farmers in the state; he raises 150 heritage breed pigs on 15 acres of land in Sussex County. He has never used a gestation crate and says he never would. "It's inhumane," he explained. "It's not good for the animals. They like to be outdoors, rooting around in the mud and basking in the sun."
He worries that the continued legality of gestation crates in New Jersey could make it hard to market his pork.
"This is one of the big black marks in people's minds about pork, that the animals aren't raised well," he said. "This bill could have changed that in New Jersey. Vetoing it strikes me as detrimental to the movement of eating local and sustainable."
Yet Warner, of the National Pork Producer's Council, insisted that the veto is an important deterrent to future efforts to ban gestation crates in larger pork-producing states, such as Iowa. He said that discontinuing the use of gestation crates would require farmers to dedicate more space and labor to each sow, increasing the cost of pork.
And that, he said, is a central motive of groups like the Humane Society: "That's part of their goal -- to reduce the amount of meat we eat."
Popular in the Community